The artist Manolo Yanes inaugurates an artistic reinterpretation of myths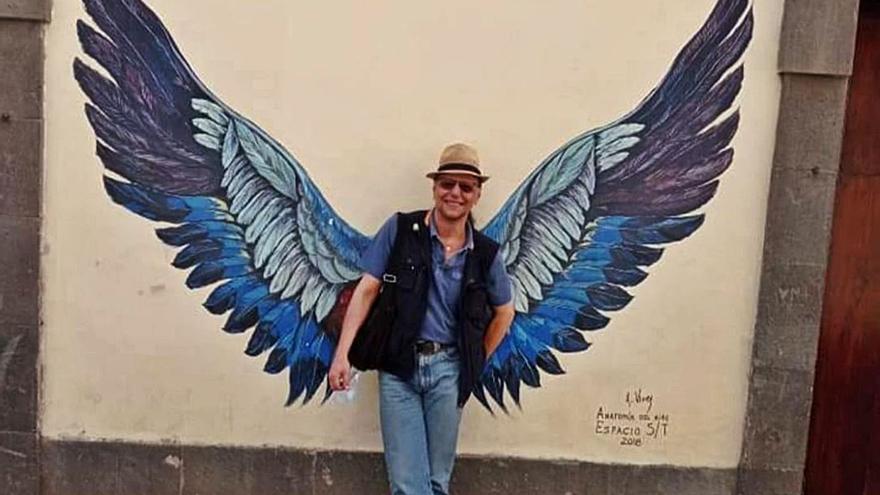 The artistic imagination of Manolo Yanes, a Tenerife-based artist living in France, whose work intersperses pictorial tradition, mythology, symbolism and modernity, opens its wings at the S / T Espacio Cultural gallery in the capital, with a retrospective entitled Metamythologies. Under the curatorship of the writer Roberto Toledo Palliser, the common thread of the exhibition weaves together "a free reinterpretation of different mythological themes", as the painter advanced in an interval of the exhibition montage, which is going to be released tomorrow, at 7:00 p.m. in the Vegueta room.
The evocation that lends its name to the exhibition, coined by its curator, is due to the fact that "this exhibition goes beyond a simple treatise on mythological images, because I do not present literal illustrations of Greco-Latin myths, but rather a subjective rereading of different mythological characters that I interrelate in the exhibition in a free way through a symbolic or metaphorical language, from the figurative, "reveals Yanes.
Almost 30 years after exhibiting his Angelicum project at the Néstor Museum in the city in 1994, Yanes, who has exhibited the bulk of his work between his native island and his country of residence, points out that «this is almost my first exhibition individual in Las Palmas de Gran Canaria ».
The exhibition itinerary of Metamythologies is divided into two different sections: a short section through pictorial pieces belonging to previous stages and a second, more extensive route dedicated to more recent works, under the common umbrella of the rereading of myths. In addition, the exhibition includes a recently created panel with 24 pencil drawings, in black and white.
Regarding the evolution of his pictorial language, in which his colorist stamp stands out, Yanes notices "a change in the chromatic setting of the paintings" from his previous exhibition, Mitocromías, a prelude that saw the light in Brussels. "I have always been very colorful, but my oldest work has a more intense color, while in the most recent, the color range is more muted, with intense color accents," he reveals.
In addition to his powerful aesthetic imagery, the painter highlights in his work his desire to establish "a game of meanings and relationships that enriches traditional mythological themes." "For me, mythology encompasses everything, not only Greek and Latin mythology, but also the mythology of other countries, fairy tales and even Christian iconography." points out. "For example, in the exhibition the myth of Saint Sebastian and a Psyche dialogue, which are icons that have no relationship between them, but that I link to a work," he continues. "And this is because, as an artist, I am interested in painting that encourages reflection and free association on the part of the viewer." "In short," he concludes, "my work invites the viewer to participate in my reading and complete the meaning of each work."