The art of Mexican natives looks to the future | Culture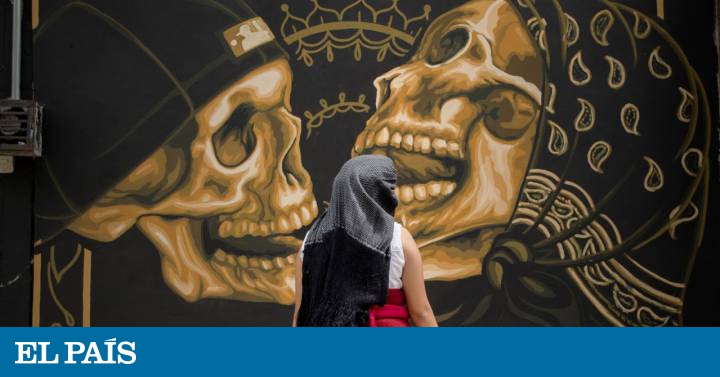 In the middle of this year that now ends, the designer Carolina Herrera presented a collection of dresses inspired by the textile designs of indigenous peoples Mexicans, who felt plagiarized and publicly showed outrage that, like everything today, went around the world in a few hours. "The Indian is in fashion, the good savage is beautiful," says artist Darío Canul, Zapotec on the part of mother and Maya by father. And he is not misled. Without specifying the origin of such a phenomenon, factors such as globalized tourism have undoubtedly influenced; a worn western world that seeks new values ​​in those populations that embody them; the return to nature as a fight against climate change; or maybe a gesture of rebellion towards equality that the Zapatista movement started in 1994. To this resurgence of the original has been added strongly the current president of Mexico, Andrés Manuel López Obrador, who presents his mandate with a number of historical changes and crowned his inauguration with a pre-Hispanic ceremony in the indigenous heart of Mexico. It is not strange that now it is up to art, with its vocation of intervention in the public and political space, to bring to the present the plastic arts of the indigenous peoples.
Mexican society is also traveling the path that other countries have already traveled, like Australia and Canada in the nineties, to bring to light the art of its people and equate it with the prevailing western canon. "In Mexico there was some approach in the 50s, with Frida Kahlo and Diego Rivera, but very measured, without artistic evolution. Mexico has not yet been incorporated into a complex narrative that allows certain indigenous practices to enter the corpus of art. Australia has large collections and in Canada there is a whole rhetoric of indigenous contemporary art, "says Helena Chavez, of the Institute of Aesthetic Research of the UNAM.
The Vanguards also looked back to the oldest to make it modern but it was always an appropriationist look. Now, however, there is a new generation of Mayan, Zapotec, Tsotsil, Lacandon or other population artists who feel like artists, who have gone through art schools, some, who reinterpret the symbols, who intervene politically with their works, who have no more vocation than beauty, or who seek genius. And here a new front opens with the way of understanding the art of native peoples, who claim a common, shared practice, far from the western canon: the genius of a single author.
Darío Canul is founder with Cosijosea Sernas of the Tlacolulokos collective, an "anti-capitalist, punk and anti-fascist" artistic project that claims a form of relationship with art that has nothing to do with current markets. They live in Tlacolula de Matamoros, with 30,000 inhabitants, a small town surrounded by native communities. Canul rejects the only idea of ​​going down to the state capital, Oaxaca, because he prefers contact with the townspeople. However, they have traveled with their wall breakers to Lille (France), where they sowed the controversy, or to Los Angeles. That sounds very modern: "Yes, it is a very thin line," says Canul. Formally, his art is as current as what he expresses.
Canul does not reserve criticism only for capitalism. He coldly accuses some indigenous people of worshiping tourism as the golden calf, of "selling the indigenous universe in a hypocritical way." "They themselves exoticize sometimes, put on their guaraches and their rebozo when they have never used them."
The artist Ana Hernández also defends seamlessly the practices of the original communities, her way of approaching the art, collective, shared. She is "Zapotec of the Isthmus of Tehuantepec". The indigenous word "makes noise" and the same if asked about the division between art and crafts: does not see a border, although she is the example that exists. Hernández works with textiles and reinterprets everyday objects as an artist. But he does it, he defends, as one works in those villages, "seeking the opinion and intervention of his mother, his mother-in-law, his cousins, the neighbors," although they are six hours away from her, because she lives in Oaxaca. "My work is part of my family and the traditional techniques of my people."
Without folklore
Tlacolulokos and Hernández participated in the collective exhibition The Hollows of Water, in the Mexican museum of Chopo, inaugurated in May. The curator was Itzel Vargas Plata, who took great care to talk about contemporary art, a Western concept that changed due to the current art of the original peoples (the indigenous denomination does not like it because of its political burden, because it is the description used by foreigners refer to native peoples, which are not named in that way). He also wanted to avoid the old debate between art and crafts and simply asked for "works of people who were assumed as artists." She chose "those from which you can rethink the artist's work in interaction with a complex present, without idealizing or folklore." The final selection spoke of drugs, arms trafficking, linguistics, lost elements and heterogeneity was absolute.
This exhibition showed an art of indigenous origin that was not in the past, but has evolved with the times. Or is it just a spurious incorporation into the Western canon? They are, as Darío Canul says, very thin lines. The way forward, Vargas argues, must be a "constant investigation of these artists and include them in collections with everyone else, because they can talk with them."
The exhibition opened in Mexico City on December 7 Abuses of forms, at the Carrillo Gil Museum, whose curator is Mauricio Marcín. "I tried to expose an art that seeks the unpublished, new sources where to water and, as they did in the Vanguards, sometimes the new is found in the old. It is one thing to appropriate it and another to treat it critically, without extractive spirit. " Marcín is pointing to another of the angles of this debate, the one that refers to the Carolina Herrera fashion collection or any other that "sells" at a better price and without accountability for the work of indigenous artisans for centuries.
Handicraft reinterpreted
Can not crafts be reinterpreted from an artistic point of view? It is not always easy, because some artists do not see any dividing line and are disturbed by the mere mention of two different worlds. For Mauricio Marcín, both concepts have to do with a colonial notion, that is, imposed. He knows that the debate is not only about Mexico, that in all the world the crafts live with art and show differences that he explains in detail. "Crafts were originally created to have a use: function and beauty were not disassociated. Art is born to be beautiful, in any case its function, its use, could be the production of symbolic knowledge ". Then, he adds, everything was complicated and some of these artisanal objects jumped into the museum and were put in display cases.
"I think you have to favor good work and not grab everything and put it in a showcase. Sometimes, due to that notion of the inclusive, to include the marginalized, the good is not sought, but to fill the showcase of things, "says Darío Canul.
Isn't this what the current Mexican government is doing? Fill the showcases, break the lines between art and crafts. If so, it may be asked whether that is good or bad, given the diversity of opinions in this regard. "I think that high culture still rules against popular culture, we must question the narrative, which also in Mexico is still Western, with all European and American influences. We must rethink a broader notion of culture, "says Helena Chávez. The Mexican artist Eduardo Abaroa adds: "We are not against the cultural journey, the cultural evolution of the original peoples, or the cultural contamination, but the manifest violence of the push", extractivism.
Although sometimes, this push is received by the indigenous artist himself from his countrymen, because he leaves communitarianism and develops as a modern artist: that is, unique. Darío Canul agrees. Tlakolulokos has suffered it in his own flesh, although, where appropriate, for calling into question religion, symbols, certain rituals of the original peoples. Canul continues to blame: "Now everything Indian is fashionable and under the spotlight, but it is not so beautiful to live in a community, it is not worth going for a while and making some drawings. There is also a lot of machismo and a lot of discrimination ... And artists have a responsibility as creators. "
Knock down the Museum of Anthropology
The National Museum of Anthropology is one of the most important in Mexico and throughout America: it preserves the great treasures of the Mesoamerican peoples. But some propose to tear it down with everything in it. In reality, it is only an "exercise of thought" by artist Eduardo Abaroa against abandonment to which the original peoples have been subjected, hegemonic domination, symbolic extractivism. The majority of the indigenous people pass from that museum, it is not the representation of those cultures but what the State does of them, "he affirms.
But the mere idea of ​​breaking down the imposing archeology impresses Zapotec artist Ana Hernández. "Every time I visit it I see things and return to where I come from," he says. There are bridges that almost nobody is willing to dynamit. Maruch Sántiz, famous indigenous photographer from San Juan Chamula (Chiapas) is the one who is most willing to tend them: "I had teachers who were not indigenous and I cannot forget them. I like to live in two or three worlds, I don't see any of them wrong. "