The Arena rejoins Gran Canaria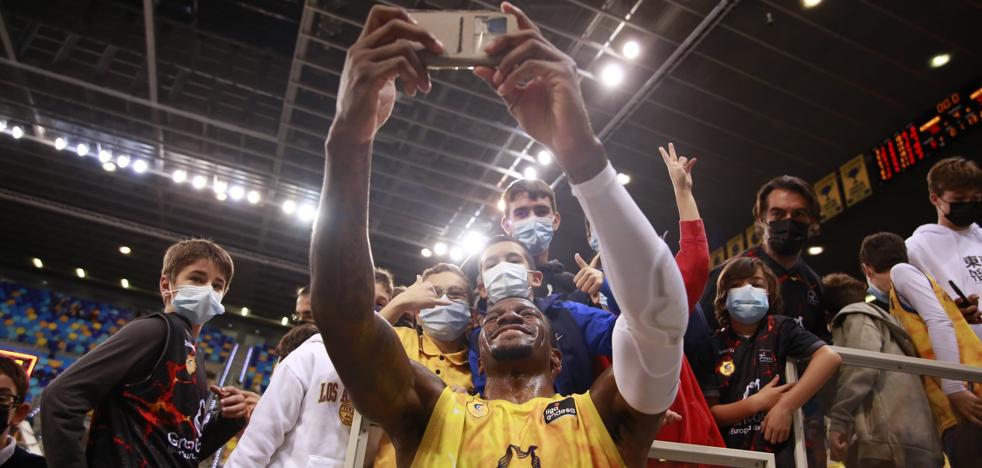 The Claretian fans, who little by little return to Siete Palmas, vibrated as in their best events with a victory against Unicaja that lengthened their good streak and brought them closer to the Playoff
«Granca fans make it easy for you. They were amazing tonight," Dylan Ennis wrote. on his Twitter account after
the solid victory of Gran Canaria against Unicaja by 76-59. Also Porfi Fisac, the head coach of the Claretians, wanted to highlight the energy of the stands last Saturday: «I think that in the end basketball is a show, and if you win you attract more people. I think the club has worked very well on many things. The public had fun, more people have come, and we must continue in this situation in home games », he asserted.
The declarations of Ennis and Fisac ​​confirm the best omens: the Arena is rejoining the Granca. He does it with his team adding wins, leader of his group in the EuroCup and touching the Playoff to the title in the Endesa League. A communion that was greatly missed by the Siete Palmas venue.
That the victories attract more fans is no secret. The pandemic that the world has suffered for two years has hit hard and emptied all sports halls. And Granca has suffered greatly. Now that the covid-19 gives some truce and, finally, the full capacity of sports venues is allowed,
the Claretian club hopes to recover its most valuable asset, a hobby that has always accompanied it through thick and thin.
The 4,011 fans who attended the Arena last Saturday are still far from being a good entry into the magnificent Siete Palmas venue. In fact, it was only the fifth best inning so far this year, adding the ACB and EuroCup matches, where the figures drop greatly due to playing during the week and in the evening hours.
However, the trend should clearly be to the upside. Not only because of the possibility of occupying the full capacity, but also because of the good image that, finally, Gran Canaria once again offers its followers, orphans of joy in recent times.
The yellows have won four in a row (one in the EuroCup and three in the Endesa League) showing its most choral version with Artem Pustovyi (protected on and off the court due to his Ukrainian status) displaying stripes demonstrating an exercise of professionalism within the reach of few mortals; Ennis's energy and points match yes and match too; Shurna's brilliant shooting from beyond the three-point line; the intangibles of Salvo; Stevic's experience, always contributing even outside his position; or the successful direction of Albicy, the one that was greatly missed in his absence, among many other things.
If to all this is added, as it seems, the return of the fans to the Arena, it is clear that days of joy are predicted in the Siete Palmas venue. Because
it is precisely because of that communion between the fans and the team that the Claretian club is feared and capable of beating anyone present on the island.