The Archipelago's sports sector asks for 230 million for its reactivation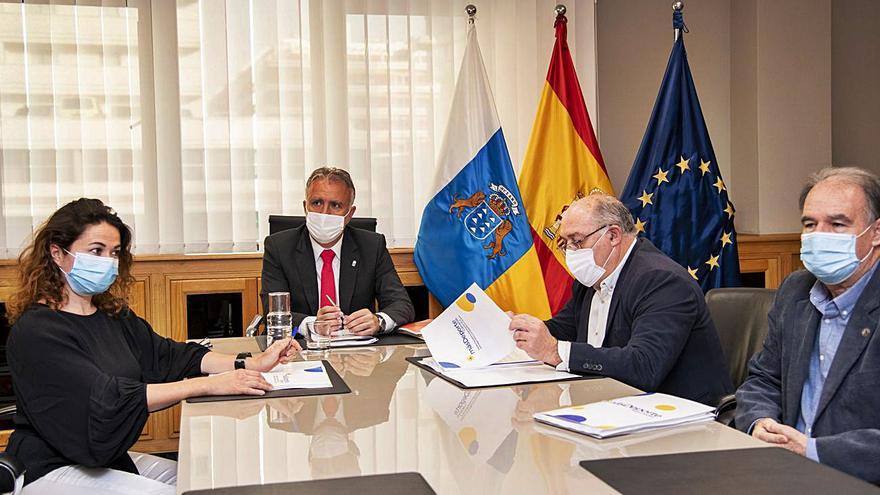 The More Sports Canarias Platform, made up of more than 400 people including athletes, sports managers, representatives of private companies and all public administrations, yesterday handed over to the President of the Canary Islands Government, Ángel Víctor Torres, a document that includes the proposal of a plan to reactivate sport and physical activity in the Archipelago with an economic investment of 230 million euros in three years.
The spokespersons for the Platform Antonio González Molina, former dean of the Faculty of Physical Activity and Sports Sciences and professor at the Faculty of Business Economics and Tourism of the ULPGC, and Antonio José Pérez, director of facilities and program of the Insular Institute of Deportes del Cabildo de Gran Canaria, together with the president of the Official College of Physical Education graduates of the Canary Islands, Eva Navarro, met with Torres to explain the most relevant aspects of his proposal, which also includes a study of the economic impact of the pandemic in the sector, which already affects 2,150 companies and 20,000 workers, mostly under 35 years of age. Also the importance and significance of the events, which estimate an annual turnover of 225 million euros, active tourism, which encompasses 12% of the visitors who come to the islands and the trade of sports supplies, which account for 2.22 percent of the Canary Islands trade.
The document includes up to 111 specific proposals with a single objective, to reactivate Physical Activity and Sport in the Canary Islands. The first and foremost is the request for consideration of the sector as an essential activity by the Government of the Canary Islands. "We intend to be very exquisite in terms of health security protocols," says the spokesperson for the platform, González Molina.