The answer to the purest Broncano style with which Ayuso left Ana Rosa dislodged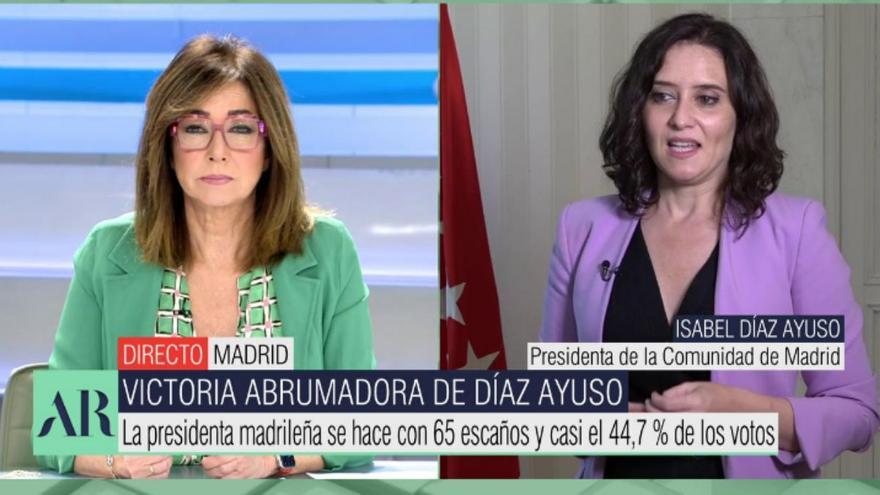 Isabel Díaz Ayuso gave a lot to talk about in her first interview with Ana Rosa Quintana after winning the Madrid elections. The acting president of the Community of Madrid left the journalist unhappy when she used one of the most mythical phrases of David broncano when answering a question about the end of the alarm state: "Well, now we will see what 'chorprecha' the Government has for everyone".
"Because I was waiting to close the polls in Madrid to open the panorama. It is incredible how, in a few days, Spain does not know what its future will be like. That neither companies, nor tourism, nor families, we know what we are going to do in the next few days, "concluded the leader of the popular Madrid.
In turn, Díaz Ayuso also made it clear throughout his speech that will not ask for the State of alarm nor will the Community of Madrid close after May 9: "We have to adjust to our responsibilities within the regulatory framework that is to restrict or not commercial activity, any measure that limits fundamental rights will have to be protected by a judge."
Ana Rosa, on the resignation of Pablo Iglesias: "We already owe another to Ayuso"
These words of Isabel Díaz Ayuso occurred after Ana Rosa Quintana went directly to Pablo Iglesias after he announced his retirement from political life after the Madrid elections: "I already told you on one occasion. González, Aznar, Zapatero and Rajoy left, and we will see what happens with the current Prime Minister (Pedro Sanchez), and citizens continue with our lives. Now you are leaving, and nothing is going to happen either. We will continue to be free. I only ask you to close the revolving door when you leave".
After sitting at the table with his collaborators, Ana Rosa also described Pablo Iglesias as 'The fugitive', giving the current acting president of the Community of Madrid the merit of her political farewell: "We already owe another to Ayuso".