The 'Amiplay', for Ramos and Fajardo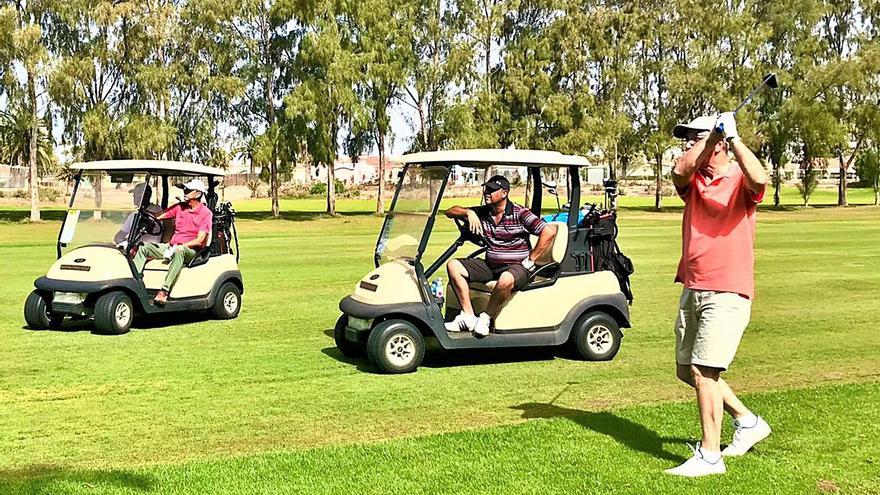 The pair formed by Alicia Fajardo and Aitana Ramos, with 38 points, was proclaimed winner of the scratch category in the tenth edition of the Amiplay-Fly To Canarias Tournament, the first qualifying round of the Canarias S & G-Maspalomas Golf Cup Circuit, which was held yesterday under the best stableford ball in pairs in the southern field with the participation of 140 players. The women, in addition to obtaining the prize of two plane tickets to Budapest provided by Fly To Canarias, achieved their direct classification to play the grand final of the summer competition, which will be held on August 29 at the San Bartolomé de Tirajana facility. .
Regarding the handicap category, the duo made up of Agustín Navarro and Jairo Sotomayor conquered the victory with 49 points. Second in the table were Emiliano García and Eduardo Romero, with 45, while the third position corresponded to Borja González and Claudio Valerón, with 44.
The tenth edition of the Amiplay-Fly To Canarias Tournament also established special prizes. As for the longest drive, Jerónimo Jubindo got the men's drive -in hole 9- and Alicia Fajardo, the ladies one -in hole 10-. The balls closest to the flag on holes 3 and 16 for ladies and gentlemen, fell on this occasion to Trine Johansen and Bilal Benali, respectively.
Maspalomas Golf, next Saturday May 29, will once again be the scene of a new test of this edition of the Canarias Sport & Golf Circuit. The second appointment of this contest is the Boulevard Faro Tournament; The 18th edition of this veteran event will be held under the individual stableford modality, with the handicap and scratch categories for both men and women.
The summer competition organized by the San Bartolomé de Tirajana club expects more than 2,000 participating golfers. The competition calendar includes a total of 15 qualifying events and a grand final, both individually and in pairs, under the protection of almost twenty top-level sponsors with important prizes. The new edition of the Canarias Sport & Golf Circuit will bring together players from island, peninsula and international destinations.
PGA Championship
American veteran Phil Mickelson and South African Louis Oosthuizen emerged as the new surprise leaders of the PGA Championship as the second round completed and dominated with a cumulative 139 (-5), one ahead of local Koepka, who finished second ( 140, -4).
As for the Spanish, Jon Rahm suffered but finally got the cut of the tournament, but he will not be able to fight to win the second major of the course. Sergio García, meanwhile, was eliminated.