the alternative that has ceased to be the ugly duckling of teaching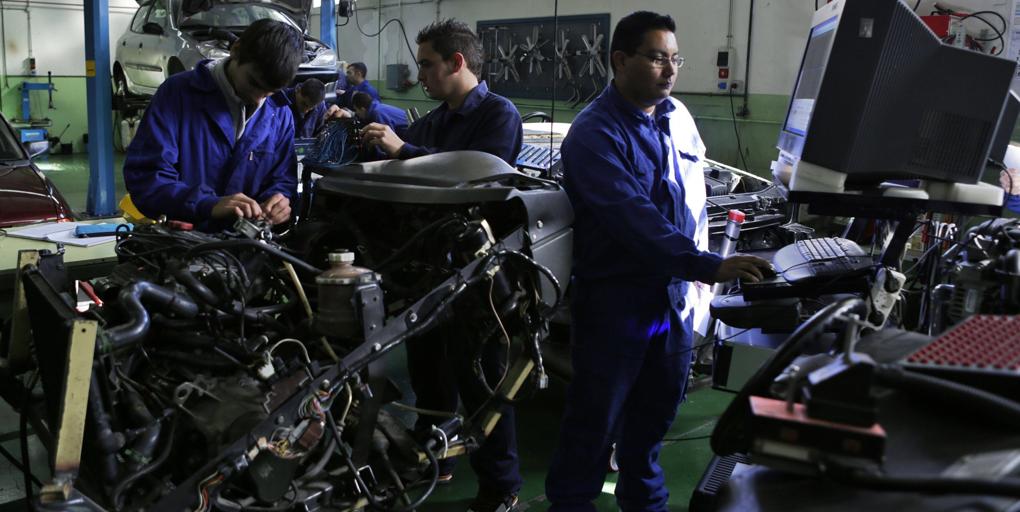 MADRID
Updated:
save

Vocational Training is gaining strength and breaking the historical chains that have ballasted it for years. It is no longer seen as the ugly duckling of the education system since every year there are more young people who choose this option to continue their academic and professional career. In a decade the number of students enrolled in FP has doubled: In the 2018-19 academic year, the latest data available from the Ministry of Education (and now also from FP), had 838,764 students. Almost twice as much as in 2008, when 486,893 attended it. Even so, Spain has one of the worst rates of schooling in this type of training: only 12% of young people between 15 and 19 years opt for VET, while the OECD average is 25%. There are leading countries, in which almost half of its population in that age group studies this itinerary. There are the cases of Austria (43%), Italy (42%) and Switzerland (40%). Usually, In Europe, intermediate degrees are more important.
Today, FP has become a desirable and also desired alternative. For many reasons. Young people and families have realized that it is a training that already has a wide range of professional opportunities. «Companies are offering more employment opportunities to cover with FP. There are many university students who do not finish the degree and enroll in FP because it allows direct contact with the company. And the student checks that they have access to work practice before and have more employability, "he says Salvador Lorenzo, President of the Training Commission of the Chamber of Spain.
It is true that the employability rate of FP rises like foam. Last year, a report by Adecco announced that, for the first time, the job offers of companies requesting this degree (42%) exceeded those that required university studies (38.5%). «With this alternative you have work and you can earn a good salary. The university has shown that it is not a panacea, "he says. Javier Blasco, Director of the Adecco Group Institute. The future is even more hopeful. The projection of the European agency Cedefop estimates that in 2030, 65% of job offers will be for FP students.
Without a doubt, the technological revolution and the change of economic paradigm have much to do. Companies need more technical profiles that know how to adapt to new processes. «The FP has manifested itself as a much more dynamic formation than the university. Corporations demand operational, agile people with practical training that the company itself can finish forming or recycling, since they don't know what will happen next year, "says Javier Blasco. That is why, he continues, "we tend to have a FP model with shorter, more volatile degrees, which will serve to be studying throughout life." For this, experts agree, it is necessary to focus efforts to adjust the titles to the offer of companies. "We are not yet able to adapt the training offer to the market's needs every year," he says.
Versatility
The future requires training and permanent recycling, also says Lorenzo Lorenzo. «Throughout life a person will have to change between 6 or 8 times of company, even by profession. Companies are constantly looking for employable people and that is what FP does, "says Lorenzo. In addition, the FP has another advantage, he says: "It is not a finalist training but can then be followed in the university."
Enough reasons why, finally, the FP has taken off in our country, also supported from the central administration through the First Strategic Plan of the FP 2019-2022 that was approved last year and that aims to boost it with the incorporation, among others measures, of 80 new degrees and specialization courses; the update of the existing 172; the creation of 200.00 new places and the introduction in all the degrees of a new professional module on digitalization of the productive sector. Because as Blasco says "in the labor market, there will be no one to work without data. Training in digital skills and new technologies is needed for all jobs, from a telemarketer to a waiter ».
There are other conjunctural factors that have also favored this takeoff, he points out Florentine Felgueroso, Associate researcher at Fedea. «During the crisis, employment opportunities for young people who abandoned their studies early declined. Having no work, many continued schooling and, therefore, increased enrollment in FP. In the recovery, the expansive phase of VET has continued because it is also more attractive to be in contact with companies and the relationship between study and work is immediately seen ». A vision that has its reflection in the data: the early school drop-out rate stood at 17.3% in 2019, the lowest level since data is recorded. That is to say, the number of students that continued the second stage of Compulsory Education grew, in the same years that the enrollment in FP also increased.
The great unknown
And within the FP, there is a modality that little by little makes its way and enjoys prestige in the company: the little known FP Dual it has a "very high" employability rate, says Salvador Lorenzo. "Almost all students," he says, "get work in the company where they are trained and if not, in a short time, in another in the sector." According to the Chamber of Spain, 70% of FP Dual graduates find work in their branch of activity, one in three has an indefinite contract and 3 in 4 jobs are full time. The appeal of this modality is that the student is trained in the educational center and at the same time does paid internships directly in a company for longer than the traditional VT.