The 'Alma' of Germán López belongs to everyone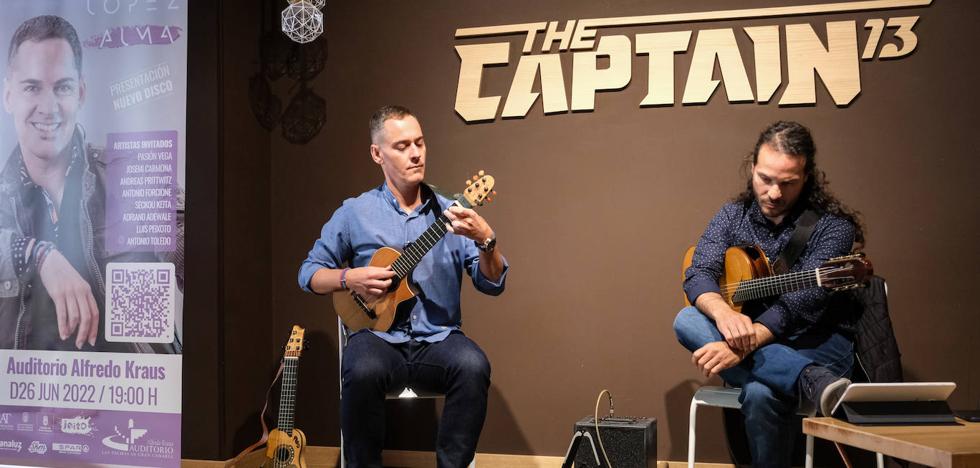 The timplista from Gran Canaria premieres an album of unreleased songs together with a series of prestigious national and international musicians
The musical soul of Gran Canaria timplista Germán López belongs to everyone. He belongs to those who listen to his new album starting today, precisely entitled
'Soul'. Also to those who enjoy the live presentation of the next
June 26 at the Alfredo Kraus Auditorium. And the circle is completed with the opening of sound, physical and cultural borders that this musical project that began recording in 2018, mainly in
Madrid and Los Angelesalbeit with brief stopovers in
London, Lisbon, Miami, New York and the Mexican town of Guajaca.
German Lopez,
very excited, announced this Thursday morning to the press, friends, family, collaborators and public institutions this new record work during a ceremony held at the
'Captain 13' of the capital of Gran Canaria.
There he revealed the emotional and historical ins and outs of 'Alma', which he edits under the umbrella of the company
Virgin Music Label & Artist Services Spain, a division of Universal Music Group.
Inflection point

Recognizes the timplista that this disc appears
"in a time of change" in his carrer. It means a turning point although it keeps intact some paths that it had already traveled and opens others.
"I wanted to look at
Africabecause I had never done it before, continue with my experimental line around the
Flemishtouch the influence
Portuguese and, taking advantage of our visit to Los Angeles, the
United States Latino imprint», explains the artist who a few weeks ago completed his sixth concert tour through Yankee lands with guitarist Antonio Toledo.
Precisely his American tours were decisive for the musician and producer
Gregg Field -who has worked with artists like Stevie Wonder, Gloria Stefan or Alejandro Sanz- will join the project. "He found out that I was playing in Seattle and traveled from Los Angeles, where he lives, to listen to my concert," López recalls.
'Light' was the key

In person, the American told him that after listening to the live performance of the song
'Light' agreed to enter the production of the new album. The timplista explained that Field was the one who told him to personally invite the artists he most admired or had always listened to to collaborate on the album. "Surprisingly,
everyone told me yes, after explaining that they were unpublished songs. They agreed to enter the recording studio without having heard a single note from 'Alma'. It was a dream, because I have listened to many of them since I was 13 or 14 years old and they are idols for me », he confesses.
The list of artists whose sound imprint appears in themes such as those titled
'Mediterranean, Afromenco', 'Aires de Tanguillo', 'Nostalgia', 'Margullo', 'Tanganillos de Oriente', 'Toledo' or 'The Last Drop of Coffee', among others, is extensive and heterogeneous:
Lila Downs, Richard BonaRichie Bravo, Seckou Keita, Luis Peixoto, Aymée Nuviola, Carlitos del Puerto, Ramón Stagnaro, Cheche Alara,
jamey haddadTim Ries, Víctor Merlo, Alain Pérez, Josemi Carmona, Antonio Toledo, Augusto Báez, Aboubakar Sylah,
George BrownAntonio Serrano, Israel Suárez Piraña, Sergio Martínez, Valentin Iturat,
Andrew Prittwitz and Gregg Field himself on drums.
The Womex of 2014

The international takeoff of Germán López, key to this new panorama that is opening up in his career, occurred in 2014.
"I was invited to the f
Womex store in Santiago de Compostela, for the opening concert. She was going to play only 10 minutes with other musicians. If I went with the quintet I was playing with at the time, the sound check would last longer than the performance, so I asked my admired guitarist Antonio Toledo to play with me.
When we finished, people stood up to applaud. It was a surprise and it was even greater when we found out that this audience was agents, programmers, musicians and festival managers... That meant that the next day a
united states office interested in the timple and my music to tour. I took it as a joke", but it was a very serious offer that had a key next stop.
tapped on
vancouver (Canada), another ten minutes, and that opened the doors to «a tour of 25 concerts in the United States and a tour of
Chinabecause there were Asian programmers present.
The Alfredo Kraus hosts the live premiere on June 26

The live debut of 'Alma', the new album by Germán López, will take place on June 26, starting at 7:00 p.m., at the Alfredo Kraus Auditorium in the capital of Gran Canaria. On stage, the timplista from Gran Canaria, one of the great ambassadors in the world of this island instrument, will be accompanied by artists such as the singer Pasión Vega and the instrumentalists Josemi Carmona, Andreas Prittwitz, Antonio Forcione, Seckou Keita, Adriano Adewale, Luis Peixoto and Antonio Toledo.
His admired Richard Bona will miss the appointment, whose free, fun and cross-border spirit admires Germán López so much. Of course, after having a coffee with him in Gran Canaria after a concert with the Perinke Big Band, he agreed to collaborate on a song. He did it on the album's title track, 'Alma'.