The Alhambra works to restore the original Nasrid polychrome of the Hall of the Kings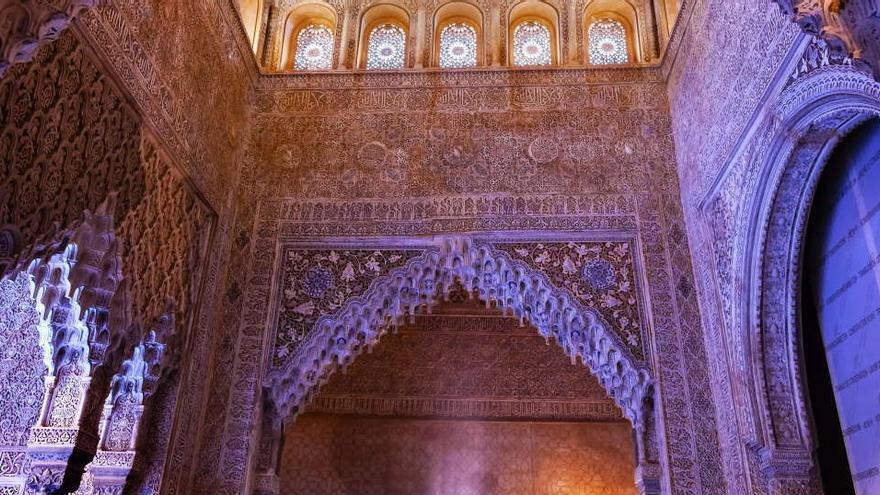 The Board of the Alhambra has begun restoration work to recover the original polychrome from the Nasrid period of the Sala de los Reyes, in the Patio de los Leones, an intervention that began with a plasterwork of the north face of this space to remove the layers of lime from the 19th century.
The monumental complex, historically the most visited in the country, continues the restoration work on the plasterwork of the Palace of the Lions with an intervention that has revealed the original polychrome of the Hall of the Kings.
The intervention has recovered predominant red and blue from the Nasrid period and which remained hidden by the successive layers of plaster and lime applied in the 19th century on the walls of the monument.
The director of the Board of the Alhambra and Generalife, Rocío Díaz, has explained in a statement that this action has begun in a plasterwork of the north face of the room, under the muqarnas dome, and will continue on all the walls until it reaches the stucco baseboards.
The restoration work consists of cleaning the plasterwork with mechanical methods to remove dust and accumulated dirt and will continue with the subsequent consolidation with synthetic resins to give stability to the plaster friezes and prevent their deterioration.
These works are part of the conservation and restoration actions carried out daily by the workshops of the monument itself, preventive conservation activities, as Diaz has highlighted.
Within the actions programmed in matters of conservation, the Board of the Alhambra and Generalife It also carries out maintenance work on one of the plasterboards at the Patio de Comares to restore its original properties and thus stop the deterioration caused by rain and other inclement weather.
The restoration workshops of the monumental complex They were created more than half a century ago to respond to the conservation needs of the monument.
They combine the knowledge of the artisan techniques used in the different construction and decorative phases of the Alhambra, essential for successfully tackle conservation and restoration interventions, and the principles and conclusions reached by the theory and practice of restoration as a discipline in recent years.