The Alfredo Kraus hosts a concert for the Alejandro da Silva Foundation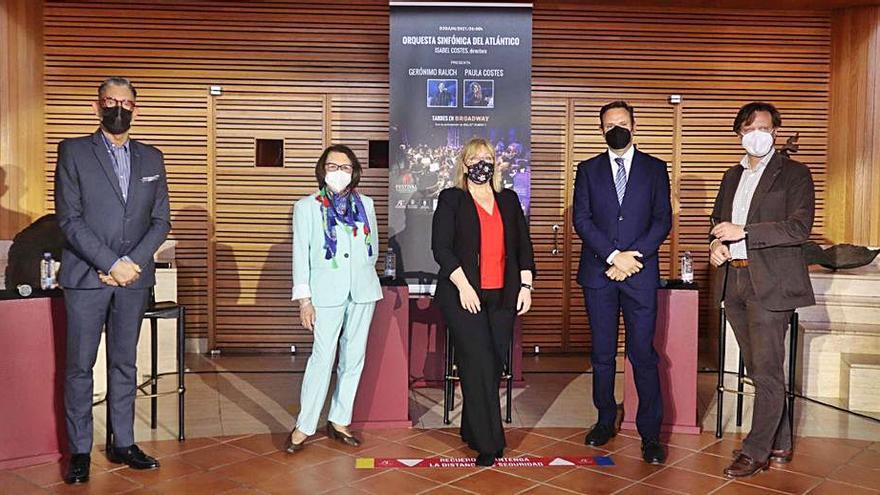 «The concert is made up of four blocks. The first includes The Phantom of the Opera, the second West Side Story, the third Les Miserables and ends with one of musical songs that are always for women, but this time they are combined with a man. There will also be two encores, "said teacher Isabel Costes yesterday, during the presentation of the event Tardes en Broadway for the benefit of the Alejandro Da Silva Foundation and co-produced by the Atlantic Symphony Orchestra, directed by her, which will take place next Sunday, 20 June, in the Symphonic Hall of the Alfredo Kraus Auditorium who will experience a night of solidarity. There will be a tour of the most recognized musicals in history in the voices of Gerónimo Rauch and Paula Costes, and will have the participation of the Rubén Tenesor Ballet.
According to Isabel Costes, "this is a fairly entertaining concert where everyone will recognize the melodies of London's West End and American Broadway. We have Rauch who has been the protagonist of The Phantom of the Opera and Los miserables en Londres, an Argentine singer based in Madrid, one of the best in the world in terms of musicals. Paula Costes is very versatile and ranges from opera to musical, through rock and other specialties, such as zarzuela. In a very altruistic way, the ballet of the Rubén Tenesor academy adheres to the act by dancing five pieces, at the same time that we are interpreting them with the orchestra and singing ».
In addition to the Alfredo Kraus Auditorium, which is once again acting as co-producer, other institutions and companies such as the Cabildo de Gran Canaria, the Las Palmas de Gran Canaria City Council, the Hotel Santa Catalina, the Cajamar Foundation and Sonocom join this solidarity event. Tilman Kuttenkeuler thanked all of them for their contribution and highlighted the role of private collaborators in organizing shows, especially at this time.
Rosa María Rodríguez, president of the Alejandro da Silva Foundation, pointed out that "we are in need, especially this year when we have not been able to hold events. I think it is going to be a very beautiful and memorable show ». The Atlantic Symphony Orchestra, which this 2021 celebrates its fifteenth anniversary, has been organizing the Alejandro Da Silva Festival for several years to raise awareness among the population of the need for marrow donors, as well as to raise funds.
Costes concluded that, although the children will not be present at the concert, "there will be a beautiful memory that we cannot reveal."