The airports of Madrid and Barcelona break records in June | Economy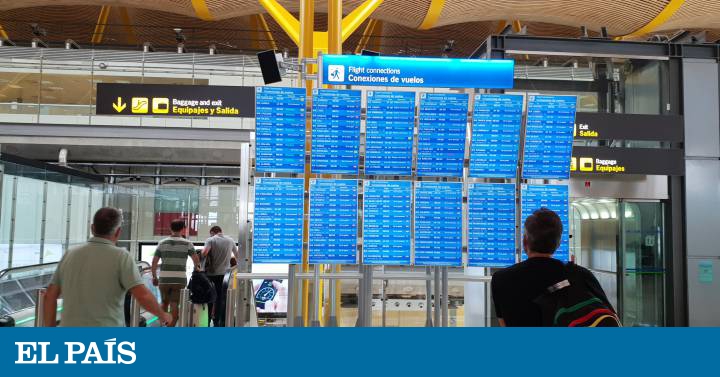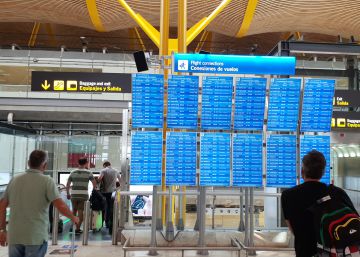 The airports of the Aena network they increased their passengers by 5.7% in the first six months of the year, to exceed 127.9 million passengers, with an increase of 4.8% in operations, up to 1.12 million flights. In June, the number of travelers exceeded 27.2 million, a
5.9% more compared to the same month of 2018, of which 19.2 million traveled on international flights (+ 4.4%) and 7.9 million on domestic flights (+ 9.9%), according to the data published this Friday by the airport manager.
In June, the Adolfo Suárez Madrid-Barajas airport led the network with 5.56 million passengers, 9.7% more than in the same period last year. As for operations, it registered a total of 37,982 between take-offs and landings, which represents an increase of 6.8%. It is the best record in a single month of the entire history of the airport, since it exceeds the 5.53 million reached in July 2018.
It was followed by Josep Tarradellas Barcelona-El Prat, with 5.10 million passengers in June, 6.2% more than in the same month of 2018, which is a record for this month. In addition, with 1,153 operations, Friday June 14 was the date with the most movements made in one day in history, and on June 28 a record of passengers transported in a single day was recorded, with 186,140.
In the first semester, the airports of Madrid-Barajas and Barcelona-El Prat recorded increases of 6.6% and 5.5% in passengers, respectively. Barajas led the network with 29.2 million passengers and 207,391 operations, followed by Barcelona-El Prat with 24.8 million passengers and 165,667 operations and, thirdly, Palma de Mallorca with a volume of 12.5 million of travelers and 95,086 flights, 2.9% more. Of the total network, consisting of 46 airports and two heliports, only five registered declines in the first half: Fuerteventura (-7.7%), Albacete (-24%), Vigo (-1.8%) and Gran Canaria (-0.4%).
In the first six months, Malaga-Costa del Sol airport occupied the fourth place with 9.21 million passengers (+ 6.4%) and 68,175 operations (+ 5.3%) followed by Alicante-Elche with more than 6.8 million travelers (+ 8.3%) and 47,043 operations (+ 6.5%). Also highlighted by passenger volume were the airports of Gran Canaria, with 6.6 million (-0.4%) and 63,305 operations (-1.8%) and Tenerife Sur with 5.6 million passengers (+ 4.5%). ) and 36,750 operations (+ 4.6%). Highlights also the increases of 12.8% of Valencia in passengers with 6,922 flights without variation; of 23.2% of Seville airport (+ 10.2% of operations) and 1.3% of Ibiza airport (+ 0.7%).
The eight Canarian airports that exceeded 22 million passengers in the first half, 1.3% more than in the first half of 2018. Of the total commercial passengers (22.05 million), 13.5 million corresponded to international flights (-2.5%) and 8.5 million nationals (+ 8.8%).
In merchandise, traffic showed an increase of 3.7% in the first semester, with 499,561 tons. The four airports that led the air cargo traffic were Madrid-Barajas (+ 5.2%), Barcelona-El Prat (+ 3.1%), Zaragoza (7.1%) and Vitoria (-0.1%). . In June, the load on the network fell by 2.1% (77,148 tonnes).
(tagsToTranslate) airport (t) madrid (t) barcelona (t) beat (t) record (t) june (t) network (t) aena (t) increase (t) 5 (t) 7% (t) passenger (t) first (t) semester (t) 128 million



Source link