The Aguas de Teror Latin Sailing Championship begins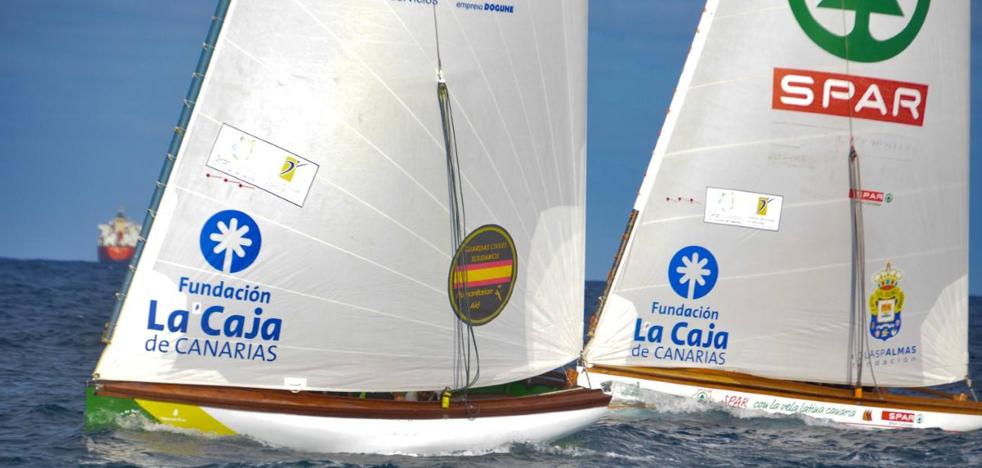 latin sail
This Saturday, from 5:00 p.m., in the capital's bay
The Aguas de Teror Championship enters the scene this Saturday with the dispute of the first day of the competition par excellence of the Canarian Latin Sailing. The thirteen boats registered this course will fight for
succeed the Port of La Luz Puertos de Las Palmas Foundation, who won the title last September in a close final with Poeta Tomás Morales Clipper.
The bay of Las Palmas de Gran Canaria will live again this Saturday from 5:00 p.m. las pegas between boats in an Aguas de Teror Championship that promises great evenings over the next few months, until the end of next September with a double-day playoff (semi-final and final), which will be accessed by the two best classified from each group.
In group A, Villa de
Agüimes Ybarra will hit with the Hospital La Paloma Pueblo Guanche, in which an interesting hit with a lot at stake is presumed. Villa de Teror will then take the start, which will hit the Spar Guerra del Río. In addition, the current runner-up,
Poet Tomás Morales Clipper, will face Chacalote A Blue Thing in de Cloud. The Fundación Belén María Port Stevedores will be the first boat to rest in this odd group.
In group B, the first hit will be a
derby of the maritime neighborhood between the Disa Roque Nublo ULPGC and the Unión San Cristóbal Restaurante Los Botes. The current champion, Puerto de La Luz Puertos de Las Palmas, will face the Tara del Mar Clínica Dental Daida Cerrajería La Llave and, finally, we will have the classic boat race between the Minerva Hotels Vistaflor Idamar and the Porteño Atlantec Sabor a Gloria.
The appropriate permits for the security device, as well as the free bus service, are still awaited. The Federation is working to obtain authorization as soon as possible and to be able to facilitate the follow-up of regattas from land. While these problems are solved, the regatta can be followed through the social profiles of the
Canarian Latin Sailing Federation.