The 7th Popular Theater Show returns to the SIT with six groups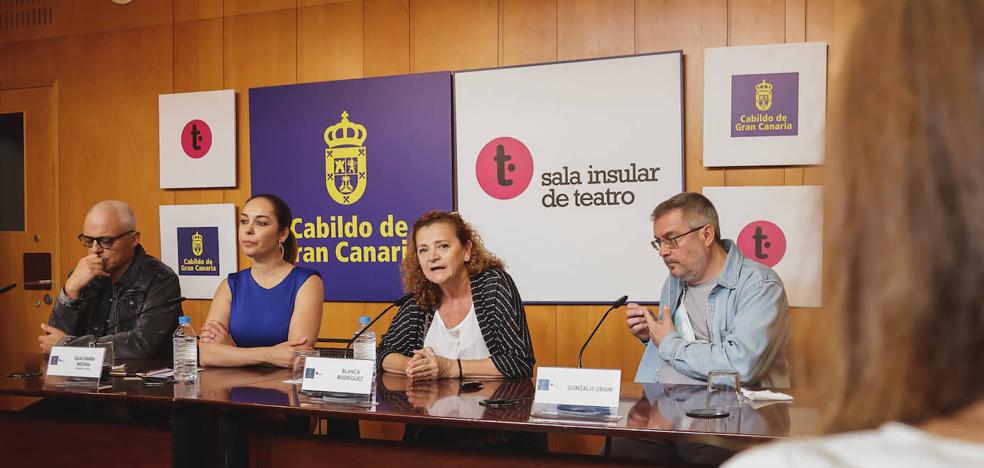 It takes place from this Thursday and more than fifty people participate
More than fifty people and six amateur theater groups participate this week in the
7th Msample of Popular Theater,which will take place in theInsular Theater Hall (SIT) and which was presented this Monday by the Minister of Culture of the Cabildo de Gran Canaria, Guacimara Medina, its managers, Blanca Rodríguez and Sergio Placeres, and the artistic director of the
Foundation of Performing Arts and Music of Gran Canaria, Gonzalo Ubani.
"It is proof that
the theater is on the streetin the neighbourhoods, in the city and that the theater is a great school for spectators, by bringing to the halls, to the stage, those who, in the best of cases, only sat in the seats", explained Rodríguez, satisfied with the growing participation, especially female, in this type of groups.
In the opinion of those responsible for this cultural initiative, the exhibition also constitutes a platform to project stories, traditions, authors and local artists.
On this occasion, from
Thursday to Sunday and from 7:30 p.m.members of Jinamarte (I and II), Maica-Las Mansas, Telde School of Music and Theater (EMUYT), Roque Azucarero and Ómnibus will take to the SIT stage to represent
'La templaera', 'Nuestra Señora de las Nubes', 'Bread and onions', 'Emmatched', 'La Luz Port and 'Bolero for a woman', directed by Rodríguez, Placeres and other professionals or amateurs.
Next week (Saturday 14, at 7:30 p.m.),
Blanca Rodriguez will return to SIT, this time to star in the Cyrano Producciones show
'Three women', Directed by Ramon Rodriguez. Played by Rodríguez, Lili Quintana, and Carolina Cué, the three leading women represent different points of view in relation to motherhood.