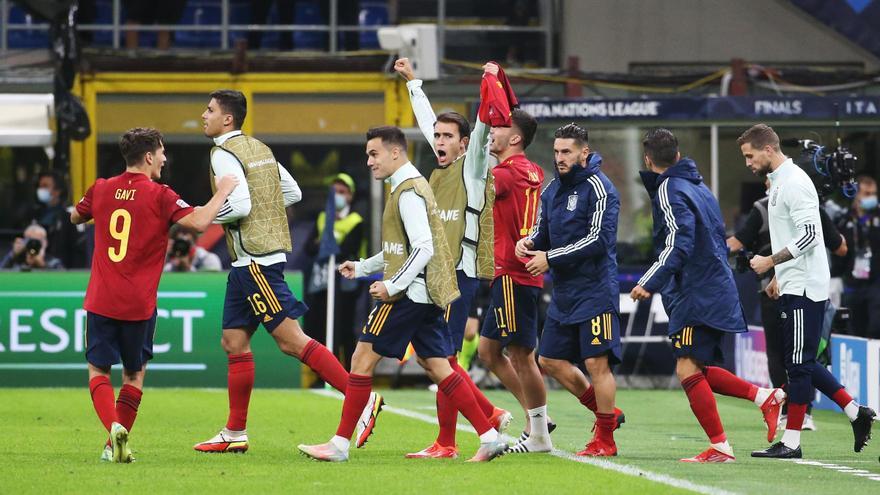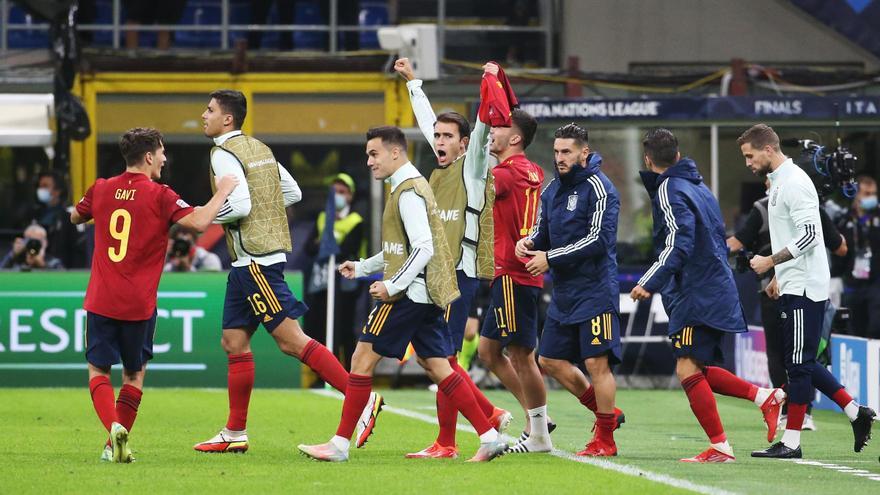 Spain beat Italy and broke a streak of 37 consecutive games as undefeated, a world record held by the transalpine team. Those of Luis Enrique, which put Holder gavi and the player agreed with him with a great game, they showed superior to a rival who did not know how to stop the Oyarzábal-Ferran Torres duo.
The first half started with some doubt in Spain, which quickly recovered and ended up pushing the Italians towards their area. Two millimetric centers by Oyarzábal allowed him to finish off from first to Ferran Torres, author of the two goals of the first half. The second of them came after the Bonucci sent off for a double yellow card.
These are the notes of the Spanish footballers against Italy:
UNAI SIMON (7) Resistant
He sent a dangerous shot from Bernardeschi to the short post to corner with 0-1. Unai had work for the first quarter of an hour, but Italy squeezed shortly after. Always attentive, just in case.
AZPILICUETA (6) Restrained
While Marcos Alonso was uploading his band as if there were no tomorrow, César understood that he had to close his band. Intelligent and cautious, the right-handed winger knew his job at all times.
LAPORTE (7) Hardened
Italy does not allow distractions or dips in intensity. He gave everything, always focused, always waiting to go to court, to help Pau Torres and Azpilicueta if he needed it. Very complete match.
PAU TORRES (5) Designated
He got on perfectly with Laporte, but also with Marcos Alonso, whom he covered his back when the band started to run. Accurate in the exit of the ball and intense in defense, he did not give a millimeter to his rivals. Until he made a childish mistake that caused Italy to cut back.
MARCOS ALONSO (8) Tireless
The partnership he created with Oyarzabal was a scandal. Where one did not go, the other did. On the bike, he walked the left side tirelessly, always with meaning, without cheap populism. Huge match.
BUSQUETS (7) Rejuvenated
He looks more comfortable with the national team than at Barça. The circumstances are different, but Luis Enrique clothes him as he deserves and he responds as he usually does. He seems younger, almost a youth with the experience of the veteran who got the second yellow for Bonucci.
GAVI (8) Photographer
He portrayed so many Madrid feathers that he could mount an exhibition. If they had seen him play even two minutes with Barça, no longer with the quarry, they would not have dared to say so much nonsense. Very brave your game. Sorry, great game. Personality, football and talent.
KOKE (7) Stonecutter
Priceless labor that of the mattress maker. Before eleven and before ten. It's the same. He knew when to cool down the game and when to speed it up. A lung in the center of the field that has few substitutes because, in addition, it contributes that football that is not seen, but necessary in any team.
SARABIA (7) Facilitator
While Oyarzabal and Ferran Torres shone with goals and assists, Pablo enabled spaces for it. From a more secondary but just as important position, the third man was a constant nuisance to Italy.
OYARZABAL (9) Delivery man
He got on the bike, placed the mobile on the handlebars, grabbed the left wing and began to distribute gifts in the form of assists that Ferran Torres took advantage of to make a double. If he had scored the third with his head, his bosses would buy him a motorcycle.
FERRAN TORRES (9) Bomber
He has the body of a dancer, but the bad drool of a German tank. Placed in the center of the attack by the work and grace of Pep Guardiola, another who knows more about football than any journalist, he finished off two measured centers by Oyarzabal to destroy the San Siro. He asked for the change as soon as the second half started due to injury.
Changes
YEREMI PINO (8) Volcanic
He left by Ferran Torres and, since he left, a sea of ​​lava shook San Siro. What power and what beauty. And, yes, when it did damage to the transalpine defense. It never rains to everyone's liking. He only lacked the goal.
MIKEL MERINO (6) Engaged
He appeared midway through the second half to solidify the center of the field. He did it without problems. Spain did not suffer.
BRYAN GIL (6) Skillful
He took advantage of the minutes given by Luis Enrique, who had also been criticized for his call. He lost some dangerous ball.
SERGI ROBERTO (6) Recovered
By Luis Enrique for La Roja. Regardless. He played the last minutes, already with 2-1 on the scoreboard. Smart and safe, it gave stability.