The 136th birthday of Tomás Morales opens the Centennial of his death expected in 2021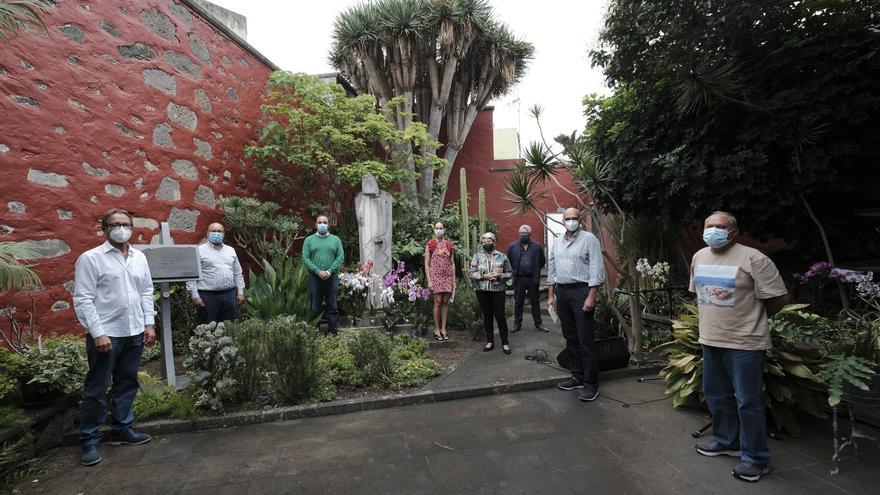 The Tomás Morales de Moya House-Museum today paid tribute to the modernist poet, on the 136th anniversary of his birth, with an intimate floral and literary offering, which this year has not been able to count on the participation of schoolchildren due to the pandemic situation.
In front of the replica of the sculpture made by Victorio Macho for the tomb of the poet of the sea, a score of orchids have been placed, in an act full of symbolism that was attended by the Minister of Culture of the Cabildo de Gran Canaria, Guacimara Medina, who remembered not only the figure of Tomás Morales, "but that of all those who have been part of our history and of whom, as a community, we should feel proud and, in this case with Tomás Morales, Alonso Quesada and Saulo Torón, have placed Canarian literature at the forefront with the modernist movement ", He said.
The Minister of Culture also wanted to highlight the importance of the museums that, like the one dedicated to the figure of Tomás Morales, are located outside the capital of the island, since, she pointed out, "they are essential to promote culture, weave networks and collect the legacy, in this case of the author of 'Las Rosas de Hércules'. Medina collected the witness of the daughter of the poet Saulo Torón, María Isabel Torón Macario, who claimed the creation of a museum of the sea project, in Puerto de la Luz and de Las Palmas, through which the Canary Islands opened up to the world, from which Culture arrived, and towards that ocean sung by the poets of the Atlantic.
The Tomás Morales House-Museum is immersed in the preparations for the commemoration of the Centennial of the death of Tomás Morales to be celebrated in 2021. This celebration of the 136th anniversary of the birth of Tomás Morales is considered the preamble to the commemoration of that centennial whose date is August 15, 2021.
Guillermo Perdomo, director of the Moya center, highlights as Centennial objectives "to convert the cultural space into the House of Literary Modernism, for which the rooms of the museum institution will be renamed with the names of the three poets Tomás Morales, Alonso Quesada and Saulo Torón, because if we make their literary context great, we make Tomás Morales great, "he recalled.
Tomás Morales Castellano (Moya, 1884 – Las Palmas de Gran Canaria, 1921) is one of the main poets of the Hispanic modernist movement. His great literary project, Las Rosas de Hercules, forged in the wake of French symbolism and under the sign of Rubén Darío, provides a unique vision to the varied poetic panorama of the first quarter of the 20th century.
Poet trained in Modernism, who knew how to adapt expressive and musical luxury to the motifs of the sea and his native island. Since the appearance of his first book, Poemas de la Gloria, del Amor y del Mar (1908), critics highlighted his exceptional gifts for verse and the powerful personality with which he dealt with his themes, especially those of marine affairs. With his unitary work Las Rosas de Hércules, he is one of the great innovators who paved the way for contemporary Spanish poetry and brings to modernist aesthetics his unique cosmogonic and literary vision, embodied in long-standing texts such as the 'Ode al Atlántico' or 'Poems of the commercial city', and in compositions of the stature of "Allegory of Autumn" or "To Rubén Darío in his last pilgrimage"