The 12 players to watch at Euro 2021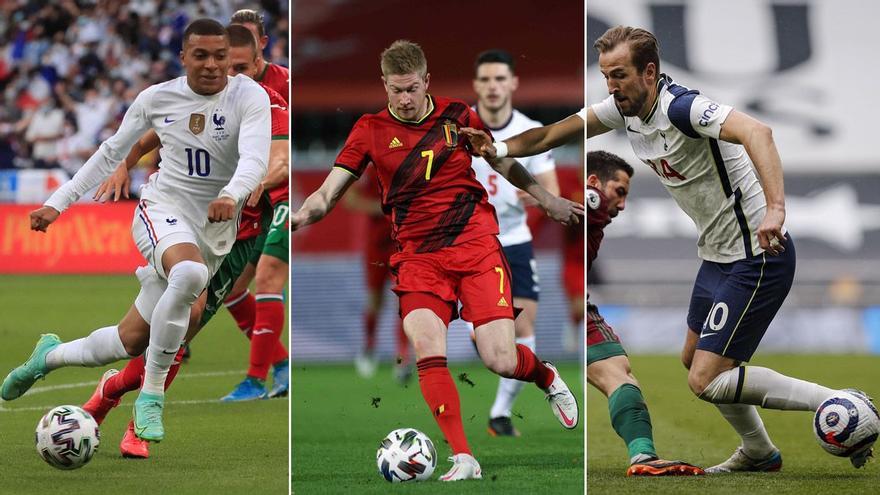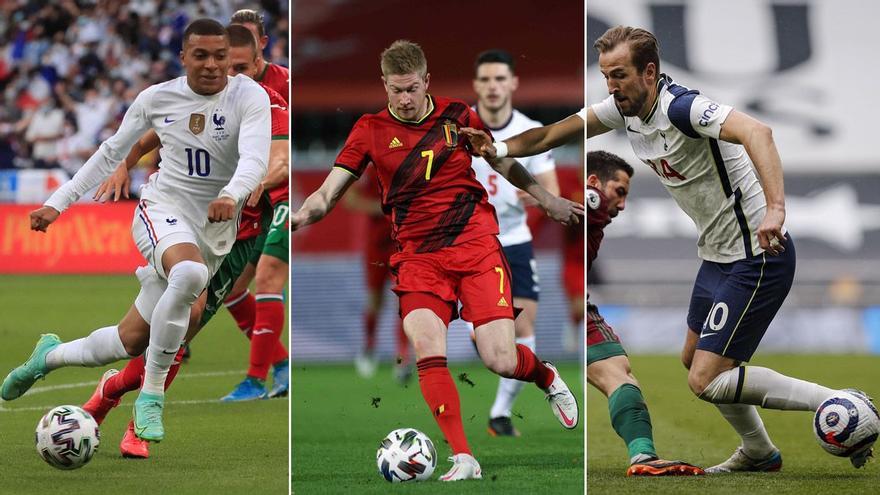 Mbappé, the 'crack' desired by all, heads an attractive cast of stars in the Euro 2020. Illustrious veterans, players in their heyday or jewels willing to reveal themselves on a big date ensure duels of enormous quality. They miss it, due to injuries or absences from their selection, stars such as Ibrahimovic, Haaland, Ramos, Reus, Oblak or Van Dijk.
1. Kylian Mbappé: the unstoppable gazelle of France
Position: Forward
Age: 22 years
Club: PSG
Selection: 44 caps / 17 goals
He is the number one candidate to be the best player of the tournament. He already shone in the World Cup, but even more is expected at the Eurocup. He has everything to mark an era as a successor to Messi and Cristiano. Fast, unstoppable and lethal in the area, he will form a sensational trident with Benzema and Griezmann. The PSG sheik has assured that he will renew. Florentino wishes it.
2. Harry Kane: English striker points to Wembley
Position: Forward
Age: 27 years
Club: Tottenham
Selection: 54 caps / 34 goals
He was Golden Boot in Russia with six goals and wants more in a Euro that will be decided at Wembley. He finished the Premier as top scorer (23) and assistant (14), although Tottenham was left out of the Champions League. His idea is to change clubs, but first he wants to lead the pros to lift the first European Championship in their history. It will depend on him.
3. Kevin de Bruyne: the driving force behind beautiful Belgium
Position: Midfielder
Age: 29 years
Club: Manchester City
Selection: 80 caps / 21 goals
City's fantastic season ended with a double misfortune for De Bruyne in Porto. His team lost the Champions League final and he could not finish it due to a broken face that will leave him out of the debut in the Eurocup. Belgium needs you. With Hazard between cotton wool, De Bruyne's clairvoyance and Lukaku's goals must uplift the Red Devils.
4. Cristiano Ronaldo: fifth European Championship of the Portuguese predator
Position: Forward
Age: 36 years
Club: Juventus
Selection: 174 caps / 103 goals
He made his debut in the national team on August 20, 2003 and there he continues. Cristiano disputes his fifth European Championship with his classic ambition and Bruno Fernandes as the best partner. In Paris he lifted the trophy but was injured in the final and ended up on the bench in tears. Despite Juve's gray campaign, the Portuguese was top scorer. It is the only one that has achieved it in Spain, England and Italy.
5. Marcos Llorente: versatility and efficiency for 'La Roja'
Position: Midfielder
Age: 26 years
Club: Atlético de Madrid
Selection: 5 caps / 0 goals
In a selection without the aces of other times, players like Marcos Llorente and Gerard Moreno should be the references. With 12 goals and 11 assists, the ex-Madridista was key in Atlético's League title. Arrive like a plane to the Eurocup. Luis Enrique's initial idea is to place him on the right side, but he can adapt to anything. Llorente is a treasure.
6. Joshua Kimmich: the safe value of Germany
Position: Midfielder
Age: 26 years
Club: Bayern Munich
Selection: 54 caps / 3 goals
In a Germany that moves between old glories like Neuer and Müller, and talented youngsters like Havertz and Musiala, sure value stands out at its peak. Whether in the right lane or midfield (his natural position), Kimmich represents perfection, good judgment and tenacity. The Bayern star is no longer just a wild card. It is the soul.
7. Nicoló Barella: the compass that falls in love in Italy
Position: Midfielder
Age: 24 years
Club: Inter de Milan
Selection: 23 caps / 5 goals
If you are looking for a cover in this European Championship, perhaps Italy is the best choice. Absent from the last World Cup, he arrives with great enthusiasm. The easy thing would be to highlight a classic like Bonucci, Insigne or Immobile, but the great attraction from Azzur is Barella, a very complete midfielder who has led Inter to the scudetto. Work and quality in equal parts.
8. Memphis Depay: Koeman's desire leads the 'oranje'
Position: Forward
Age: 24 years
Club: Olympique de Lyon
Selection: 64 caps / 26 goals
Frank de Boer's Holland does not raise too much enthusiasm, but his path will depend on a Barça player, De Jong, and another who may soon be. Depay (22 goals in 40 games this season with Lyon) is the offensive reference of the 'oranje', as he has shown in recent friendlies. No Dutchman had scored four goals in a row since Van Persie in 2013.
9. Luka Modric: the Croatian magician who never fails
Position: Midfielder
Age: 35 years
Club: Real Madrid
Selection. 138 caps / 17 goals
Without Rakitic, already retired from the national team, Luka Modric is the undisputed leader of the world runner-up. He has been in the national team for three decades and still has fuel left to teach lessons. With inexhaustible talent, the Madrid star is a hero for the combative Croatian country. It will be difficult to repeat the feat of Russia that awarded him the Ballon d'Or, but it will leave its mark.
10. Robert Lewandowski: the boss of goals in Poland
Position: Forward
Age: 32 years
Club: Bayern Munich
Selection: 118 caps / 66 goals
With 48 goals in 40 games, the Bayern striker was on display again in a brilliant season on the individual level. The mole was the injury that prevented him from playing against PSG in the Champions League. With the Pole in attack, the winner would surely have changed. Without Milik, he will still have more responsibility in the block of Paulo Sousa, who entrusts everything to his great captain.
11. Christian Eriksen: the artist from Denmark
Position: Midfielder
Age: 29 years
Club: Inter de Milan
Selection: 108 caps / 36 goals
It was difficult for him to convince Conte in the beginning, but he has finally become a key piece of Inter that ended the hegemony of Juventus. In his country, he is the head of operations. Escorted by Hojbjerb and Delaney, through his precise boots passes all the offensive flow of a Denmark capable of giving some surprise. Braithwaite awaits your assists.
12. Gareth Bale: The Welshman's last work?
Placing Bale among the stars to watch of the tournament is perhaps being too generous, at least considering his performance in recent years. Still, everyone knows that the Welshman enjoys his team, which was a semi-finalist in 2016. He has one more year left on his contract at Madrid (until 2022), but it is not ruled out that he will even announce his retirement after the tournament.