The 11 most outstanding series of December | TV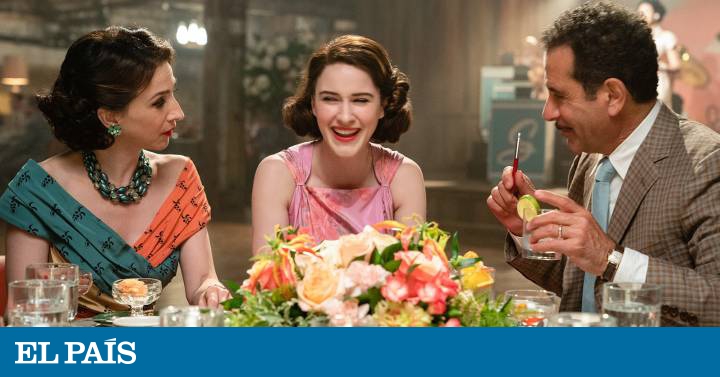 Foodie love
Isabel Coixet directs and writes the first Spanish fiction series that premieres HBO Spain. Eight half-hour chapters that bear the unmistakable seal of the filmmaker and tell a love story through the quotes of a man and a woman in different restaurants, cafes, bars, the odd trip … Laia Costa and Guillermo Pfening wastes chemistry in a series that seeks to create an enveloping environment playing with the senses, giving great importance to the musical selection and the evocation of different flavors. Coixet fans will enjoy it.
Where and when to see it? HBO Spain premieres the eight chapters on Wednesday, December 4.
Merlí: Sapere Aude
Movistar + returns to the success of TV3 Merlí with East spin off focused on Pol Rubio, the character that Carlos Cuevas plays. Now Pol begins his Philosophy studies at the university to follow in the footsteps of his former professor. Among his new teachers is the irreverent María Bolaño (María Pujalte), who becomes a source of inspiration for the young man, who now meets new classmates. The same creative team responsible for the mother series is the one in charge of this story that retells the personal growth stories of their characters and how their relationships evolve while philosophical thinking, ethics and morals fly over as a backdrop .
Where and when to see it? Movistar + premieres all eight episodes on Thursday 5.
Pagan Peak
On the border between Germany and Austria a corpse appears in a peculiar position that seems to belong to some kind of ritual. An enthusiastic German policeman and a cynical Austrian investigator back from everything take care of the case, which has relations with the traffic of people and with legends from the area. An interesting European proposal in the line of not to go Nordics who have arrived in recent years and who are committed to a pair of detectives with opposite personalities and marked by the cultural and social differences of two bordering countries. Although remember Bron / Broen In its approach, both the setting and the protagonists are very different.
Where and when to see it? It opens on Thursday the 5th at COSMO.
The Marvelous Mrs. Maisel
Midge Maisel returns to continue telling the story of this New York housewife of the late fifties who tries her luck in the world of monologuism accompanied by her representative and friend. Last season He has already begun to suffer the complications of touring nightclubs while fighting the resistance that opposes the environment in which he has been raised, very traditional and macho, who does not welcome his new vocation. The sparkling dialogues are back at lightning speed and that great technical invoice that surrounds one of the best active comedies.
Where and when to see it? The third season will be complete on Amazon Prime Video on day 6.
Christmas days
A good proposal for sofa and blanket in the middle of December. Pau Freixas is the creator of this miniseries of three episodes with one of the most powerful female casts of Spanish television: Victoria Abril, Ángela Molina, Charo López, Verónica Forqué, Elena Anaya, Verónica Echegui, Nerea Barros, Anna Moliner, Alicia Borrachero … The plot goes through life of four sisters in three different moments of their life with Christmas food as a meeting point. A family secret and curiosity to know what will have happened to the characters unite some episodes that go from the Christmas story to the drama and the black comedy.
Where and when to see it? December 6 on Netflix
L: Generation Q
In 2004, the series The L Word He broke molds by focusing on the life of a group of lesbian and bisexual women in Los Angeles. In 2009 he said goodbye after six seasons on the air. Its protagonists return ten years later to show what happened to them, in addition to adding new LGTBQ characters to the group. Critics in specialized American media highlight how the series has adapted to the new television times, where the visibility of the group is greater but not yet sufficient.
Where and when to see it? In Movistar Series (dial 11) it opens simultaneously to the US at dawn from December 8 to 9.
Ramy
The humorist Ramy Youssef is the protagonist and creator of this story that he remembers in his proposal and his tone Master of None. In 30-minute chapters the life of a twenty-year-old Egyptian-American resident in New Jersey who seeks his place in the world while trying to see how it fits into the Islamic tradition that surrounds him and life beyond his neighborhood. A curious point of view that portrays a culture and traditions not very represented in television fiction that usually comes to us and that also bets on an interesting author's point of view.
Where and when to see it? Starzplay premiere on Thursday 12.
Jonathan Strange & Mr Norrell
The BBC premiered in 2015 this entertaining and recommended production that remained unpublished until now in Spain and that adapts the best seller namesake by Susanna Clarke. In an alternative nineteenth century in which magic is a reality, Mr. Norrell intends to restore magic in England and put it at the service of the king and the army. Meanwhile, the inexperienced Jonathan Strange becomes Norrell's pupil after discovering his power, which allows him to even surpass his mentor. Seven chapters in which its careful atmosphere and special effects stand out.
Where and when to see it? In Filmin on Tuesday 17.
The Witcher
Expected television adaptation of the popular novels, which also have a legion of followers of their adaptation to video games. The actor Henry Cavill It gives life to Geralt de Rivia, a lonely monster hunter who wanders through a world in which humans are the greatest danger to humans. Together with a powerful sorceress and a young princess they will have to try to survive in this dangerous world and flee from their rivals. One of those epic fantasies you are looking for repeat the worldwide success of Game of Thrones.
Where and when to see it? The eight episodes premiere on Friday 20th on Netflix.
You
The bombing that was his first season last year he made Netflix produce a second installment of this addictive thriller. The platform knows it's a drug seriéfila and that is why it premieres on Christmas dates, thinking about repeating the hitch and the great echo of the previous occasion. In the first season, Joe, a twenty-year-old psychopath, became obsessed with a client from his bookstore: he was spying on her, manipulating and using all the resources at his disposal to eliminate everything that prevented them from being together, including other possible suitors or friends that he I considered annoying. Now, history moves from New York to Los Angeles and its obsession will have a new goal.
Where and when to see it? On the 26th the second season will be available on Netflix.
The neighbor
Year seriephile It closes with this Spanish comedy, perfect for marathoning on New Year's Eve or New Year. The comic by Santiago García and Pepo Pérez adapts with Quim Gutiérrez at the head of the cast. He gives life to Javier, a loser to whom things are not going well, either laboriously or in their relationship. One night his life changes when an alien fallen from the sky passes his super powers before he dies. From then on you will have super strength, you can fly or recover quickly from physical damage. But the one who is a pringado is still a pringado whether or not he has powers. Nacho Vigalondo directs the series written by Miguel Esteban and Raúl Navarro and moves in a tone that mixes with grace the history of superheroes and the neighborhood with a lot of humor and rhythm, at least in its beginning.
Where and when to see it? On December 31, the eight episodes are released on Netflix.
. (tagsToTranslate) 11 (t) series (t) highlight (t) December (t) review (t) premiere (t) fiction (t) recommended (t) month



Source link