The 100-year-old canary who claims to be immunized against Covid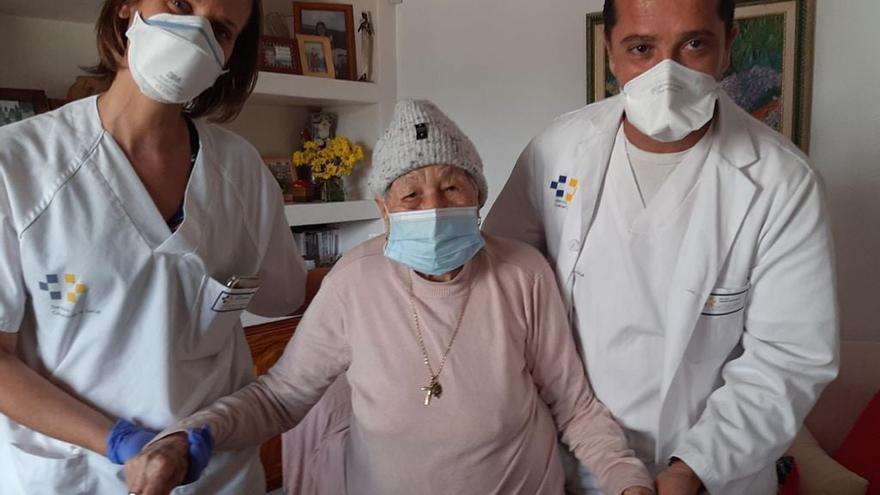 Lanzarote Angelina Gonzalez Quintero (Lila), about to turn 101 years old, was "happy" last Friday after getting immunized against it. coronavirus, of which it presumes.
This neighbor of White stain, town where the sanctuary of the Virgin of Los Dolores, patron saint of the Island, in the municipality of Tinajo, received the second dose of vaccine last Friday from the hands of health workers from the San Bartolomé vaccination team, says the Doctor José Molina Orosa Hospital.
Lila occupies the time of her centennial life making Canarian rosettes, "a meticulous task that requires all of her attention, since the spaces to divide the needles on the cushion must be counted well and not skip any thread," they indicate from the hospital center. .
Lila made this craft in the sewing workshop that her mother, Angelina Quintero, set up, with whom she sewed various garments in order to survive amid so much hardship.
In 2018, At 98 years old, she was a proclaimer of the San Roque festivities, in Tinajo, in whose church he married in 1940 when he was 19 years old. Then he stated that he had the feeling of having "lived a lot", Spending" very difficult times and, of course, also happy times, although I think there have been more bad than good.
What, without a doubt, Lila did not imagine, despite family and financial difficulties – her mother lost three of her children between 2 and 5 years old in a week and her father, Juan González, went to Argentina to make his fortune. and he never returned – it was to witness a pandemic like this or the confinement that stopped life in the world, which is now one year old in Spain. For now, Lila has added another feat to her long existence, immunizing herself against the coronavirus.