Teresa Ribera: "The modification of the 2013 Coastal Law was irresponsible" | Society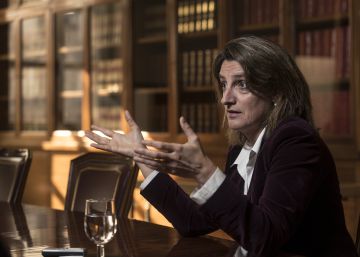 Teresa Ribera (Madrid, 50 years) has gained weight in the Government and has gone from minister to vice president for the Ecological Transition and Demographic Challenge, a megadepartment in which the classic environmental competences linked to energy are included and now also those related to depopulation . It places the legislature that starts as a key in the fight against climate change, whose impacts accelerate "at the speed of vertigo." And it attacks against the reform that made the PP of the Law of Coasts in 2013.
Question. What changes with your promotion to a vice presidency?
Reply. On the one hand, the biodiversity area is reinforced. On the other, the demographic challenge is incorporated knowing that for decades there has not been a strategic view. But as vice president I have to coordinate and dialogue more intensely with the other departments on the ecological transition. This legislature will coincide with the critical moment to lay the foundations for the transition and to know whether or not we win the battle of climate change. These four or six years will be decisive.
P. Will Spain assume a more ambitious role in the European Union and ask, for example, tougher climate goals for 2030?
R. We had been doing that already. The emergency situation and the associated costs of inaction are immense especially for southern Europe. We are border area, a country with very high desertification risk and extreme weather events that generate impacts on infrastructure and GDP. Spain must be very interested in Europe collectively finding a way to be more resilient and be absolutely decarbonized in the middle of the century, without forgetting equity. Because it is also key to drag other countries and to release resources that are now wasted on indirect costs associated with pollution or the importation of fossil fuels. We wanted in the declaration of climatic emergency to mean that vocation of transversal action. All this must end in a political and social pact with the law of climate change.
P. Why are we in a weather emergency?
R. Because the impacts accelerate at vertigo speed and they will continue to do so if we do not react. We are late and not with the intensity that is required. There are two things that make me obsessed. The first is the big fires. I remember those of Portugal and the feeling that it was what was described in the scientific literature about the effects of climate change on the Peninsula. We saw these uncontrollable and horrific fires in Portugal and California and we have spent a month and a half not giving credit to the images of hell in Australia. The other big issue that has exploded us is water, sweet and salty. Regarding the sweet, we know that we are going to a model in which the medium scenarios are no longer worth having as a reference for the planning of uses. We have to be prepared for extreme scenarios: in the same place and consecutively there is too much water and no water. But they have also been spectacular, and it was already described in the first studies in 2007, the impacts on the coast. Urban settlements on the coast are experiencing a very complicated crisis. But I perceive a very important change in the sensitivity of the population. I managed the general direction of coasts 10 years ago and everyone asked, without any question, their boardwalk. Now, when we see the waves passing over the buildings of the first line, you ask yourself: Does it make sense to spend the same millions on the same? In some parts of the Mediterranean coast we have three restorations in one year. Is continuing to make restorations the smartest way to address the problem? Probably not. You have to start working on a medium and long term approach and that requires a lot of consensus. We are considering a more strategic and joint reflection on some municipal terms, what should be done with the first line, if we have to build dikes or rethink the management ...
P. But is it logical to build dikes to protect buildings that are in the public domain, clearly exposed?
R. A very good part of the conditions have occurred in infrastructures built in the public domain and sometimes on the beach itself ...
P. Or in areas pardoned in 2013 by the reform of the Coastal Law.
R. That is the second part. There has been a carelessness in the application of the Coastal Act of 1987 for years. A law that I think was excellent was not taken seriously. And in 2013 it became as if the law did not exist. I believe that the modification of the Coastal Law in 2013 was a great irresponsibility. Who will respond for the damage now? A false expectation has been generated and before a problem it has been looked the other way. Institutions must be responsible. Now there is greater social sensitivity and that is essential. We find many municipalities that understand and accept that instead of recovering the very destroyed seafront, you have to take advantage to free that space.
P. The generation of electricity with coal disappears in record time. Will Spain be able to set tougher targets to cut emissions in the climate change law thanks to this carbon output?
R. In fact, the exit of the coal is what explains that in the update of the energy and climate plan that has just been done, the emission reduction target for 2030 is raised by two points [pasa al 23%]. Coal has ceased to be economically profitable for generators and its closure is much faster than they thought and well above our forecasts. That gives us some slack, but it generates other tensions. There was not enough anticipation about what would happen to citizens whose region depends on that great infrastructure that suddenly ceases its activity. It is very difficult to generate an industrial dynamic that allows you to replace that activity in such a short time. This is the biggest challenge: to provide alternatives so that whoever wants can stay with dignity and economic security in the town where his family has lived for generations.
P. What are your energy priorities this legislature?
R. What we have done in a year and a half is huge. When we arrived it was all upside down. A reorientation has been made that allows us to start the cycle with reasonable bases. We have a plan to reorder the sector that will have nothing to do with what it is today. Among other things, we want to integrate renewables by benefiting from their lower operating costs through an auction system similar to that done by neighboring countries, which offer stable profitability, and not energy auctions such as those done here. At certain times it can be by technology and others by territory, and of different sizes.
P. The veto for new combustion cars is scheduled for 2040, but can it be advanced?
R. 2040 is what the European Commission establishes. And there are some countries that want to advance it ...
P. And some communities in Spain, such as the Balearic Islands.
R. It is good to use the Commission proposal as a reference. If changes occur we will see. In any case, we must pay close attention to issues related to health, the environment and the industrial sector. In the Balearic and Canary Islands, it must be remembered that there is an EU proposal for the creation of 100% renewable islands, that is, strategies that allow the use of fossil fuels to be greatly reduced in the rich islands of Europe.
P. Can it be ruled out since the nuclear waste warehouse (ATC) is going to be built in Villar de Cañas?
R. Reality showed that the management of the Villar de Cañas project had not been particularly successful. I do not see it easy to be recoverable under any circumstances. In addition, there is a very strong opposition at all levels. The technical problems would have to be resolved, which would require a very important additional investment. But we have a responsibility to address a solution for nuclear waste and open the debate with caution and seriousness. You have to decide if you have to install one, two or three locations and if you have to do it by regions.
P. Will Spain meet the European objective of renewables this 2020, that is, that 20% of energy is clean?
R. We are a little rushed. I see it complicated. It has been very interesting the explosion of self-consumption and the auctions that have occurred in 2016 and 2017. I must say here that we want to ensure the education and rights of consumers and buyers, for example, of solar panels. We must be careful with the messages, because in a process of change like this if someone feels disappointed it creates distrust.
P. When are they going to do the next renewable auction?
R. Sooner. This is a great delay. It was one of the priorities we had marked with José Domínguez [anterior secretario de Estado de Energía]. Being on duty did not allow it, but we would have liked to have done the first before the end of 2019. However, it is necessary to modify the scheme that today is in a rule with the rank of law and generate a technical development. Let's see how far we can shorten deadlines.
"There is nothing that Jordi Sevilla would like to do that he has not done"
Question. Have you incurred interference in the management of Jordi Sevilla, the former president of Red Eléctrica, as he has accused you?
Reply. You can disagree, but that is not interference. If one reviews what Red Eléctrica has done in these 18 months, it is that it has undertaken very important governance and strategy reforms promoted by the president, who began his term as non-executive. There is nothing you have wanted to do that you have not done. There have been things that have seemed better or worse in terms of opportunity or communication, but I never objected, nor asked him to resign. In any case, when there was something that was ordinary management, we discovered that the easiest thing was that your interlocutor was the secretary of state. From there, the rest are differences of interpretation and susceptibilities of a personal nature that I do not believe worthwhile. The work between ministry and Red Eléctrica has worked well. The challenges are great and the most important of all is to calm down and be convinced of the trust and technical capacity, solvency and honesty of those involved. The sooner we turn the page, the better. I am convinced that Seville operated with conviction, dedication and enthusiasm for the company, which he himself qualified as the executing arm of the energy transition. We must thank him and regret that the dialogue, which is key, has not worked. But what can we do?
P. But Seville has insisted that he opposed several of the actions he undertook.
R. A company with these characteristics is entitled to carry out what it thinks is. And if you share it in advance, you can let others say what we think. Normally, enter the system operator [Red Eléctrica], which receives 92% of its income for this condition, and the Government there is a level of understanding that avoids surprises and allows to anticipate what will happen. With any company like this, sharing the lines beforehand is good for the best performance and for no misunderstanding or potential risks.
P. In this case, it has also been criticized that her husband is a member of the CNMC (National Commission of Markets and Competition).
R. My husband was there before I arrived here. But it is much better to talk about the solvency of people and not if they are children, husbands or whatever. The most important thing, because the country, the company and the institutions deserve it, is to recover tranquility. We will see how the appointment of a new director is on track.
P. Who will be the president? [Sonrisas]
R. It is still soon. But in the good governance profile of Red Eléctrica it is said that it is convenient for the president to have the capacity for institutional dialogue.