Teresa Perales: "I don't have a diagnosis of what is happening to me"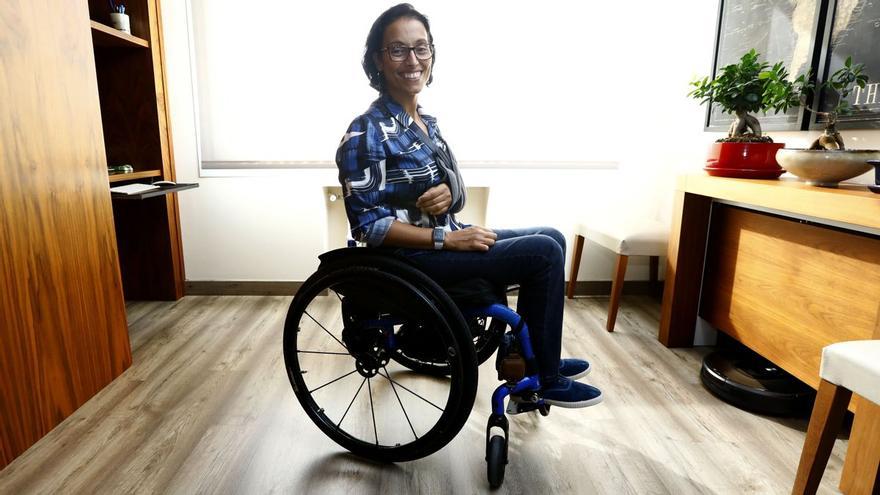 Teresa Perales has found the strength to break her silence almost a month after having to be hospitalized in Tokyo. Zaragoza He has denied having suffered an anxiety attack although he still does not know what is happening to him after having suffered seizures, spasms and muscle hyperactivity that is now controlled with medication. The swimmer has published a video on her social networks to explain her situation and thank a long list of people who have been by her side at this time.
"As you already know that I have been at home for a few days and I want to thank you for all the love I have received these 25 days that I have been hospitalized between Tokyo and Madrid. I have not been able to answer you before because I wanted to have enough physical strength to record this video and tell you in the first person what is happening to me, "the Zaragoza woman begins to later deny the first information." First of all I have never been diagnosed with an anxiety disorder and if it were, I would have no problem saying it, so from here all my support for people who have had or have such crises. I am very sorry that while illnesses such as a tumor, a stroke, meningitis were being ruled out for me, without my family or I knowing about it and of course without our authorization, someone wrongly told the media that I had a picture of anxiety and stress. Personally, I do not know why it was said but it motivated the media to give that erroneous information. 21 days after being hospitalized, I can tell you that I still haven't had a diagnosis and we are still waiting for some results. "
Perales knows what is happening to him but not why. "The symptoms that I have are very controlled, seizures, spastic attacks, muscular hyperactivity, which were so strong that for a few days I could not control my body. But with the medication I am much better and I can now lead a practically normal life, also to the extent that my strength allows me after so many days in bed. It has been a very long journey that I am coming out of little by little with the help of all the people who have taken care of me in Tokyo and in Spain ".
The swimmer has an endless list of thanks. "I want to begin now the moment of thanks, first of all to the medical service of the Spanish Paralympic Committee. I do not have enough words of thanks for Dr. Espejo and Dr. Fernández for your love and support throughout the process. You cannot imagine how important it was for me being so far from home to have you close as if you were my beloved family, because of the restrictions covid They couldn't be in Tokyo and they had to live this thousands of kilometers away. I also want to thank the Spanish embassy in Tokyo and the Paralympic Committee for arranging my return and that I could return in a medicalized plane thus guaranteeing my vital safety ".
After ten days in Tokyo, it was time to continue the tests at home. "When I arrived in Madrid I spent nine days in the ICU, millions and millions of thanks to the ICU team and the hospital neurology team who turned to me trying to find out what was wrong with me. At first it seemed like a picture of epilepsy, in Tokyo they already ruled out tumors and effusions related to these symptoms, and in Madrid it was completely ruled out. All the tests that are being carried out on me are going well and the only certain thing is that I have the seizures controlled but I do not have a diagnosis. "
Nor does she forget her colleagues and all the followers who have not heard from her in this time. "Thanks to the colleagues who packed my suitcase and to the media because you have shown absolute affection and respect with me as always after so many days of silence because I couldn't even speak. It was very hard but without all of you behind it it would have been much worse. I really want to get back to my normal life as soon as possible but I know I have to take it easy and give myself time, so I apologize if I have canceled events. They are things that happen, stones on the road that I hope will soon be left behind. I reiterate my gratitude to everyone and the promise that I will resume my schedule as soon as possible, "concludes Teresa Perales.