Teresa Perales: "I am happy, I do not deserve any kind of pity"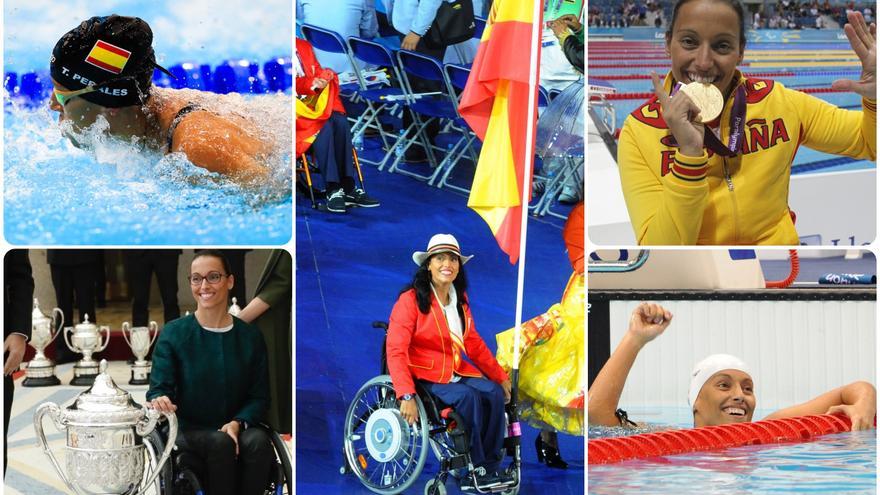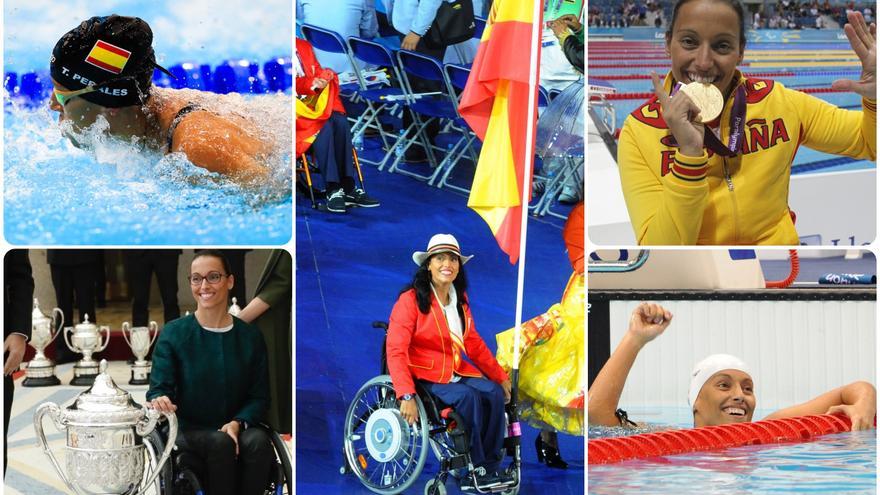 "I would prefer that my father had not died to walk with my feet again," says the Paralympic swimming champion. Teresa Perales, whom a neurological disease prostrated at age 19 in a wheelchair, from which he has arrived without complexes and with admirable strength to high competition. Now she is 44 years old and the joy of having become one of the best athletes in Spain. Her record in the pool is only comparable to that of Michael Phelps - they both have 22 medals - but what she is most proud of is her husband and four-year-old son. Teresa lives with a wheelchair, not a wheelchair, And the same thing fights adversity with strokes that teaches motivational courses or writes books. In "The force of a dream" (Conecta editorial), the standard-bearer of the Spanish Paralympic Committee in London dismantles prejudices about disability and gives a lesson in integrity by recognizing that being paralyzed was not the worst thing that has happened to her in life .
-Congratulations, Teresa. The King has just awarded the great cross to Sports Merit, what did Don Juan Carlos tell him?
-He was very affectionate and encouraged me to continue fighting in the pool. The Royal Family is very supportive of the Paralympic team, not in vain the Infanta Elena presides over the Spanish Paralympic Committee. It was a very beautiful act in which my son, Nano, who is four years old, had a great time and even dared to talk to the King.
-What did Nano tell the King?
-He asked him with total self-confidence where he had the crown. The King He replied that he had it saved.
-... But you weren't always in a wheelchair, what happened?
-At 19 I suffered a neurological disease, and in three months I went from running to suffering excruciating pain in my legs and arms. Mobility was failing me.
-Where does your mobility end?
-In the legs I don't feel anything, and I also have parts of the trunk affected. My right arm is missing something, the touch of my hands, and the little finger of my right hand is always hooked.
-Do you remember when was the last time you went out using your legs?
-Yes, but only because he went to a sporting event special. It was the day Zaragoza won the Recopa de Europa against Arsenal, in 1995. I was 19 years old, and I came home and told my mother that my feet bothered me a lot.
-It must not be easy for a young woman to see herself condemned to a chair overnight, how did she react at first?
-I took a big bounce and just thought: This can not be! Anyway, staying in a wheelchair is not the worst thing that has happened to me in my life.
-What, then, is the worst thing that happened to you?
-Losing my father when I was 15 years old. I would rather be able to have my father again than to walk on my feet again. The wheelchair does not determine who I am, it only accompanies me. The wheelchair is not in my head.
-How is it possible that at 19 years old he did not sink after knowing that he had to spend the rest of his life in a wheelchair?
-I did not realize. The days went by and I was assimilating it. I remembered that I had been very selfish when my father died. I made my mother have a very bad time and one day I decided that I did not want to continue being the protagonist of my drama. The truth is that until I found the love of my life I always felt that I was missing my father and nothing, nor lose mobility, it was important to me.
-I suppose that time is essential to overcome adversity.
-Time buffers everything and allows you to see what happened to you with a different filter.
-Did you first have to accept that reality and go through the pain to create your own spiral of optimism and happiness?
-It is not that I told myself that I had to be happy, but that I realized that I am happy because I have built my own happiness. It would be selfish not to be happy. It was something gradual, and I suppose it was also the fruit of maturity. I have always been a positive woman.
-What does she do when they look at her with pity?
-People are struck by the fact that he is in a wheelchair, with high heels and smiling. It is also true that I have caused that happiness by proposing challenges and fulfilling them. I understand that there are those who look at me with pity, because we have been brought up with pitiful prejudices towards the disabled. I'm happy, I don't deserve any kind of pity.
-To what extent does he err who does not take control of his life and star in eternal agony?
-I think it is a very selfish attitude and that the one who casts himself in that agony ends up boring those around him, because he wastes their energies. Nobody wants an ashen by their side. I have seen people with very severe disabilities who want to live and compete. To have that attitude, I think it is also key to have motivation. Those who want to die do so more because of a lack of motivation to keep going than because of the disability itself.
-Have you ever thought that if it hadn't been for this disease, you would have become a highly competitive athlete capable of winning as many medals in the water as Michael Phelps?
-It's that I didn't like swimming. I was a karate fighter! At first I would throw myself into the pool with a lifejacket, and look now. I assumed what happened to me, but taking control of my life, because I also had my doubts and my fears.
-What was he afraid of?
- I thought that I was not going to be able to form a family, that nobody was going to love me. He had the same prejudices with the disability they have many people, and look: I got married and I have a wonderful son.
-How did you meet your husband?
-He is a journalist and he invited me to sports debates on television. One day he proposed to go and celebrate my medals of Sydney and there everything arose.
-Have you ever imagined your life without this disease?
-When you do that, it is because you long for a life that we believe could be better.I wish I could walk but as long as I had what I have now!
-How many hours of training do you spend in the pool?
- Now only three, but when I have competition in sight I do not go below six, and always with a good face.
-Is that positive attitude valid in the face of adversity if it is not accompanied by effort?
-Without willpower the positive attitude it's no use.
-What do you do when the bird comes in?
-I apply the story that I give in my conferences about motivation.
-Is it true that at your wedding you got up from your chair and walked to the altar?
-Yes. People stayed crazy. I was wearing a white tuned crutch, I stood up and my uncle and my brother left. I went to the altar of the Pilar and heard exclamations. I saw people contrite. My husband was freaked out when he saw me walk.
-How do you manage to take care of a small child in constant movement?
-I manage well because I use the imagination. For my son, a wheelchair is fun. Now he realizes that other dads walk and the problem of the steps. However, my son's classmates think that Nano's mother is cool because she wins medals, sees the Kings and makes horses in the wheelchair for them.
-How do you remember your time in politics at the hands of the Aragonese Party?
-It is a bittersweet sensation, because it is unfair that because someone is in politics they already have to be under suspicion. I got involved out of social commitment and willingness to serve, and I was always aware that they were interested in the image of a young woman, an athlete and in a wheelchair. Who better than a disabled Can you understand the needs of this group?