Teresa Hernandez Vega closes her Canary-Venezuelan circle with the 'Margariteña'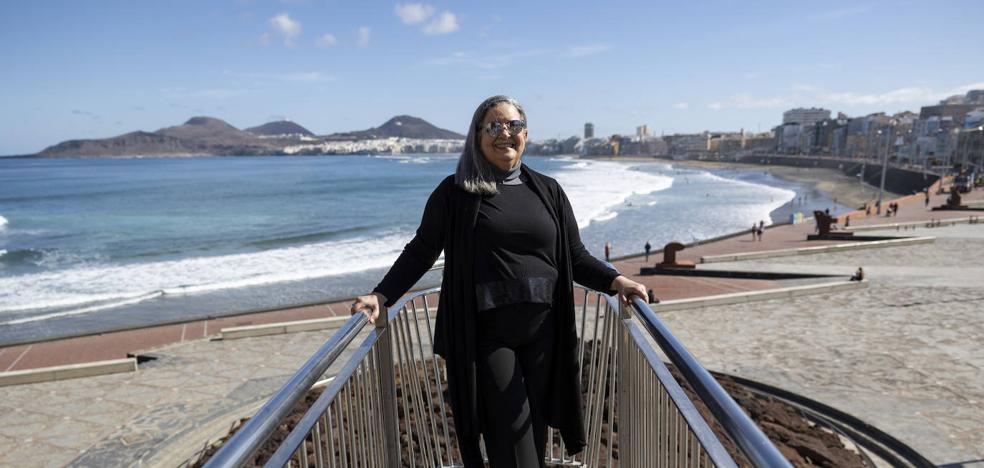 The director, born in La Isleta and raised and trained in the South American country, directs the same work with the Community Orchestra as she did 30 years ago at the Pérez Galdós Theater
December 14, 1993At 8:30 p.m., a concert by the Venezuelan Aragua Symphony Orchestra began at the Pérez Galdós Theater, conducted by Teresa Hernández Vega and with Yurubí Guerrero as solo violin. On the program was the
symphonic gloss 'Margariteña', by Inocente Carreño. That same piece appears in the program of homage to Venezuela that will undertake the
Next April 16, at the Alfredo Kraus Auditorium, the Community Orchestra of Gran Canaria directed by David Crespo.Ywill come to life again with Teresa Hernández on the podium, which means the closing of a vital and artistic circle for this conductor born in La Isleta, with a long curriculum, who has been part of the National System of Youth and Children's Symphony Orchestras for decades and Pre-Infant created by the
Master Jose Antonio Abreu.
«When David told me about conducting the Gran Canaria Community Orchestra at the April concert, I immediately thought of playing the 'Margariteña'. It is very reminiscent of the Canarian malagueña, it has
a clear sentiment of the mixed Venezuelan-Canarian. That is why I brought it to the 93 concert and I chose it again now", points out this director and teacher who returned to her native island five years ago.
From La Isleta to Puerto Cabello

She was three years old when Teresa Hernández's family immigrated to Venezuela. «
I was born in La Isleta, on Arauz street. I was about to turn three years old, when I went with my parents to Venezuela. We settle in a port. In Puerto Cabello », he explains. On Venezuelan lands, the attachment to Gran Canaria continued to be present in his home. «I was fed with gofio from the breast until the day I got married. Arepas were not seen in my house, I saw them at the neighbor's house. In mine there was stew, gofio and fish three times a week...
Mom left in the late fifties with the Canaries in her heart. For her, time stopped here and I was raised like this. The evolution that took place from the 70s on in the Canary Islands did not exist, for her the Canary Islands were what she left behind. The four children were raised with breast milk and gofio », she underlines with emotion while she drinks a long dark coffee on a terrace next to the Auditorium on Paseo de Las Canteras.
The origin of his musical passion is very clear to him. «Every canary is musical. The canary always sings. Mom sang, grandmother sang, grandfather played the guitar and sang isas, folías, malagueñas... », he describes. But it was one day, on his way home from school, that he opened the door to what ended up becoming his great passion and profession. "Close to home they put
a sign announcing a music school. I enrolled and did my first musical studies there at the age of 10", he recalls.
«I wanted to play everything. First the guitar, because my grandfather played it. Then piano, flute and then the violin came and I was 'calmer'. At the time, the maestro José Antonio Abreu began with the System and my violin teacher told me that the Youth Orchestra of Puerto Cabello was going to be created. They found a place for her, they invited me to participate and they told me to be the director, because she played the violin and attended music theory class. I told them that I would, but until a director arrived. I was there for five years and the director never came. I started directing like this, because that is the magic of the System:
'Give it, you're going to discover things along the way'. We got to set up Beethoven's 'First Symphony' as our first challenge, with the different sectional workshops. I knew it by heart, because I had been working in all the workshops », he recalls.
Takeoff in Caracas

At that moment a turning point came. «They invited our orchestra together with that of the state of Valencia to participate in a concert in Caracas. The same thing happened to me that usually happens to children, who do difficult things without knowing that they are difficult. I entered that great room with my baton
conducting my first Beethoven symphony, without a prior conducting class, and from memory. I think I was 22 or 23 years old," he says.
Among the public were, without his knowledge, Abreu himself, Antonio Estévez and
gonzalo castellano. The latter "was a great director who studied with Sergiu Celibidache" and from that moment he became Teresa Hernández's conducting teacher for three years in Caracas, where he traveled "religiously" every day from Puerto Cabello.
Once that stage was over and without the possibility of continuing training in her country as a director, she went to
Londonwhere he trained with a postgraduate course in directing at the
Royal College of Musica stay that he also took advantage of to attend improvement courses in Austria and Germany.
After that stage, after "a forced passage through Gran Canaria" to enjoy his native island and the family ties that did not emigrate, he recalls, he returned to Venezuela. «I arrived with my papers accrediting the training carried out and the teacher
Abreu told me to go to Aragua, with the Symphony. It is one of the most complicated and difficult in the country, because they have a lot of temperaments and conflicts were common. She told me that Aragua or nothing and I was there nine years and very happy. It was a fierce stay, because I was music director and executive at the same time and the battle was continuous. All the mistakes I made there. She tanned me a lot », she highlights between laughs.
In the Ministry

With the arrival of Hugo Chávez to power, Venezuela experienced a first stage of "honeymoon", recalls Teresa Hernández. "They invited me to be the
National Director of Music at the Ministry of Culture. I accepted it and I stayed there for 4 years, during which time I only acted as a guest orchestra conductor three or four times a year. That stopped my career a bit.
When I left that position in the Ministry I was very tired and I left the country so that the waters could return to their course and to ask me if I wanted to be a manager or conductor. She had to solve that crossroads, because the manager thing had gone well ». She then spent six months in Madrid, where she got to know "the symphonic life of the capital," she emphasizes, and she received the invitation to become chief conductor of the Falcón Symphony in Venezuela. "It was already clear to me that my thing was musical direction and I was in that position between 2004 and 2012, also with invitations to conduct other orchestras," she says.
Since 1978 he was part of the System devised by Abreu to turn music into a pillar within the comprehensive training of young people. Teresa Hernández is very clear about the key to success.
«Human beings must have access to art, music or any creative discipline, without limitations. Music is part of the integral development of the person. Every person should study music, because it touches certain spiritual and mental areas that make you a more sensitive person. The system fights for free access to free art. The goal is not to create musicians, but better people », she clarifies.
An afternoon with Gustavito

Teresa Hernández, when she worked at the Venezuelan Ministry of Culture, met José Antonio Abreu, who asked her to help a very young student with star material one afternoon with rehearsals. It was about
Gustavo Dudamela great international star who has just been appointed director of the New York Philharmonic.
«One day, Abreu told me that Gustavo wanted to do
Mahler's 'First'. I told him that I could help him. I went where Gustavito was and we worked on the fourth movement. Everything I told him he picked up on the fly. He was going to conduct that symphony for the first time and you could already see that it was a phenomenon. He continued preparing it with maestro Abreu », remembers Teresa Hernández.
An orchestra marked "by passion, involvement and excellence"

Although she will take the reins of the Gran Canaria Community Orchestra to conduct 'Margariteña', Teresa Hernández clarifies that she is not part of this musical initiative. "I'm just a fan and admirer of the work done by its director, David Crespo," she confesses.
But the truth is that this Canarian-Venezuelan conductor knows this island formation very well, which has allowed amateurs with musical training, teachers and ex-professionals to discover and enjoy the symphonic world on stage.
«I am fortunate to have been at the birth of the Gran Canaria Community Orchestra due to my friendship with David Crespo. I am a privileged witness to the evolution of the orchestra, because I have been in all its processes. They have managed to develop artistic abilities of a very high level. In each program, the orchestra surpasses itself and it is a privilege to witness it", emphasizes who has three relatives as instrumentalists in this group.
He admits that he has been surprised by the rapid growth of this Orchestra. And it points to the reason for that brilliant takeoff. «The key is the musical director. David's cohesion work. He does a meticulous and painstaking job of rehearsals, with great care for each musician, paying attention to the detail of his abilities to help him in case things don't work out for him. A plan is made so that those who find it hardest get to the concert successfully. The motivation that he transmits to the musicians is essential to maintain that high desire for excellence, to excel, to do it well and to share the same goal. Everyone agrees to do it very well, no one is there because they are paid or because they have nothing better to do. They are there because they have a deep and sincere love for music. They are out of passion», he defends bluntly while stressing that it is a musical phenomenon «unique in Spain». «In other European countries and in the United States there are similar orchestras, but not in Spain. It has retired musicians who no longer dreamed of playing again, music teachers and young students", he adds.
Hernández Vega points out the parallels between the Community Orchestra of Gran Canaria and the System promoted by Abreu in Venezuela. «La Comunitaria seeks excellence and tries not to stop despite the difficulties, it is a bit of the spirit of the System. My brother, my sister-in-law and my nephew are part of this Orchestra and they are delighted, they feel at home, like in Venezuela », he points out.
In 2009, under the protection of José Antonio Abreu, Teresa Hernández started with the Integral Chair of Orchestra Conducting, which she maintains online and in person with students from Gran Canaria, Mexico, Venezuela, Argentina and Guatemala, among other origins. «God gave me the privilege of having the facility to transmit what it is to conduct an orchestra. I tell the students all those things that they are not usually told out there and that I learned over the years », she reveals.
Renowned professionals such as Rodolfo Barráez, based in Berlin and who made his debut on January 21 leading the Los Angeles Philharmonic, among other milestones, have passed through his hands. «At the age of 16 he was already able to memorize Beethoven's 'Ninth', chorus and soloists included. Gonzalo Hidalgo was also a student of mine, who recently won the contest to be the new conductor of the Santa Symphony in Argentina", he highlights.