Ten Ryanair flights canceled by the strike called until January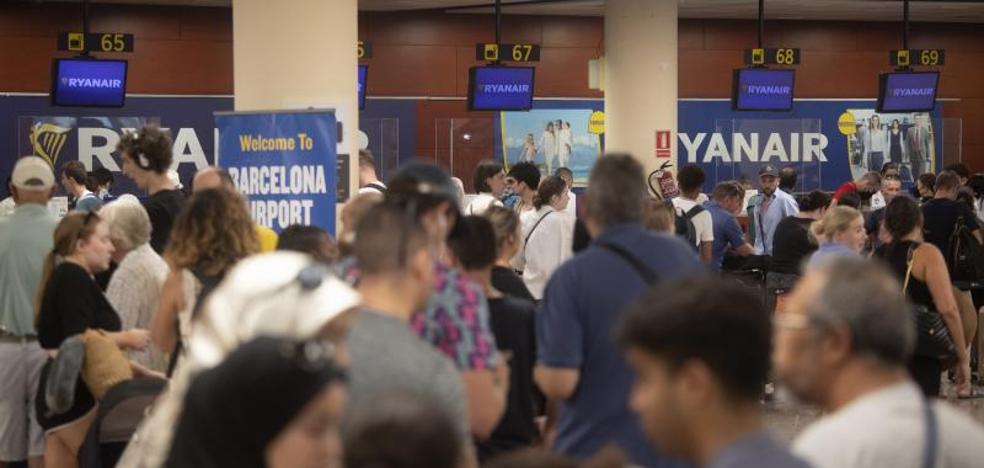 More than a hundred delays accumulate at Spanish airports, but the airline assures that the stoppages will affect Spain "minimally"
After the strikes at the end of June and much of July by Ryanair cabin crew (TCP) that caused the cancellation of more than a hundred flights in Spain, this Monday the new round of strikes began, this time called not on specific days but will be a 24-hour strike from Monday to Thursday every week until January 7.
During the first two weeks alone, 1.04 million passengers who had a flight purchased with the airline will be affected, an average of 103,000 travelers a day, after the USO and Sitcpla unions have summoned the 1,600 workers belonging to the companies Ryanair, Crewlink and Workforce. The unions demand that the company negotiate the first collective agreement with the TCPs, but affirm that "they have not shown the slightest attempt to approach each other."
On the day of this Monday there have been (until 1:00 p.m.) 10 flights canceled and 111 delays, according to data from the unions. Specifically, the flights affected by the cancellations have been between Barcelona and Milan, Menorca, Rome and London, round trip, as well as between Palma de Mallorca and Hamburg, also round trip.
Although the demands of the first call for strikes on salary improvements and the application of statutory minimums of Spanish labor legislation are maintained, they have now added others such as the "immediate reinstatement" of the eleven workers fired during the strikes in June and July due to "support their right to strike". They also demand the paralysis of all sanctioning files open to more than a hundred workers due to the stoppages.
In a statement, Ryanair assures that this new strike will have a "minimal, if any, interruption" in the company's operations, although at the same time it confirms the ten accumulated cancellations.
He recalled that they have recently reached an agreement with CC OO on salaries, working days and supplements for their cabin crew in Spain. Furthermore, he noted that recent strikes "have had little support and minimal effect" on flights, as it operates more than 3,000 daily flights and less than 1% have been canceled or delayed due to the strike.
If there is no negotiation with the company, the canceled flights will not only affect the summer, but will last until January 2023, thus impacting the entire autumn and, above all, Christmas, one of the times of the year with more air traffic in Spain. In fact, according to the planned calendar, there will be strikes from December 5 to 8 -coinciding with the Immaculate Bridge-, from 12 to 15, from 19 to 22 and from 26 to 29 of that month, coinciding with Christmas Eve and of Christmas.