"Temudas this year has had the format of a European festival"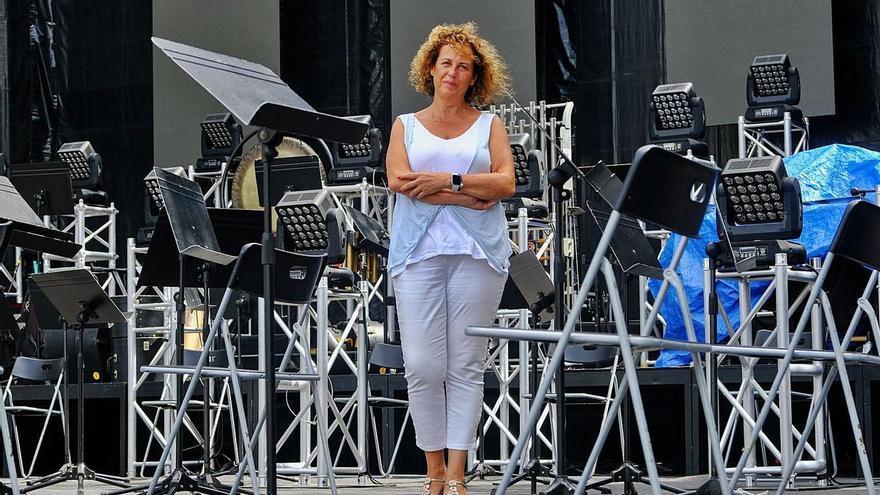 The Temudas festival has completed 25 years in this edition, how would you analyze its evolution since it began in 1996?
The festival was born as the Autumn Festival of Theater, Music and Dance that was held in September at the Pérez Galdós theater, and when there was no stable programming. It stayed there until 2001 when the Galdós was closed and we decided to go to the Santa Catalina park, which was when we set up that wonderful, big stage, with all its stage box and the stands, and we also started taking out some street company. But instead of in autumn we celebrated that edition in summer, the month of July, already as Festival of Music and Dance Theater because that was when the theaters were closed and the city was left without programming. In 2012 it was renamed Temudas. And so it has remained until last year, which was held in October because it was the first year of the pandemic.
In this edition, however, it was held in September.
This year we went to September because they said that from that month on, 70% of the population would be vaccinated and I thought that we were going to guarantee a national and international programming since last year it was an entirely Canarian program and I had to renounce all the companies that he had planned. We chose September a little to guarantee the presence of those international companies that in the end could not come, and so that we had the largest number of people who could go to the squares.
"Trans Express was scheduled to attend this edition and the reduced capacity prevented it"
What companies did you contact and who could not come finally?
For this year I had a very nice super company, but it was a very expensive production. I thought we could go to 5,000 people and, when I saw the reduction to the capacity we had in Santa Catalina, which is 850, I called the company and they understood perfectly. It was the Trans Express, which came with the Crystal Palace show, which was a chandelier operated by a crane and on each arm there was a musician and it all ended in a great party in which they invited the public to get on stage and be with the actors. In the end they did not come because neither they wanted to perform before a thousand people nor did we pay them for such an expensive production so that more people would not enjoy it. But we can bring them next year if there are no longer as many restrictions as the current ones since this year we have reduced the capacity and due to covid policy you have to register online if you want to go to see a play.
What moments would you highlight from these 25 years?
I would stand out when with PanOptikum, in 2015, Temudas got involved for the first time in a European project, since they proposed us, as a festival, to participate in a large-scale cooperation where they wanted to work with young people. There were ten European festivals and each one had to contribute three Canarian musicians who went to Freiburg and there they were trained to go to the different festivals. We had to do a hip hop course opening the call. We were the city in which there were more participants. Or when the Titanick company represented the sinking of the ship in the Plaza de Canarias. Also the Dutch company Close-Act, the French company Trans Express with aerial choreography and with orchestras or Plasticiens Volant with its balloons and giant puppets. Those huge companies came when there weren't as many security limitations as there are now. Titanick did a crazy car race through Triana and I have seen how this city was transformed for a few days because the beautiful thing is to see how companies modify the spaces. This year Les Commandos Percu came with fireworks and we have brought a lot of vertical dance with projection.
This year the festival has also adopted a new format.
This festival has changed the format since what we had before was a festive program because a festival never lasts a month or a month and a half. This year, when I considered the 25th anniversary, I told Councilor Encarna Galván that I would like to propose this new format and the whole team was delighted and the public even more. Now you can bring different formats and take an object theater company to the Paper Club because it is incredible to see how, with just their fingers and a little bit of clay, the actors bring fantastic characters to life. Therefore, not only the big thing is the best of the festival since there are chocolates that are worth it. And this format gives me that possibility.
"With PanOptikum the festival got involved for the first time in a large-scale European project"
But the difference is also in the days of programming and in the number of works.
Before we programmed Thursday, Friday, Saturday and Sunday where, each day, only one or two companies performed, one in Santa Catalina Park and another in Santa Ana and they did not coincide in the schedule. But they always repeated another day because if you make the effort to bring them, for a little more than you pay them from cache they do double duty. Now there are performances from September 3 to 18 and almost every day there have been between six or eight performances. That is why I say that we are in the festival format at a European level because you go and find a proposal in Santa Ana, another in the Plaza de Stagno, another in the Paper, another in Santa Catalina, etc. But I have done it in such a way that each company has two passes so that people can see it one day or another.
There have never been so many stages at the festival.
Normally there were three stages and sometimes we also took Doramas park. But this year we have incorporated spaces such as the Plaza de Canarias with the awning that makes a mirror effect and the companies were reflected above. You have the breadth of the sea, so I decided to program dance and hip hop there. The stage was clean, you only had the focus and you saw the companies perform in the middle of the immensity. And the public in those cement bleachers, with a capacity of 168 people.
"The most beautiful thing is to be able to see how these companies transform the city for a few days"
The festival concluded yesterday with the Philharmonic performing Beethoven's Ninth Symphony.
It is what we continue to call the concert between containers, but since the pandemic we cannot go to the Muelle de la Luz. Last year we did it at the Santa Catalina and we placed a couple of containers for people to identify. This year, as we have the choir and the orchestra, due to lack of space, we could not repeat it.