Temporary workers of the ULPGC demand job stability and end "abuses"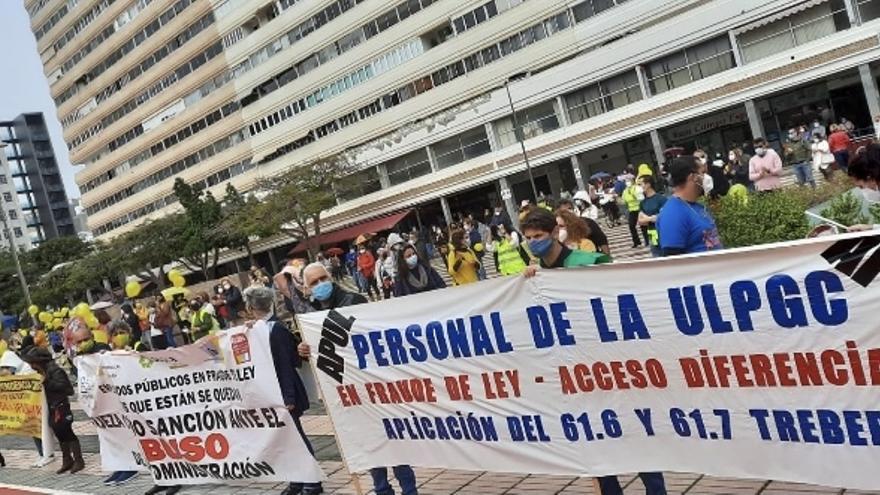 The temporary and temporary workers of the Administration and Services departments of the University of Las Palmas de Gran Canaria (ULPGC) have joined this Monday to the strike of the Platform of Public Employees in Fraud of the Canary Islands Law with the end of claim stability in their jobs after more than twenty years of temporary employment without the option of obtaining a position.
The group considers it necessary to recognize the work of the personnel hired in fraud of the law, since "it has turned out to be essential and has supported the Public Services for years, in inferior conditions and rights than their fellow career civil servants "They say in a statement.
Temporary and temporary employees require recognition of the existing employment relationship with the ULPGC and that they seek "solvent solutions that with maximum legal certainty put an end to the problem generated by the ULPGC ".
They demand the consolidation of their places through a exceptional and extraordinary process to put an end to the situation of "abuse" of temporality that they have been suffering. They understand that the solution should not go through simply reducing the temporary employment rate to 8%, but must guarantee continuity in their positions since they are "victims of employer abuse, that is, of non-compliance with the legal deadline set to definitively provide a structural position," the employees indicate.
In this sense, they want the ULPGC to apply article 61.7 of the Consolidated Text of the Basic Statute of Public Employees, which "enables the coverage of permanent jobs through a merit contest." They regret that, "simply, there is no will to carry it out."
The basis for the legal arguments of those hired on an interim and temporary basis is found in the European directive 1999/70 / EC and in a ruling issued by the Court of Justice of the European Union (CJEU) on March 19, 2020. The Fifth clause of the aforementioned directive imposes on member states the obligation to adopt "effective and binding measures to prevent abuses produced by the successive use of contracts or fixed-term employment relationships ". The European standard, the workers specify, does not establish specific sanctions and leaves in the hands of the authorities of each country the power to make decisions "proportionate", but also "effective and dissuasive".