Temporary doctors resume strike after months without agreement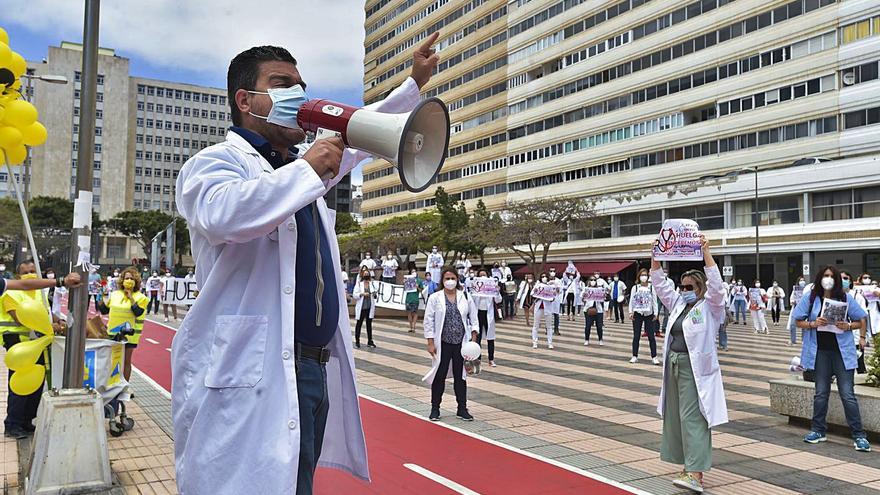 Four months is what the temporary doctors of the Canary Islands Health Service (SCS) have extended their truce. Four months in which, according to denounce, there have been no advances either with the regional or state administration that allow them to give a satisfactory answer to their main demand: to compensate the damage that almost two decades of hiring abuse have done. Two out of every three specialist area physicians in the Canarian health system have a temporary contract and of them, 80% have been concatenating temporary contracts for years, which for the group represents an "abuse" and a "fraud of the law" that the own autonomous community must compensate.
The situation is generated by the lack of calls for public job offers in almost two decades. "In 19 years we have only had one OPE, the one in 2007, with so few places that although many showed up, few were able to stabilize it," said Dácil García, spokesman for the Confluence Table of Doctors of the Canary Islands, which is the main promoter of this strike that will take place –in principle– also on May 10 and 11.
Plaza O'Shanahan, where the headquarters of the Government of the Canary Islands is located in Las Palmas de Gran Canaria, witnessed yesterday, once again, a concentration of doctors who claim to end the enormous temporary nature suffered by the group in the community autonomous. With signs like "President Torres, don't abuse the doctors anymore. Law Now! and slogans demanding their rights, more than a hundred doctors mobilized to achieve their objectives.
Likewise, on the outskirts of the Hospital Universitario de Canarias (HUC), in Tenerife, more than a hundred professionals gathered to exercise their right to strike between banners requesting job stability ("SOS. No more abuses. I am an abused temporary ") or they pointed directly to the person they consider the main responsible for their precarious situation (" President Torres do not abuse the doctors anymore ").
Consolidation
Amid continuous cheers in which, in chorus, they requested "consolidation", the temporary doctors claimed, once again, their necessary role in public health and the urgency of finding a quick solution to this circumstance. The proposal that the Canary Health Service (SCS) and the Government of the Canary Islands have been making for more than a year and a half involves recognizing the situation of abuse they have gone through and setting up a restricted selective process in which only this "abused" personnel –about 1,900 doctors throughout the Canary Islands–, with the ultimate aim that all of them can get a fixed place.
According to data provided by the Ministry of Health, the follow-up to the strike called yesterday was approximately 30%.