Telefónica will provide technology coverage to Real Madrid until June 2023 | Economy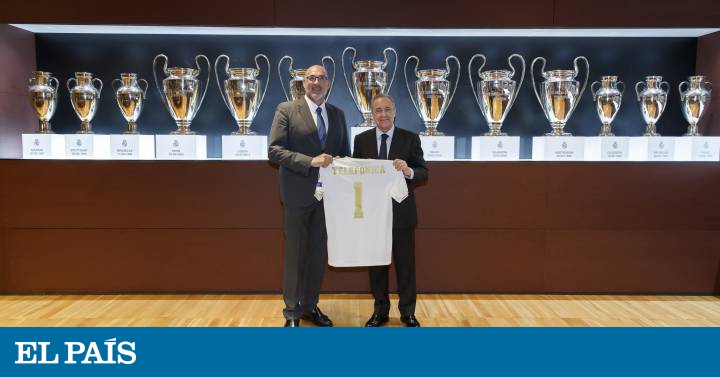 Real Madrid and Telephone they have closed an agreement whereby the operator becomes the "technological integrator" of the football club until June 2023. Based on this alliance, Telefónica will be responsible for the integration of technological solutions in the club's different facilities and infrastructures during the next four years.
The agreement takes place just when the works of remodeling of the new Bernabéu stadium, which will culminate in 2023 and will cost around 600 million euros. One of the characteristics of the new infrastructure will be technological advances and connectivity. Between the points of the alliance they are the installation of optical fiber, automatic management of doors and security, wifi, the incorporation of a platform of big data and the analysis of data that allow to improve the experience of the fans.
The alliance is similar to the one the operator signed last February with Atlético de Madrid for the technological equipment of the Wanda Metropolitan Stadium during the next four years.
The amount that Real Madrid will pay to the operator has not been disclosed. In this way, Telefónica ends its change of strategy as it has gone from being a sponsor of clubs such as Real Madrid, Atlético or Barcelona, ​​to being a technological provider of them.
End of sponsorships
Precisely, Telefonica announced last summer that it stopped sponsoring Real Madrid, Barcelona and the Spanish national football team, within a new sponsorship policy to focus on its television and production offer, which includes as a fundamental part the football.
The agreement announced today has been signed within the framework of an event held at the Santiago Bernabéu by Real Madrid President Florentino Pérez and by the President of Telefónica Spain, Emilio Gayo, in an event in which executives from both institutions.
Emilio Gayo said: "Today is a very special day. We started a very exciting path for the coming years, with two large companies that are going to work together to face and take advantage of the opportunities that the technological change we are experiencing offer us. It is a pride for Telefónica Spain that Real Madrid trusts us and our capabilities to be the club's integrator, "added Gayo.