Telefónica, Endesa and Repsol deliver dividends of 2,200 million in three weeks | Markets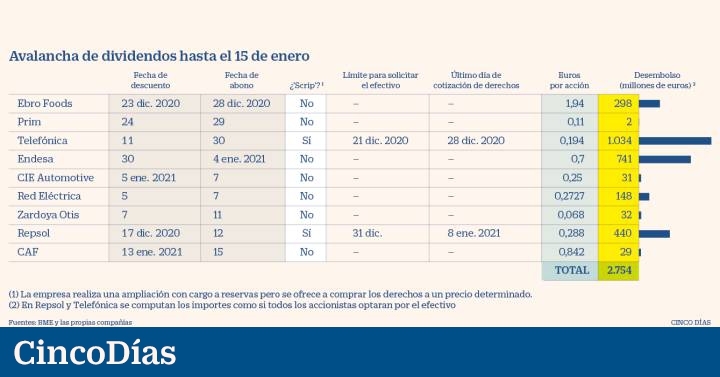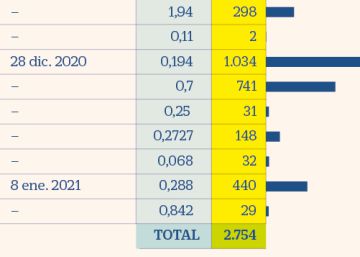 The end and beginning of the year are peak dividend season dates. This year, despite the pandemic, too. Telefónica, Endesa and Repsol will pay a maximum of 2,215 million euros between now and the second week of January. Another six companies have delivered or have scheduled payments for a total of 539 million until next day 15. In total, they will be a maximum of 2,750 million euros in less than three weeks.
The collapse of the prices, with falls in the year around 45% for Telefónica and 40% for Repsol, has as a secondary effect that the dividend yield rises. Provided that the share cut is not higher than the pay. The operator has lowered the payment for this month by a slight 3%, to 0.194 euros per title compared to 2019, although it is in scrip format (see graph). The oil company, also with this formula, has cut it by 32%, to 0.288 euros. Endesa, which barely trades on the stock market in 2020, will pay the same on January 4 as last year: 0.7 euros per share.
The amount that the teleco will pay directly from its coffers in cash will be known today, when the shareholders receive the money. Those who have opted for compensation in kind will receive a new share for every 18. This option was the winner in the last scrip of Telefónica last June: 63% owners received the new titles. The 37% owners then opted for hard cash.
At Endesa there is no choice. Starting today, the dividend is discounted from the share price and shareholders will receive it next Monday.
At Repsol, tomorrow is the last day to decide if you choose to request the payment of the dividend (actually, the purchase of the right), sell it on the market – there is a deadline until January 8 – or choose to receive a share for every 29. At the close of yesterday, the energy group's right was listed on the stock market at 0.2859 euros, below the price of the dividend.
BME data reveal that the Spanish listed companies paid 14,256 million until November. Even counting the payments that have been made in December, around 2,000 million, the fall is spectacular compared to the dividends of 2019, when almost 32,000 million were paid. Practically half. Banks, with remuneration suspended since March by order of the ECB, have been the great absentees in remuneration. And the limitation will continue. They can distribute a maximum of 15% of the profit until next September.
In January, the big dividend marked in red on the calendar is that of Iberdrola. Also in format scrip. On the 8th, the list of new shares for old and the purchase price will be communicated. In 2020 it was 0.168 euros per share. He dividend will be paid in February.