Tejeda hosts the exhibition 'Ideogramas' by the artist Armando Gil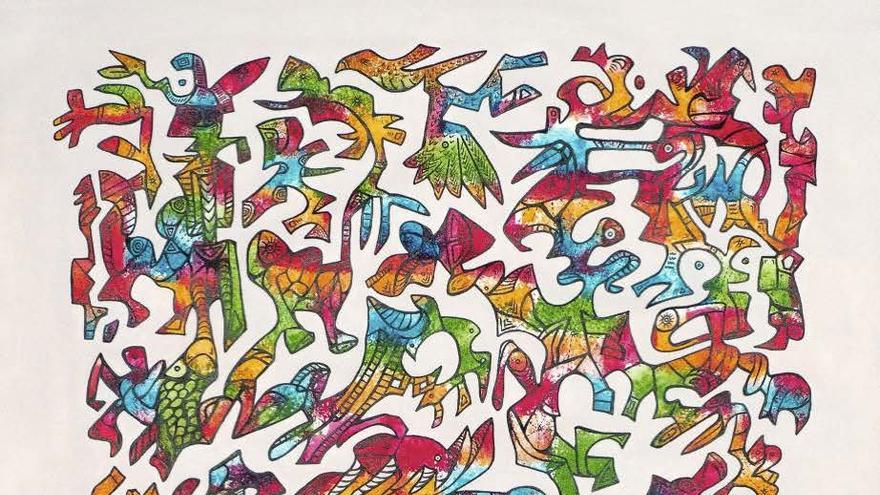 Last Friday, February 5, it was inaugurated in the Abraham Cárdenes Museum Of the municipality of Tejeda the new sample from the artist Armando Gil, a proposal titled Ideograms which can be visited free of charge during this month of February at the summit museum site.
The exhibition, organized by the Department of Culture of the Tejeda City Council, consists of six large-format works made in India ink and acrylic on canvas. A burst of color that embraces animal, anthropomorphic or plant forms, composing a drawn story inspired by the telluric environment that has surrounded the author for eight years when he opened his studio restaurant "Casa del Caminero" in Tejeda.
With this proposal, Armando Gil takes the visitor through fires, fog, the sea of ​​clouds or the sunsets of the Summit, which emerge in this new imaginary narration of the author that will be exposed during the month of February and which is accompanied by the text Ideograma en el camino. The agile and spontaneous certainty of what was found, signed by the artist Gabriel Ortuño, from which it is extracted for this note: "Armando Gil shows the way to diversity compacted at random for those spectators who are willing to walk through the enigma of his labyrinths (…) He seeks the complex freedom of beauty, this last stage of the author being the result of an increasingly refined automatic painting and, as is natural in any artistic discipline, in a process of balance. A work to be enjoyed, both in millimeter proximity and focal length ".
The proposal is a burst of color that embraces animal, plant or anthropomorphic forms.
Armando Gil, born in 1964, has a Law Degree from the Complutense University of Madrid (1987) and a Special License in Community Law IEE from the Free University of Brussels.
He has always drawn on paper napkins as a form of expression, and since 2004, he began painting techniques at the hand of the artist Juan Betancor, a member and teacher of the Luján Pérez School. Since then, he has been working on his plastic work in Gran Canaria in a self-taught way, culminating in 2009 his series Chinese roll, drawn in India ink, on thirteen rolls of rice paper, reaching a length of two hundred and fifty meters. In 2012 he moved to Tejeda and opened his Restaurant Estudio "Casa del Caminero".