Tears of love for the eternal Enrique Urquijo | Culture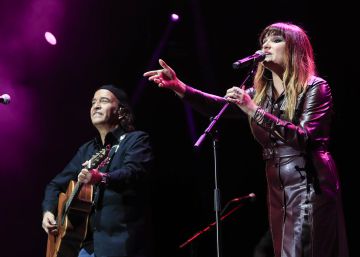 Twenty exact years – how feverish the look – after we ran out of Enrique Urquijo, the memory of the human being faintly blurred in memory while the myth does not stop growing. It is the advantage of those who were great, enormous, as they passed through this world: in the absence of other immortality over which there is no empirical finding, it is the legacy of their work that guarantees their eternity. And Enrique, who left us so soon, when he still had a few months to address the fourth decade of life, left a trail of titles that thrill those who knew him and those who were still some peelers that autumn and dismal dusk of 1999 Songs that will survive us all and continue to play music to the lives of those who happen to us, even those we will not get to know.
The afternoon was rainy, unpleasant, dog in this Madrid that Enrique loved so much, as if the heavens sought to dress according to melancholy. But 8,000 souls shook the laziness of leaving home to almost fill the WiZink Center in a tribute, Since we haven't seen each other, emotional, historical and surely unrepeatable, according to its dimensions: 18 first-rate artists recreating those songs that, even having hummed a million times, always admit new listeners and reinventions.
The first eight pieces of the night, with The Secrets still absent, corresponded to the artists closest to the author's song. The stage reminded that of the Galileo Galilei room, with its mythical fuchsia neon letters, a habitat that Enrique made his own in dozens of evenings. "He came to play with his other group, Los Problems, almost every month," the owner and founder of the store, Ángel Viejo, recalled at the entrance. And he added, with a tremor in his voice: "The day he died, I had spent the whole morning trying to reach him by phone because he wanted to close a new date. He was a man as extraordinary, close and sensitive as he seemed. " Rafa Higueras, a great friend of Urquijo and tax promoter, opened with Since we haven't seen each other a batch in which Rebeca Jiménez became Goodbye, sadness in ranchera, Vicky Gastelo gladly rescued the much less known Too late and Jorge Marazu, full of voice after a rough week, sublimed And it doesn't wake up. "I dedicate myself to this music by people like Enrique. He wrote in such a direct and simple way, so emotional and without folds, that it was impossible not to identify with him. "
We had to wait a quarter of an hour, because the third change was tricky, but when the stage came back to light it was populated not only by Los Secretos, but a symphony orchestra with which they recreated from the pull Even if you don't know, Change of plans and Now that I'm worse. Pompom versions, but nothing vacuous: the great musical stories admit almost all approaches. Álvaro Urquijo, benjamín of the family, also a brilliant composer and principal depositary of that incomprehensible songbook, did not take the floor until after eight o'clock in the afternoon. And it was to slide, beyond the thanks of rigor and pertinent courtesies, a full-fledged confession: "Enrique's songs have given Los Secretos a second life."
Perhaps that is why, when Álvaro, Ramón, Jesús, Juanjo, Santiago and their most recent signing, Txetxu Altube – were already in charge of the operations secrets today in exercise—, they opted for an emblematic piece, But your side, with that first verse that even now, and more often than the one that occupied us, continues to bristle up to the most recondite hair: "I have died and I have risen." And from there, the collaborations. Andres Suarez, from Madrid, proclaimed himself "the happiest man in the world" for being able to interpret with his idols Do not say no, which was as felt as he always is. Altube himself opted for Be a child again, a song that reminds you of rewind tapes with a Bic pen, so that the cassette batteries are not used up too soon. And Mikel Erentxun discovered that I can not imagine share some of the instant simplicity of Duncan Dhu's most glorious times.
Rozalén (the youngest of the cartel, along with Marazu), threw a loud voice to claim Hold on to me, Maria, the first composition he learned from Los Secretos and the one he still does not sing along with his father every time he returns to his family home, in the small town of Letur, in Albacete. He was followed by the most veteran, Miguel Ríos (Cat eyes), who announced his retirement years ago to reappear, happily, when he feels like it. At one point he messed with the lyrics and Ramón Arroyo had to change the acoustic guitar for the electric one, for these imponderables of the live, but the small disruptions almost served to splash the evening and leave it frank to Coque Malla (Another afternoon), like a little boy with his "first time" with The Secrets; Manolo García (The street of oblivion), Amaral (Good girl), Alejo Stivel (On a wet glass) and David Summers, who had been entrusted Eyes of loss. Youthful defiance of when his G Men were still only a vague dream.
"I am very short. I do not know what happens to me, it is as if I had begun to sing before yesterday ", Álvaro Urquijo ended up sincerizing, always a modest man in regard to fraternal inheritance. Eva Amaral ended up claiming an emotional applause for him "for his courage." But in the Let me Definitively, with all the participants hugging, there was no longer anyone who held themselves to contention. And the tears, nostalgic but unequivocally loving, ran in flood for the eternal memory of the immortal Enrique.
. (tagsToTranslate) tear (t) love (t) eternal (t) enrique urquijo (t) companions (t) admirer (t) founder (t) secrets (t) provide (t) tribute (t) historical (t) twenty (t) anniversary (t) goodbye



Source link