Teaching with virtual reality can quadruple knowledge retention | Economy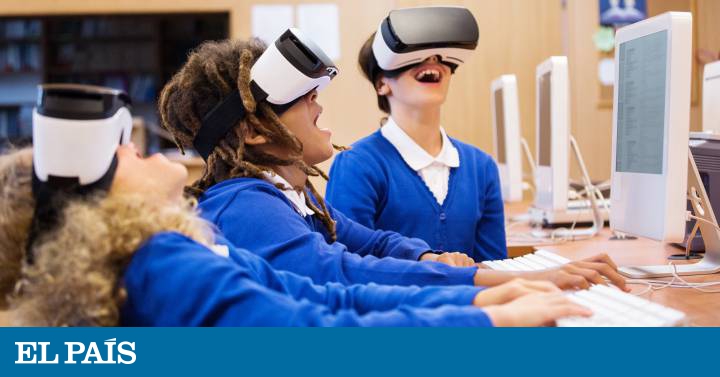 The premise is as simple as it is didactically perfect: learn in interactive environments that seem real, where mistakes can be made without suffering their consequences and which can enhance the effectiveness of learning. Virtual reality (VR) is no longer a futuristic idea to offer immersive experiences with immersive images and sound that allow the student to experience each situation from different points of view, analyze the consequences of their decisions and even the time it takes to respond to every question. And the best of all is that it makes it completely accessible, since, although there are VR glasses from 300 euros (standalone), there are also plastic or cardboard ones starting at only eight, which work by inserting the user's mobile phone in them and with a more than acceptable quality.
The ease of this method, in which only 3D glasses and a smartphone are needed, has increased the interest in this type of teaching during the pandemic, especially in relation to Health Sciences, but also in disciplines such as Art , Neuroscience, learning in soft skills such as communication, conflict resolution or social and emotional intelligence, gender violence and even the prevention of occupational risks, in environments that can have a video game aesthetic and be starred by avatars , or use real images and characters with 360º videos and interactivity. It is about "immersing the user in a highly realistic scenario in which he is an active protagonist of a learning story, where he must make decisions that determine the course of the same," says Luis Villarejo CEO of Immersium Studio, a spin-off of the Open University of Catalonia (UOC) specialized in VR projects.
If, for example, it is about training health professionals on how to communicate bad news, the student is immersed in a hospital environment where he interacts with a patient and his family. There he makes decisions that affect the course of history and trigger different reactions: "If the professional does not adequately explain that the patient is brain dead, the family feels confused and leaves the room because they want to see their son. But if he explains it properly, the user faces the family acceptance process ", explains Villarejo. The objective is for the student to learn by experiencing the emotions and feelings that he will experience when faced with the real situation; that you make a mistake and can go back, comparing the consequences of different decisions, and thus be better prepared to react to them in the development of your professional career. In addition, "virtual reality allows and enhances scaffolding methodologies, which progressively withdraw the aid to those who are learning," adds Alicia Torres, head of the Unit for Training and Teaching Innovation at Loyola University.
VR, a complementary and differentiating tool
"What I offer thanks to the use of VR is a real and experiential learning based on understanding, which is not forgotten. It is important to understand that the teaching system has to break through the walls of the classroom; that we have many more resources for teaching and learning and that, thanks to this methodology, we ensure that the student is the one who wants to learn and is interested, increasing their learning significantly ", says Ana Valtierra, professor of Art at the Faculty of Education of the Camilo José Cela University (UCJC). Villarejo manifests itself in the same sense: if the projects are well designed (according to pedagogical objectives and criteria and with the know-how of professionals in the sector, including a multidisciplinary team of pedagogues, communicators, user experience experts, cinematographers, technologists and creatives), the improvements can be very significant, the retention capacity can increase up to four times and the training period can be shortened by half.
This technology also allows trainers to save time, who are not forced to repeat the same workshop over and over again; to be able to access the content at any time and place, and to improve the empathy and emotional intelligence of the user, making it possible for them to live the same situations from different perspectives: "For example, we are in a European project that generates experiential experiences in VR for students of nursing. We place them in situations in which, as professionals, they must make decisions about a patient in the presence of a family member and a colleague from the hospital, and at the end of the process they can experience that decision-making from the point of view of the patient, the family member and of the companion, presenting in the first person how those people have lived it ", details Villarejo.
In what fields is it useful?
Virtual reality may be gaining special relevance due to the pandemic, but research in this field has been going on for years, especially in areas related to health. The Covid-109 Space developed by Immersium, in collaboration with the European Commission and the European Society of Intensive Medicine, has helped more than 20,000 European health workers to prepare to work in ICUs if the intensity of possible new waves of covid makes it necessary, while two other projects (Family Approach and TPM Journey) have served to train them in communicating bad news. news and consent for human organ and tissue donation. INDOVIG, on the other hand, is a cooperation project between the Pompeu Fabra University, the Sant Joan de Déu hospital, the University of Vic – Central University of Catalonia and Immersium so that students of Medicine, Nursing, Physiotherapy, Occupational Therapy and cycles Higher Degree Social Integration training can be trained, through an immersive simulation, in the treatment of victims of gender violence that they could see in their consultations.
Meanwhile, in the Madrid hospital in La Paz, VR is already used as a distraction tool against pain for pediatric patients transplanted for liver disease, and a new U-tad project, in collaboration with the hospital and the HEPA association, the It will also become a therapeutic tool, helping them to relax, to become aware of their ailment and to promote in them habits that improve their state of health. In addition, "with CicerOn VR: Virtual Speed ​​Coach, the research team intends to offer a tool that facilitates training to overcome phobias to adolescent users with Asperger's syndrome, using immersive and gamification techniques", explains Laura Raya, director of virtual reality postgraduate courses at U-tad. And at Loyola University, Psychology and Neuropsychology students use VR in the Human Neuroscience lab for cognitive assessment activities (attention, memory, spatial orientation, cognitive functions).
For Ana Valtierra, VR has radically changed the way she teaches Art classes at UCJC, with a double objective: to show future teachers that there are complete and fun ways of learning that have nothing to do with rote teaching, and to teach aspects of the History of Art that have been lost over time: "We conserve many works of art and even entire cities in a fragmentary state, and archaeological sites that, although they preserve their essence, were full of offerings made in precious materials that do not have come down to us. No matter how much they tell us, it is difficult to make an abstraction of what these cities, churches or monuments were like and get an idea of ​​their impact on visitors ".
Virtual reality, through 3D glasses, mobiles and even the computer, can help to perceive aspects that completely change the imaginary that is popularly held about Antiquity: "Also, for example, at the level of polychromy, because almost all the architecture from antiquity and the Middle Ages was painted; a building was not conceived until it was polychromed. VR draws us that bridge between what is conserved and what is real, so that students can dimension the works of art in their context ".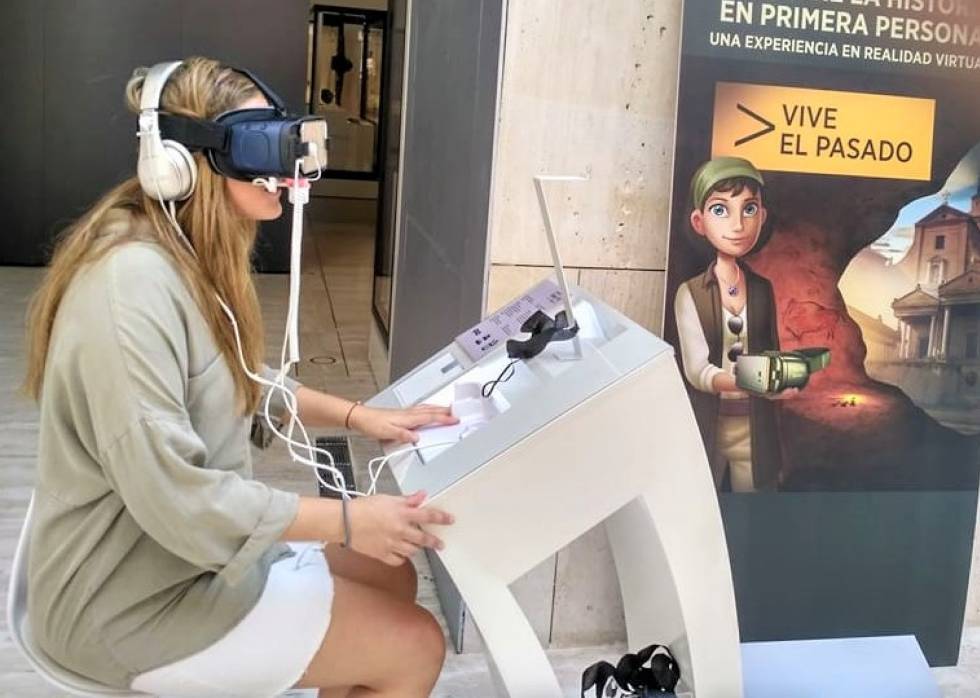 3D glasses … and video games
When talking about virtual reality, it is common to think of those futuristic 3D glasses and virtual environments such as those described in this report, but it can also be worked from a video game environment from a laptop, desktop or tablet. Valtierra recalls that "there are true reconstruction works of art from, for example, classical Greece, in the sanctuary of Delphi or in the Acropolis of Athens, which can be visited even while watching its citizens work, walk around the city or speak to us in Greek ".
At the Complutense University of Madrid (UCM), Medicine and Nursing students have mainly used educational video games since 2011 to facilitate their first contact with real operating rooms and train them in essential surgical verification practices (LVQ) during the intervention. "Traditionally, surgical techniques have been tested, in addition to the progressive delegation of actions by experienced surgeons, through practices on cadavers and animal models, but which can be replaced by simulators," says Manel Giner, Professor of Surgery and Vice Dean of Quality and Postgraduate Studies of the UCM. The use of these video games, he adds, aroused the interest of students and teachers, "and reduces fear, increases knowledge about how to act, reduces errors and improves the attitude of the students who use it."
In addition to the improvement of the devices in terms of power and autonomy, one of the greatest multiplying factors to come is the integration of biometric sensors: "Having, at the user level, VR glasses that integrate a heart rate sensor , a monitoring of pupillary activity or haptic devices such as gloves or suits that simulate touch and temperature will make the training experiences give a quality leap, not only in the sensations that we will generate in the users but in the reflection on the learning situations and its impact ", wields Villarejo.
Training in virtual reality
If you are interested in developing a professional career within the VR field, there are different possibilities. The U-tad University Center, for example, offers an official University Master's Degree in Graphic Computing, Virtual Reality and Simulation, of 600 hours, for graduate students in technical specialties such as Computer Engineering, Telecommunications, Mathematics, Physics or Multimedia or Industrial Engineering, where They will learn the management and programming of graphics engines such as Unity and Unreal, programming in C ++, C # and Python, the management of software such as AR Spark, AR Foundation, Vuforia and the programming of Virtual Reality glasses such as Oculus Quest, Oculus Rift, HTC Vive, Magic Leap, or Hololens 2.
But there is also the option of training with a non-technical profile. For these students, U-tad has developed the training of Development Expert for Virtual, Augmented and Mixed Reality (300 hours), "for those who wish to deepen the design and development of immersive experiences, through the acquisition of skills related to the production of a VR application and learning concepts about conceptual design, scripted, art, sound, programming and production of virtual, augmented and mixed reality ", explains Raya, for which it is necessary to have a Middle or Higher Vocational Training qualification or a university degree.
TRAINING THE COUNTRY in Twitter Y Facebook
Subscribe to the newsletter Training of EL PAÍS