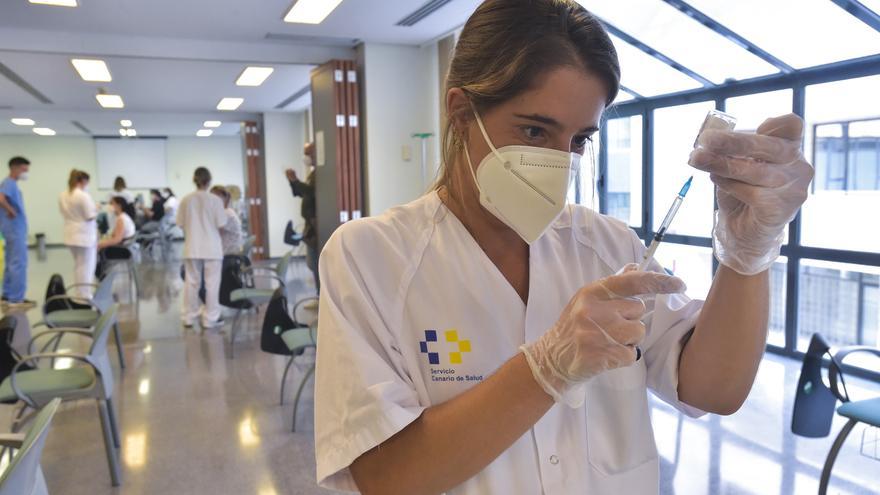 The Government of the Canary Islands started yesterday with the cvaccination campaign for teaching staff in Gran Canaria. Hundreds of teachers attended the Hospital Doctor Negrín to receive the first doses of AstraZeneca from 1:00 p.m. Several wards were operational awaiting the provision of vaccines by health personnel to this range of the active population. After receiving the dose, the teachers had to wait in a room for about 20 minutes in case an allergic or adverse reaction occurred, and then to be able to resume their obligations.
It is estimated that 12,000 people will be vaccinated in Negrín, about 10,000 in the Insular-Maternal-Infant Hospital Complex and 1,450 at the vaccination point of the Canalejas Health Center, starting Monday. The vaccination plan includes teachers of Infant, Primary and Secondary Education of public, private and concerted education and it is estimated that the campaign will end on March 20.
Avendaño affirms: "I have carried the entire pandemic with fear of being infected by my relatives"
Noelia González, 35, is a Infant teacher at Ceip José Sánchez y Sánchez in Agaete. He was happy to receive the vaccine yesterday in Negrín. "I work in direct contact with the children and, in addition, the three-year-olds do not wear a mask, in many cases. In my group there have been no infections of Covid, but there was one in the center that was quickly controlled ". "I don't feel pain in my arm with the inoculation of the dose. I had the precaution of taking a paracetamol six hours before ". "The pandemic is being tough, but I have been careful and my family has not been sick," he said.
Natalia Pérez gives classes in the Ceip Bañaderos de Arucas to Infantile, specifically to a group of 3/4 years. He has been afraid of contagion. "The little ones don't use a mask so I've been scared until now. I think it is important to get vaccinated because we have already seen that it is a very aggressive virus. We must also take care of our elders who are apprehensive of Covid. Although going out to buy food has been worked telematically, it already created tension at the time by touching the food that other people had manipulated. That is why in my house there has been an absolute hygiene of shoes and clothes, when I returned from the street. The ignorance caused me a lot of discomfort. Now that there is more information, you are less afraid ".
Pérez points out that "it is important to get vaccinated because it is a very aggressive virus"
For her part, Rita Mendoza works at IES Guía and teaches children with disabilities. He has not been too afraid of contagion. "All my students wear a mask. It is something already normalized in the institute. Many times I come home and I don't realize to take it off ". "I wanted the peace of mind of getting vaccinated." Yavé Gómez is a teacher at Risco de Agaete. It is a school that includes from Infant to sixth of Primary in a group. He wanted to get vaccinated. "From the comments, AstraZeneca is not the best known, but I already wanted to get a fix. All the students with masks come to my class, which gives me peace of mind. In any case, I have not been afraid of contagion because my classroom has six students ".
According to Isabel García, "the vaccine is the only way to stop this disaster"
Vanesa Avendaño, 37, is a teacher at Ceip Bañaderos en Infantil. "In my class, with 19 children who do not wear a mask, there have been no infections because we have taken all the measures, both in the use of gel, and in washing our hands frequently, students and teachers. We have all the necessary measures to disinfect all the utensils that we touch, both tables and chairs, etc. I have been through the entire pandemic with fear of infection from my relatives at risk and that is why I needed to get vaccinated ".
In the case of Isabel García, 53, fear has been prevalent. He is a teacher at the IES Roque Amagro in Gáldar of first and second of ESO. "I have been very afraid of contagion because, no matter how many measures we take, there is always someone being careless. I think that the vaccine is the only way to stop this disaster. There may be co-workers who disagree with vaccination, but we all do it because it is a smart move. If they had given me a choice, I would have chosen the same one that they gave the toilets, Pfizer, which has a better reputation ". "In my center, with almost a thousand students, there have been very few infections that, moreover, have been well controlled. Entire groups have not had to be confined. We have adopted all the precautions, both for gel when entering and leaving the classroom, as well as for separating desks, and the students move as little as possible, that is, other years they went to the classrooms music, technology or plastic workshops, while that this is taught all in the same class. Every time the cleaners move the furniture completely sanitized. Incredible work is being done ".
Castellano emphasizes that "this crisis is a rare and uncomfortable situation at the teaching level"
Salvador Castellano, 54, also teaches Vocational Training at IES Roque Amagro. "The pandemic has been a strange situation, as for everyone, and uncomfortable at the teaching level and as a parent because there is always an apprehension with all this situation that you do not know how it can influence you on a day-to-day basis. We are already seeing many social and relationship hurdles. I have had a constant fear of contagion because all the teachers who dedicate ourselves to VET, especially in the technical branches, have the disadvantage of continuously using equipment, equipment, components and tools that make it difficult for us to keep our distance from the students and do not touch an item handled by a student. We have to act with great caution, but it is true that with the passage of time, many times you get confused because you explain something and you tend to touch an item on which the student put his hands and then you must constantly clean yourself with the hydroalcoholic gel. At my center, young people's temperature is taken every day and we force them to use the gel frequently. They are being quite respectful with the prevention measures ".