Teachers face their technological bar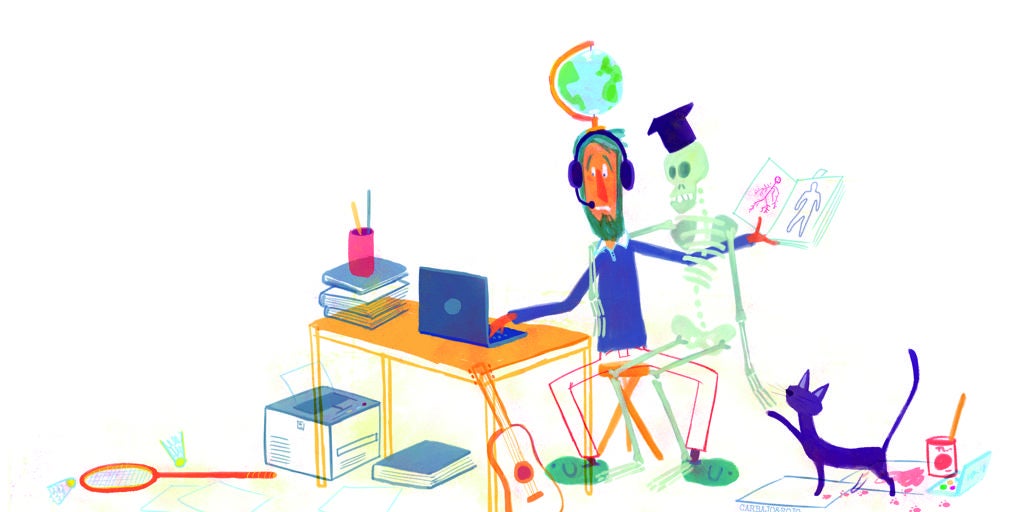 Updated:
Keep

The digital leap that has occurred in all sectors of society due to the pandemic has been noticed in a very special way in schools. Digitization was already present, in some centers more than others, but in a matter of hours education was only possible online. This was a drastic change for students and teachers who had to change their way of teaching. And it has not been something temporary, but with the constant and real threat of the confinements of some classes, online teaching coexists with face-to-face teaching.
This adaptation to the use of digital tools has required a extra effort from many teachersespecially those of older generations. "In the first confinement in March, both students and teachers had to adapt to a situation never seen before and very quickly, without any type of transition," he recalls Sonia Garcia, spokesperson for the National Association of Teaching Professionals (ANPE). «A situation that each teacher and educational center saved as best they could with the means they had. Never happened before: all face-to-face education was replaced by online education ", he adds and also recalls that this search for solutions was produced thanks to the commitment and responsibility of teachers and families.
Voluntary training
ANPE ensures that the administrations have been concerned about putting into full operation and reducing incidents in the technological platforms that already existed. "And they have offered some courses to teachers for those who want to do it," says Sonia García. However, "ANPE has demanded to implement and specify digitization plans in all centers and it has not happened." Some plans that for the union "should include measures such as the provision of computer and connectivity means, digital platforms that enable online classes and digital content, training for teachers and students, the minimum instructions that regulate this modality, adaptations curricula and the working conditions of the teaching staff among others ».
But they recognize that the courses that are being offered by the Education Departments of the Autonomous Communities they are usually of quality. "Digital training for teachers is voluntary and is carried out outside of working hours. We always start by teaching volunteerism and commitment to our work ", clarifies the ANPE spokesperson.
The Common Teaching Digital Competence Framework (MCCDD) is the reference for evaluating what are the different digital competences of teachers, as well as the knowledge and skills they must acquire to be digitally competent. Students of the 21st century are digital natives and formal education must adapt to this circumstance by adapting learning methods to the possibilities offered by new technologies.
This framework distinguishes five areas: information and information literacy; communication and collaboration; creation of digital content; security and troubleshooting. Training in digital skills is essential for today's teachers both to improve their way of teaching and to connect with students. But this reality is still not well reflected in the Education curricula.
Where universities have been working for years is in the offer of master's degrees that allow them to acquire these skills. One of the pioneers was the University Master's Degree in Education and ICT (e-learning) of the UOC in 2004, counting from the beginning with a great demand. One of the most recent is the Master in Educational Technology and Digital Competences from the International University of La Rioja (UNIR). "We must educate the entire educational community," highlights its director, Almudena Castellanos. He acknowledges that in the last year education has been possible thanks to the Internet, "and we have verified that online education will always be necessary, whether due to a virus, a storm or another reason," adds Castellanos.
In this master's degree, the competencies indicated in the MCCDD are acquired. «The teacher learns all the questions because they are necessary. In schools, community managers are also needed to sell the brand and manage the networks, for example, "recalls Castellanos.
Digital skills
The director of the master has no doubts that "the teaching body is aware of the need to acquire digital skills, as is the governing body of the centers." And in your opinion age is not a barrier: «We have students of all ages, they come with a lot of vocation. It's more about motivation than skill. '
He also points out the many possibilities that these competences offer to teachers: «Everything they can do in person they can also do online. They are very convinced of everything they have learned and apply it in their classes. Castellanos sees this training as fundamental, which in the case of the Infant, Primary and Secondary Education degrees taught at UNIR are compulsory subjects. "The teaching staff must always be training and this training plan must be updated", he clarifies. A permanent update to be able to respond to the new scenarios that a changing reality draws.