Tchouaméni: "As soon as I knew that Madrid wanted me, I didn't hesitate for a second"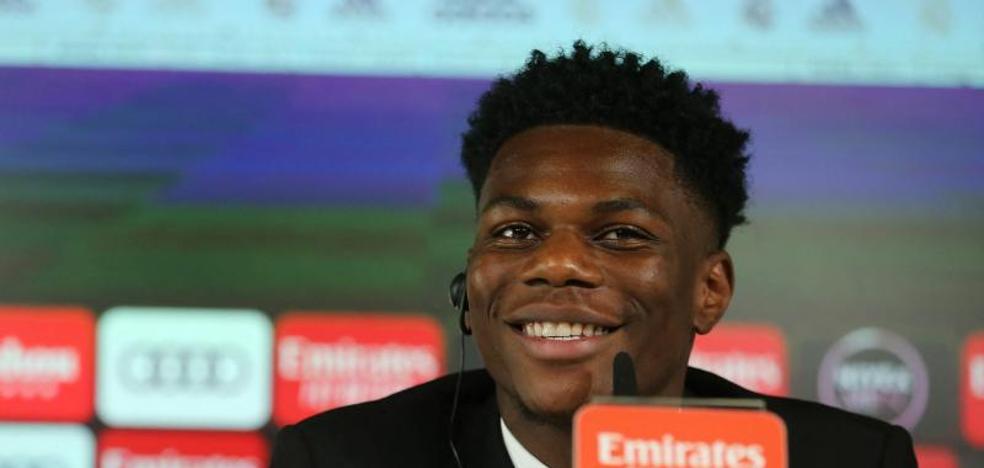 Official presentation
"I want to make a mark in the world of football and this is the best team to achieve it," proclaims the young French midfielder, who rejected PSG, despite Mbappé's insistence, and Liverpool
"As soon as I found out that Real Madrid was interested in me, I didn't hesitate for a second. I want to make a mark in the world of football and the best team to achieve this is Real Madrid, the best club in the world", Aurélien Tchouaméni proclaimed this Tuesday during the official presentation of him as a new player for the white team. Despite Kylian Mbappé's call and insistence for the 22-year-old midfielder to sign for PSG, apart from Jürgen Klopp's interest in reinforcing Liverpool, Tchouaméni only wanted to play for Real Madrid and waited for the call from the club he presides over Florentino Pérez to say yes to the most successful entity in Europe.
"Kylian already knew that I was going to leave Monaco at the end of the season, but my first option has always been Real Madrid, he has understood it perfectly and is very happy for me," revealed Tchouaméni, who arrives at the team to give the replaced Carlos Henrique Casemiro as defensive midfielder. "There were other negotiations with other clubs, but as soon as the talks came out I told my agent to get the agreement with Real Madrid, which was what I wanted," insisted the young French footballer, for whom he will pay 100 million euros (80 fixed plus 20 in variables) the entity chaired by Florentino Pérez. «I had spoken with other teams, but I was waiting and when Madrid knocked on my door I did not hesitate. It's a wonderful thing," he insisted.
Tchouméni, who despite his youth showed great maturity during his appearance before the press, in which he spoke in Spanish and French, believes that in order to continue growing as a footballer and become one of the best midfielders in the world, Real Madrid is the perfect place. The French player believes that he can contribute "intelligence" to his new team and help it grow "with passes and interceptions." "I can recover a lot of balls, and I think all these aspects are going to help the team", he pointed out, convinced that "with work" he will have enough minutes at Real Madrid to continue being a fixture in his country's team and play in the World Cup. Taste.
When Tchouaméni signed for Monaco from Bordeaux, he spoke with Cesc Fàbregas and revealed what the Catalan footballer told him at the time. "He told me that as soon as I get the ball back I have to move forward and always see what happens before the ball arrives. I am still very young and I have to improve in all aspects of the game », he acknowledged. Before signing for Real Madrid, he spoke with Karim Benzema -his idol along with Zinedine Zidane- and Eduardo Camavinga, "who is very happy about my signing." "Karim is now the best striker in the world and when the negotiations progressed he told me how everything works at Real Madrid and if he could help me in any way," he confessed. The young French midfielder will wear the number '18' on his shirt, and assured that he can act in any position in midfield, as 'six' or 'eight'.
"Hello everyone. I am very happy to be here to start my story with Real Madrid, the best club in the world. We are going to work to win many more titles. Thanks to the president, my agent and my family for having me here. Thank you and... Hala Madrid! », He commented earlier during his short speech in Spanish, and with good pronunciation, the young French footballer. Florentino Pérez highlighted during his speech the gesture of Tchouaméni, who has signed for six seasons, until 2028. "At 22 years old they have had the opportunity to choose and you have chosen this badge and this shirt," the Real Madrid president told him.