Tax reform makes the 'Beckham law' less attractive to bring talent to the country | Economy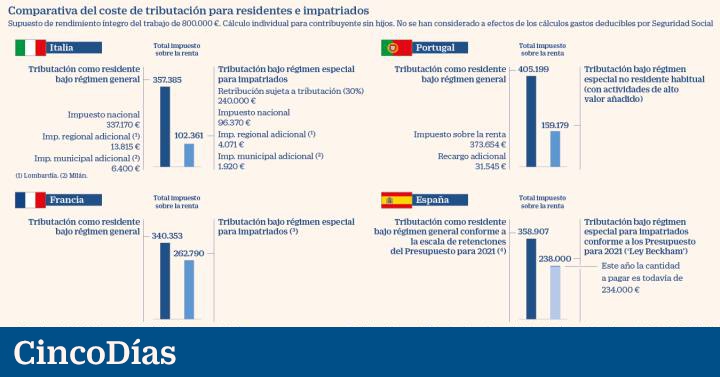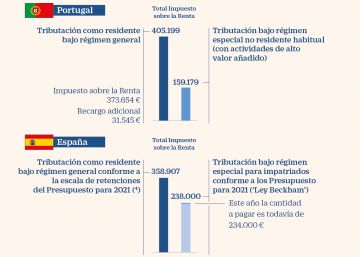 The tax reform included in the General State Budget project for the year 2021 is about to make the so-called beckham law, the tax regulation promoted during the years when the famous footballer played for Real Madrid and whose purpose is to attract talent to Spain. The tax regulation that governs certain posted workers, particularly common among managers and highly qualified professionals, will be affected by the new increase in the marginal rate for the highest incomes, undermining its drive compared to the proposals of neighboring countries such as Portugal, France or Italy.
The modification in the making, in fact, has begun to lead multinationals to ask large consulting firms for more fiscally competitive alternative destinations, they reveal at KPMG.
The fiscal reform of the Budget includes, among other measures, an increase of two points in the marginal rate of personal income tax applicable on earned income from 300,000 euros. As a result, the new maximum income tax rate, currently an average of 45% from 60,000 euros, rises to 47% from 300,000 (although depending on the regional rate it will range from 45.5% in Madrid and 50% of Catalonia).
As a result, a resident with an income of 800,000 euros would pay in Spain 358,907 euros in taxes, while in France (with a marginal 48% from 250,000 euros) he would pay 340,353; in Portugal (53% from 250,000) it would pay 405,199 euros and in Italy (43% from 75,000 euros) it would pay 357,385 euros, according to the consultancy's calculations. In other words, the Spanish tax does not come out badly compared to the one applied by the rest of its neighbors.
However, the tax increase makes tax regulation worse for the so-called impatriates. Subject to several changes during its history, leaving out, for example, elite athletes like the one that gave it its name, the beckham law It allows paying taxes at a fixed rate of 24% up to 600,000 euros of income to individuals who have not resided in Spain during the last 10 years and come to the country for a labor contract. From that volume, however, their remuneration is taxed at the maximum marginal rate, which will rise in 2021.
As a result, a displaced worker subject to this regime with the same income of 800,000 euros will pay 238,000 euros next year, 4,000 more than in 2020. The amount is still much lower than that of an employee of the general regime, but exceeds the from neighboring countries. In Portugal, non-residents with "high added value" activities can reduce the marginal 53% by 20%, and end up paying 159,179 euros. In Italy, with an inpatriate scheme that exempts 70% of income from tax, it would pay 102,361 euros. And, in France, the inpatriate can exclude from taxation bonuses for expatriation and days worked outside the country, up to 50% of their payroll, and 30% of all salary if they are hired abroad by a French firm, KPMG details. In the absence of other adjustments, it would pay 262,790 euros, little more than in Spain.
With the tax reform announced for 2021, "we are at even greater risk of being less competitive than countries like Portugal or Italy," warns Igor Diego, director of the Global Mobiliy Services area at KPMG, who defends the need to "maintain and strengthen this regime special as a way of attracting talent and qualified professionals from abroad ".
"At this moment we receive quite a few inquiries from executives concerned about a significant rate hike in Spain, who are exploring the possibility of traveling to other countries and seeking information on how the tax burden is in Portugal or France and what their special regimes consist of", points out, recalling that the pandemic has promoted telecommuting, further raising the competition to attract talent and investment.
"There is not always the possibility of choosing one destination or another", but in the case of large multinationals, he illustrates, a manager in charge of the Iberia area may well establish himself in Portugal instead of Spain, and the range of destinations is expanded in the case of large firms with departments that encompass the entire Mediterranean area, for example.