Tavares is exhibited in the victory of Real Madrid against Andorra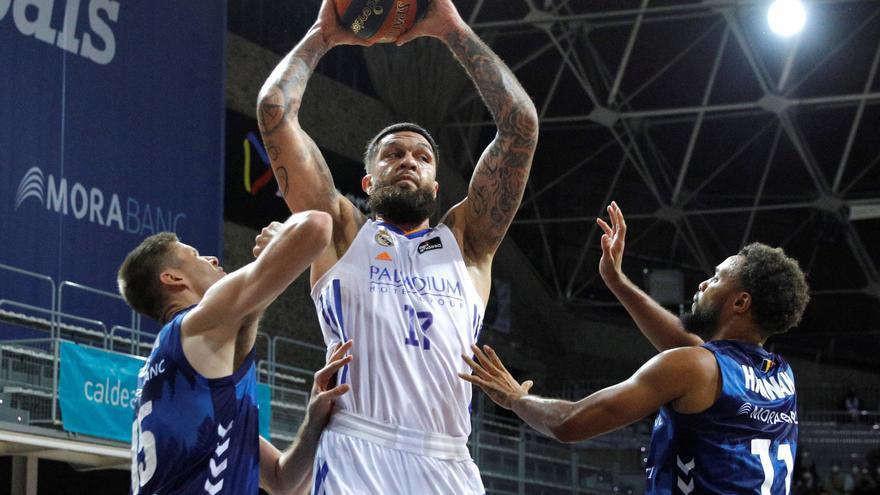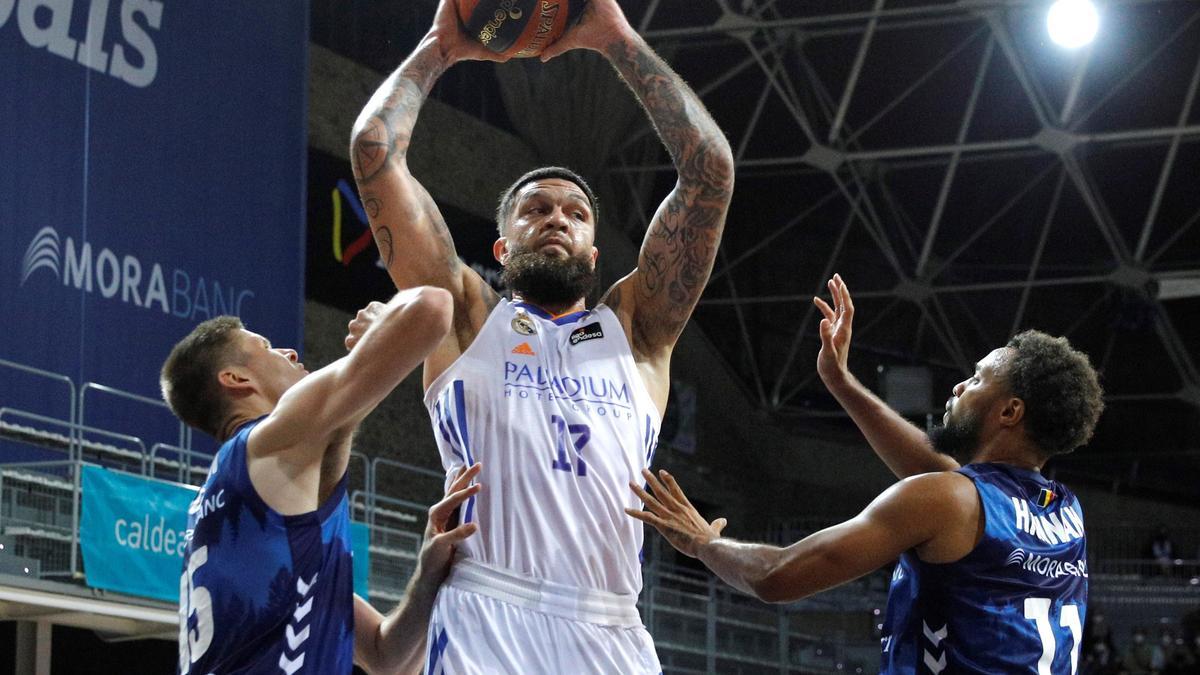 The Real Madrid was exhibited in the Principality of Andorra under the law of 'Edy' Tavares (15 points, 8 rebounds, 4 blocks and a PIR of 26), and won by 58 to 86 yet MoraBanc suffering its second defeat in two games. Those of Pablo Laso they broke the match in the third quarter with a pretty solid performance at all levels while the locals showed that they are still in the filming phase and with a lot to improve.
Putting on scene of the 'giant' Tavares, was totally unstoppable. The Cape Verdean got along wonderfully with Thomas Heurtel and with 4 points he led the partial from 0 to 10 starting at 2'40 ". The first points at stake for MoraBanc came with 3'10" played and it was with the first triple of Clevin Hannah. Those of Ibon Navarro only scored from the triple with another one from Hannah, one from Oriol Paulí and Sergi García. The partial of the Principality was from 8 to 0 to place the 14 to 16. The first quarter ended with a partial of 0 to 5 to leave the 14 to 21.
The defenses and errors were imposed in the second act until Carlos Alocén entered the court, who scored two consecutive triples to reach +12 (22 to 34). Those of the Principality, with the good direction of Clevin Hannah and the leadership united with the intensity of Moussa Diagne, did not let go and reached the break with a -8 (30 to 38) taking advantage of a series of losses by Pablo Laso's men. The top scorer for the Andorran players was Hannah with 8 points and for the Whites the omnipresent in the first quarter stood out, 'Edy' Tavares, with 9 points, 2 blocks, 5 rebounds for a PIR of 14.
MoraBanc yielded in the third quarter. First with Ádám Hanga's three consecutive triples and then with six points followed by a Tavares who had a perfect partner with Thomas Heurtel. Those of Pablo Laso achieved their maximum difference in the electronic with a +19 (37 to 56 and 40 to 59) with a triple from Heurtel and another from Causeur. A 2 + 1 from Yabusele left a 40 to 62 and those of the Principality found no response to so much white dominance and they went to the last quarter twenty down (44 to 64).
The last quarter could not have had a better start for the Whites as Yabusele made a spectacular dunk. The partial was from 2 to 9 and the visitor differences increased to 27 points difference (50 to 77). The visitors played a very solid game: in attack they were fluid and in defense they bit without losing their intensity at any time. In the end, 58 to 86 for Laso's who took their second win of the season more easily than expected.
Data sheet
58- MoraBanc Andorra (14 + 16 + 14 + 14): Hannah (8), Miller-McIntyre (2), 'Drew' Crawford (2), Amine Noua (6) and Moussa Diagne (10) -the starting quintet-; 'Tunde' (2), Conor Morgan (3), Jelínek (7), Oriol Paulí (6), Sergi García (8), Mario Nakic (2) and Víctor Arteaga (2).
86- Real Madrid (21 + 17 + 26 + 22): Heurtel (5), Causeur (5), Hanga (12), Yabusele (12) and 'Edy' Tavares (15) -the titular quintet-; Jeff Taylor (5), Llull (5), Williams-Goss (10), Poirier (8), Vukcevic (3), Rudy Fernández (-) and Carlos Alocen (6).
Referees: Òscar Perea, Rafael Serrano and Joaquín García González. Eliminated for five personal fouls Miller-McIntyre -MoraBanc-.
Incidents: Andorra Sports Center. 1,500 spectators.