Tavares: "Granca gave me the opportunity"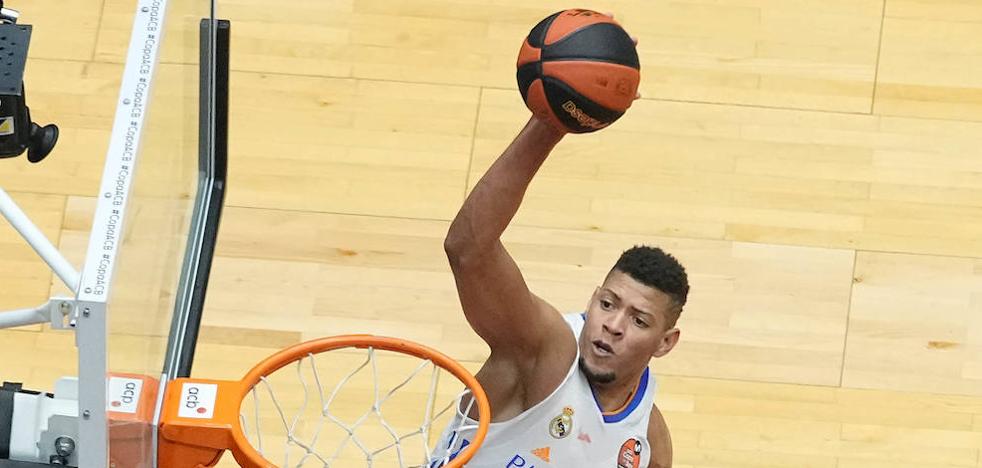 The yellow squad is the differential factor in the ACB and in the Euroleague. He does not forget his beginnings on the island at the age of 17 and fondly remembers Pedro Montesdeoca
Walter Samuel Tavares Da Veiga celebrates his fifth season at Real Madridwhere he has touched the sky at a national and international level under the orders of Pablo Laso,
but its history will be linked to Gran Canaria forever. And it is that Edy began to play at the age of 17 after being recruited by the members of the coaching staff and the training categories of the Gran Canaria Basketball Club at that time Raúl Rodríguez, Carlos Frade and Alejo Melero, in some tests that were carried out in Praia, the capital of his native Cape Verde.
An event that marked a before and after in his life, although the process was not easy and he had some episodes of threatening to leave. He grew, vibrated and suffered for the Claretian nursery and the UB La Palmas until landing in the first team and
reach the NBA even. A life of improvement known by almost everyone, but it never hurts to remember to put as an example and in perspective with the passage of time and everything achieved.
The center of the island of Maio, 30 years old and 2.20 meters tall, returns once again today to the starting point and, how could it be otherwise, it is an underlined appointment in the personal calendar.
«
It is always special to return to the island because it is where I started, where I was given the opportunity to have the life that I have today.. I will always be grateful to the island and the club,
I always find it strange to play therebut I have to focus on what I have to do and that's it," Tavares assures this newspaper with enthusiasm, emotion and pride.
Porfi Fisac's team, ranked eighth with a record of 17 wins and 16 losses,
will defend the place that grants the right to dispute the eliminatory rounds for the wound of the maximum national competition in a final day in which he depends on himself, but, in case of losing, he will have to look at what UCAM Murcia and Surne Bilbao Basket do.
«It will be a difficult game because they are fighting for life or death to get into the Playoff.
It is a club that has the goal of qualifying for the Playoff every year. It's going to be complicated because they're going to give their all and so are we. Gran Canaria pushes hard at home", argues the yellow team player about a duel in which Real Madrid will have nothing at stake as they are already second in mathematical form, with a balance of 24 wins and nine setbacks.
Precisely, the last one was against the leader Barça and, since then, Laso's squad has accumulated five consecutive victories in the domestic competition and three in the Euroleague, where they quickly eliminated the Israeli Maccabi to obtain a new pass to the Final Four .
The white reaction came after signing 16 defeats in 27 gamessome unknown numbers in the winning cycle of the coach from Vitoria at Real Madrid.
Questioned about how he experienced that delicate moment and what has changed now, Tavares states that ««
not much has changed. we had a rough patch. It's been hard for us to get up, but with so many games it's difficult to train and get back to basics. I think we have tried to continue with the same line of work and put a little more to be able to move things forward.
«
I've never had such a losing streak in my life.so I think it's something that happens and you learn from everything, "he adds.
Real Madrid have some nice challenges ahead with the Playoff and the fight for the continental title. On how he sees both against a Barça that has regained its competitiveness with Jasikevicius, the African player, chosen as the best defender in the ACB for the second year in a row and
designated in the ideal quintet of the Euroleague this campaign, believes that «we are going to try to do what we have to do. We know that they have had a great season and have good players, but so have we.
It's like a final, we're going to try to give our best and we'll see what happens in the end».
«The important thing is to go and leave 200% there and then what happened will happen. We are going to try to do our best », she slides.
It is inevitable to ask Tavares about Khalifa Diop and Olek Balcerowski, also homegrown towers, two essential pieces in the insular interior game.
«I see them very well because the Gran Canaria academy works very well with the boys, they dedicate themselves a lot to them, with a lot of details and with a lot of extra work.
Great players will always come out of there because of how they work, it's incredible to get players of a very good level every year», emphasizes Tavares.
Gran Canaria will pay tribute today to the figure of the doctor Pedro Montesdeoca, who died in 2020. Questioned about what it meant to him and how he remembers him, Tavares affirms that "I remember Doc as if he were my father because he was always with me, he always encouraged me, He was always there in bad times, whenever I needed him and he never let me down.
He is a figure like a father that I had, when I left we continued talkingI even did it a day before he left."
«
It will be a very emotional day for me and I will remember it forever.. We will remember him with that smile and that positivity that he always had on a daily basis », says Edy Tavares, while thinking of an anecdote with Pedro Montesdeoca that he will never forget. «He was a very funny guy, all the time laughing and joking. I can't say a specific anecdote because he was always joking », he highlights.