Tavares fuels the recovery of Real Madrid against San Pablo Burgos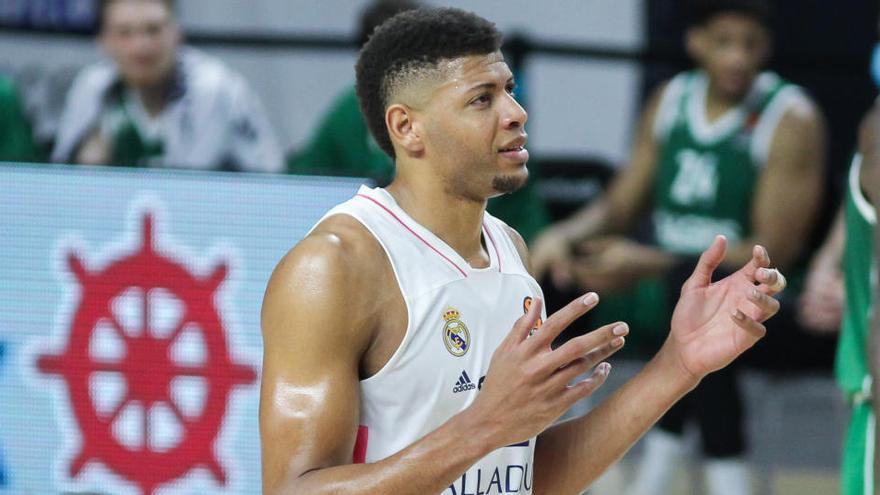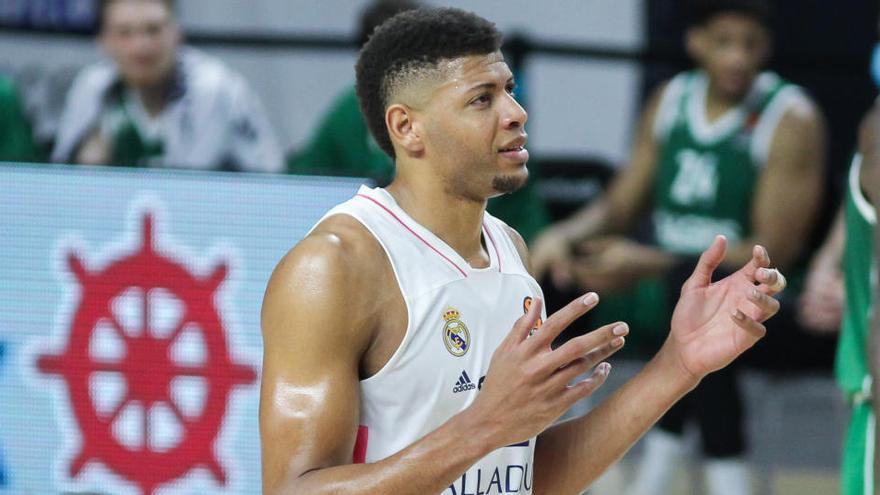 Another excellent match of the Cape Verdean pivot Walter Tavares (27 points, 7 rebounds, 6 blocks and a PIR of 37) fueled the recovery of Real Madrid, that winning Inherit San Pablo Burgos (96-81) chained his second victory in 48 hours to get rid of post-Cup depression, despite the casualties.
After beating Lithuanian Zalgiris Kaunas, the white team knew how to prevail over one of the revelations of this Endesa League, by the hand of a Tavares that allowed an authoritarian first quarter (29-13) from which he was managing the advantages and settled by the wrist of Jaycee Carroll, who made 14 of his 17 points in the last quarter.
With the known casualties of Sergio Llull, after his arthroscopy in his right knee, Rudy Fernández, Jeff Taylor and Anthony Randolph, Madrid are now afraid for the right ankle of Trey Thompkins, who went to the locker room after the third quarter with a sore right ankle.
The Hereda San Pablo Burgos will have to wait another season to release its record of victories at the WiZink Center. His meritorious game, except for the first quarter, with a good reaction and a tremendous triple hit (43%, 14 of 32), with 4 triples of 5 attempts by the Brazilian Víctor Benite (15) and 5 of 11 by the American Thad McFadden (18 points), it was not enough.
A robbery by Xavi Rabaseda to hang from the hoop after the initial jump seemed a demonstration of intentions by San Pablo, who fell apart as soon as Real Madrid found Tavares. He only starred in an 8-0 run that made it 15-5 and forced Joan Peñarroya to stop the game after four minutes.
The Burgos improved in defense -they even saw the return of American Alex Renfroe after his injury, with a technique as soon as he entered to claim that he had been fouled in his first action-, but the white team continued attacking and closing his ring (he won the rebound 14-4 only in the first set) for the quarter 29-13.
Real Madrid, unfazed whatever the rival, climbed on the shoulders of Argentine Gabi Deck, which put the mirror result (31-13) from which it was dried in white attack. It was the moment that Cuban Jasiel Rivero took advantage of to bring Burgos closer (36-28, min. 14). It did not last long, because between the success of Alberto Abalde and the return of Tavares they put Madrid back to 15 (43-28) and Jaycee Carroll scored a triple to go to the break 48-32.
Rabaseda re-inaugurated the electronic after the break, this time with a triple, and now it was reciprocated by his teammates, who moved the ball well to score 4 triples in 5 attempts, two from a very inspired Ken Horton, shooting and stealing, to unhinge a "Tavares-dependent" Madrid (54-48, min. 24).
Laso stopped him, and with Causeur and Thompkins the whites gained breath (66-54), with a better defense that made them increase their income at the end of the third (70-54) but they were left without Thompkins, injured in the right ankle.
Even with the party to be decided, Laso played it keeping the rest of Tavares and with Garuba of '5'. There Jaycee Carroll appeared to score three trays and a triple, keeping the fort almost alone (80-68, min. 35) until the end 96-81, which shelves the small red-and-white depression. Another thing is the infirmary, which adds tenants and will still give Pablo Laso headaches.
Data sheet:
96 – Real Madrid (29 + 19 + 22 + 26): Laprovittola (2), Causeur (8), Deck (8), Garuba (5), Tavares (27) -initial quintet-, Tyus (6), Alocen (3), Thompkins (10), Abalde (8), Carroll (17) and Vukcevic (2).
81 – San Pablo Burgos inherits (13 + 19 + 22 + 27): Cook (3), McFadden (18), Rabaseda (8), Rivero (13), Kravic (4) -the starting five-, Sakho (2), Horton (10), Benite (15), Renfroe (2), Salvo (4) and Salash (2).
Referees: Óscar Perea, Juan de Dios Oyón and Fabio Fernández. Without eliminated.
Incidents: match of the twenty-fourth day of the Endesa League, played at the WiZink Center in Madrid, without spectators due to the health measures against the coronavirus pandemic.