Tarantino returns to Hollywood in 1969 in his debut as a novelist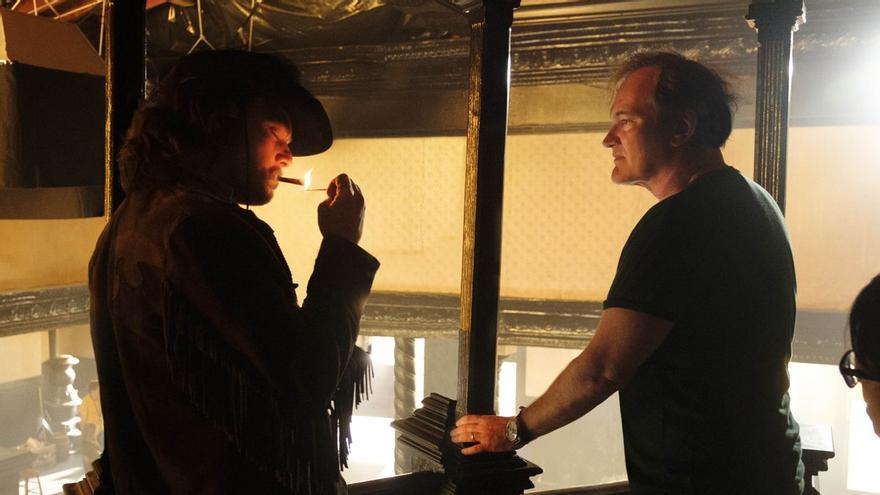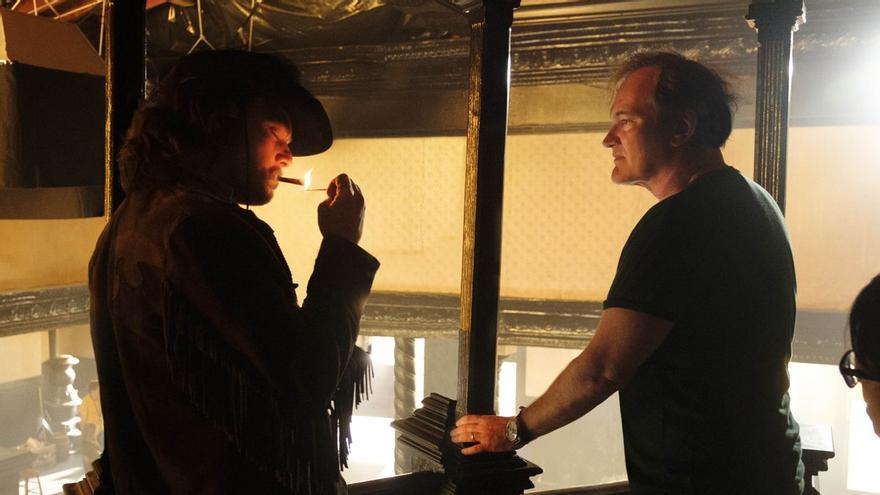 His first novel, which hits Spanish bookstores this Tuesday from Reservoir Books, and Columna, in Catalan, is the ideal complement to that 1969 Hollywood film. The main characters are the same, and they are repeated, from different angles, some of their situations. But Tarantino takes advantage of the greater and flexible space that a 390-page novel offers him to delve into the protagonists and explain decisive things about his past.
Wild eloquence
The book opens with a fast-paced conversation between actor Rick Dalton and producer Marvin Schwarz, played by Leonardo DiCaprio and Al Pacino in the film. It is the closest thing to the takeoff of some of his previous films: the same wild eloquence and taste for precise dialogue as in the early days of 'Reservoir dogs' or 'Inglourious bastards'.
In this first chapter we talk about those little-known directors so liked by Tarantino (Paul Wendkos, the best director of action films according to Rick), but also about Sergio Corbucci, Ishiro Honda, Lee van Cleef, Sergio Leone, 'old men' like Stewart Granger and Glenn Ford or the B series from Republic Pictures. Tarantino has the same wit as displayed in his films when he talks about cinema or makes cinematographic references. The producer gives Rick the review of one of his films that appeared in 'Cahiers du cinéma': "It's a good review, it's very well written. They should ask to have it translated for you. " Rick takes it, but knows he will never ask for it to be translated.
Tarantino follows the alternate chapter structure, something he used in the fragmented construction of 'Reservoir dogs' and which, as early as 1992, he claimed as a literary structure that greatly influenced him. Chapter two goes back in time to tell us significant aspects of Cliff Booth, the stunt double played by Brad Pitt. And now we discover his cinephilia, something impossible to imagine watching the film. He likes European and Japanese cinema. He likes the Jean-Paul Belmondo from 'At the End of the Getaway' and almost all Akira Kurosawa films with Toshiro Mifune, but he hates Resnais, Antonioni, Bergman, Fellini and Truffaut.
The chapter revolves around a screening of 'I'm curious', the Swedish film-scandal from 1967. Cliff invites the producer's secretary to see it. "I don't go to the cinema to read," she says, referring to the subtitles of foreign films. Cliff, a tough guy capable of facing Bruce Lee himself, in a remembered scene from the film, doesn't care. What's more, he prefers those movies, which he sees in a cinema every Sunday afternoon, to those of Hollywood. With Cliff, Tarantino makes a kind of self-portrait of himself as a movie buff from those years.
Current dilemma
The novel mixes invented films with real ones: Cliff claims to have worked in 'Confidences of a Woman', directed by George Cukor in 1962. Some anecdotes from the Tarantino film are repeated, such as the possibility that Rick had to replace Steve McQueen in 'La great escape ', but adding a game of billiards between the two actors, the real one and the one imagined by Tarantino. The famous flamethrower at the end of the film also has a place in the novel, although in a different way. Rick's dilemma between being second in television series or starring in productions shot in Italy continues in the novel. Tarantino adds new music: Sharon Tate listens to François Hardy's first album in English. Delve into Charles Manson and his clan. And Tate and Roman Polanski are still very present. Tarantino writes that the director of 'The Devil's Seed' always tells Warren Beatty that "life is too short not to drive a convertible."
Only one downside. When we read a novel we fantasize about the faces of its characters, we give them the traits we want. Here it is impossible: DiCaprio, Pitt, Pacino, Margot Robbie or Margaret Qualley are very present.