Tanxugueiras: "We are going to the 'Benidorm Fest' with Galician music but we believe that we can represent the whole country"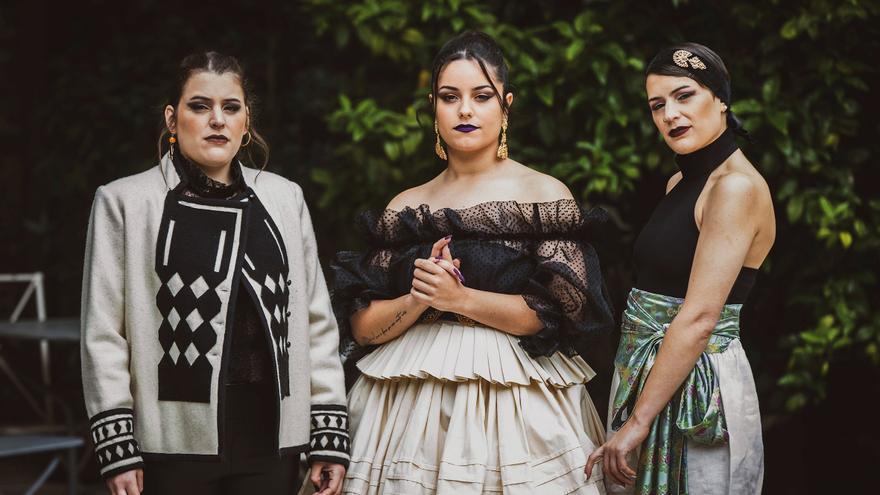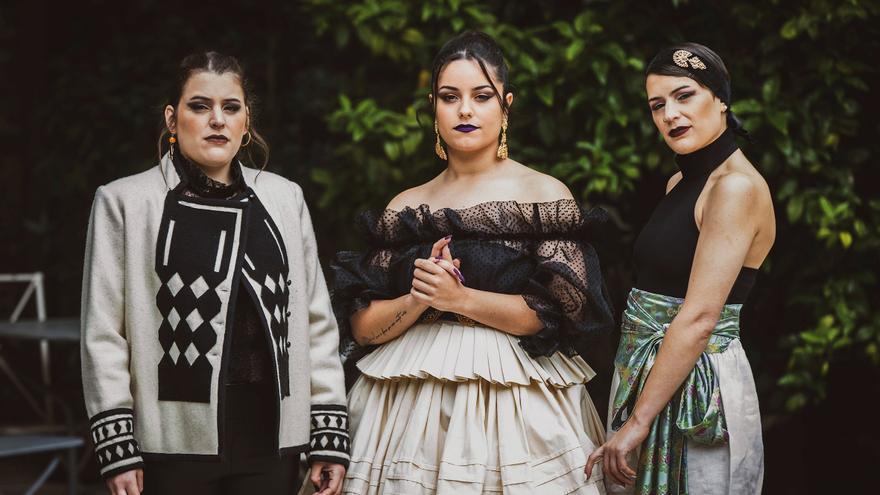 We premiered in 2022 and the celebration of the first edition of 'Benidorm Fest' it's a little closer. On this road to the music pageant, Tanxugueiras, Galician folk band formed by Olaia Maneiro, Aida Tarrío and Sabela Maneiro, is achieving a lot of support among the Eurofan community of our country with 'Terra', a song that preserves the sounds and authenticity of the songs they have published throughout their musical career.
After becoming the ideal representatives of Spain with the theme 'Figa' for readers of the specialized website Eurovision-Spain, after its premiere in the third week of December, 'Terra' accumulates more than 2,000,000 views if we add the data shown by their official Spotify and YouTube profiles, in addition to being among the most viewed content in Spain on the latest platform. To this we must also add that the trio is also in the top positions of the tops of many Eurofans from all over Europe. YOTELE talks with Sabela Maneiro and Aida Tarrío from Tanxugueiras about their participation in the first edition of the 'Benidorm Fest' and their possibilities of taking the stage in Turin.
-How do you feel being a participant in this first edition of 'Benidorm Fest'?
-Sabela Maneiro: We are very happy and, at the same time, super surprised by all the people who are supporting us. We have just released 'Terra' and we don't know how many reproductions we had already, but there are many. We only have words of thanks.
-Aida Tarrío: Not only for us at the group level, but for the Galician culture and language and, above all, for the cultures of the co-official languages ​​of the State.
-Sabela Maneiro: It is to normalize a little things that should already be, but since they are not, well let's see if little by little we are changing it.
-If memory serves me correctly, 'Terra' is the first song written in a co-official language of the State that opts to represent Spain in Eurovision.
-Sabela: The truth is that yes, and that it is in Galician ... We have all the Galicians overturned. It does not matter to which political party they vote that they are delivered. I think getting that is very important.
-Aida: The Galicians and the not so Galicians because we receive messages from many parts saying that, even if it is a traditional Galician musical, they feel represented, and that is the best they can tell us because that is what we want. Obviously we go with our music, but we believe that we can represent the whole country.
-Has it surprised you that people from so many parts of the country feel represented with your song 'Terra' and support it a lot?
-Sabela: We feel like out of place that people are so upset. We knew that the people of Galicia, Asturias, Catalonia and communities that have a co-official language were going to be delivered, but they are people from all over the world. The truth is that we don't know why, but it's like 'Terra' is a song that unites. That makes us very happy because there are already many things that are happening to disjoin.
-Did you notice the support of the Eurofan public before presenting yourself to the 'Benidorm Fest'?
-Aida: We did read some comments on YouTube or Instagram, but obviously we didn't know we were going to get here. The truth is that it was a joy to see that people from outside Galicia wanted us to win, for example, 'The internal choice' on the Eurovision-Spain website because those fans are all parties, and that's what we said before. It is that we have nothing but gratitude. Without them we would not be here anyway.
-Was winning that poll among Eurofans and the impact it had, did it encourage you more to be at the 'Benidorm Fest'?
-Sabela: That was a chain. I think that if that had not happened, we would not have decided to participate. We believed that we had a responsibility with all those people who wanted us to be there, with our people and with the co-official languages. It's not that we are responsible, but we did have that pressure, but it came from there. Thanks to people asking us to please introduce ourselves. The truth is that we are super happy but, what a mess they got us! Let's see how we get out of this! (Laughs)
-And how are you going to get out of this? What do you have in mind for your performance at the 'Benidorm Fest'?
-Sabela: Pueees ... First of all, with a lot of dignity. (Laughs)
-Aida: Before presenting 'Terra', people asked us what we were going to present. What if it was going to be in Galician and what if we were going to bring tambourines. We always answered that if people liked 'Figa' or 'Miras' it is because they liked Tanxugueiras. So, we are going to be as we were and have been during all these years at the 'Benidorm Fest' and / or at Eurovision. Therefore, we are working so that we have a staging and a live 'Terra' as it deserves. Where we feel most comfortable is live. We really want to sing it and show you what we are preparing.
-How advanced is this stage proposal for 'Terra'?
-Aida: He will not see fire. Well, we don't know, but it can be a bit dangerous. I'm going to say one thing: the song is about union, and the fire should be given a spin ...
-Sabela: I think the best we can do is put together all the proposals that they tell us. They have suggested a tree to us, us on a swing plus fire around it and dressed as witches. So, if you combine all that, something will come out (laughs).
-Alberto Núñez Feijoó, president of the Xunta de Galicia, publicly supported you on Twitter when it was announced that you were going to participate in the 'Benidorm Fest'. How did you react to this?
-Sabela: We are happy and excited about that tweet, but we also believe that things are showing progress. With all our love, we reach out to him so that these things are demonstrated.
-Aida: We put Galician on stage, but it would be very good to put it in education, in culture and in all the places where it has a place.
-In Galicia, everyone from many sectors supports you. Why is it so easy to support the Galician in Eurovision and so difficult to support him in real politics and in society?
-Sabela: That is a question that we also ask ourselves. I think that when something is valued outside, it is when it begins to be valued inside. It is like an artist who leaves Spain and, suddenly, fills an auditorium, beginning to be valued here. So this is more the same. We discard ours and prefer what is outside. I guess that is it. Let's see if we can do our bit so that we can start to stop doing that.
-Let's imagine. You become the representatives of Spain with 'Terra', you go to Turin and you win Eurovision. Where would you like it to be held the following year?
-Aida: Ugh. It is that she is from one place and I am from another.
-Sabela: We don't know, but we have a City of Culture in Santiago de Compostela that was built for nothing. So, it would be nice to do it there, which is very big. Look, we give a little room to all that budget investment.
-Have you made any kind of promise or bet in the event that you win the 'Benidorm Fest' or Eurovision?
-Sabela: No but, do you know why? Because normally when we do that, it happens. Is that imagine that we win and we have to shave, because the word is the word ... So, we don't do those things.
-Aida: But we will think something. If we win, we will invite all of our teammates to a round of shots.
-Sabela: She said it. Olaya and Sabela totally disassociate themselves from it. (Laughs)