'Tannhäuser' in Bayreuth, Richard! How funny! | Culture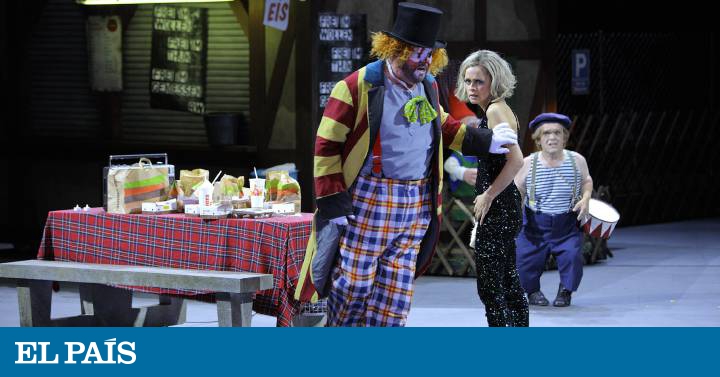 your Tannhäuser, Richard, in Bayreuth, This 2019 has been a real laugh. Shortly before you died, you confessed to your dear Cosima that you should have finished the world. You were not very happy. You played it and touched up since you composed it in Dresden between 1843 and 1845. You started in a time of need. During those days when you owned only three shirts and told your brother-in-law Eduard Avenarius the desire you had to stop being, in your own words, "a decently dressed beggar."
You undertook it with fear of failure and that influenced: in fact, it is the opera of yours less represented in Bayreuth, the festival that every year, as you left instituted, is celebrated centered on your work. Only eight times in 150 years. But you should have seen the assembly that opened this summer's edition, just Thursday. With Chancellor Angela Merkel in the box and her poker face before which the stage director was prepared Tobias Kratzer and the russian Valeri Gergiev in the pit, as friend of Putin as he is and with a drag queen on the stage. Le Gateu Chocolat it's called: to give you an idea, he displayed a rainbow flag at the end of the second act. To die!
You've been updated, Richard Wagner, even if it's upside down. And nothing is wrong with you. Too much gravity and self-sufficiency make reverence for your work often ridiculous, if you can forgive the boldness. A living philosopher has come to write that you are, together with Aeschylus, Sophocles or Racine, "a master of the absolute." George steiner is called. He is Jewish, with the little we know you like that. But, as usual, he is right. He tells it in a book entitled Need for music (Grain of salt). Despite your anti-Semitism, this clairvoyant thinker, free from prejudices, is seen to understand your work perfectly.
So far … Perhaps Kratzer, aware of that, has come into the world precisely to relativize you. To take away your importance and thus, paradoxically, return it to you. The fact is that your descendant Katherina Wagner, today director of Bayreuth – you know, the lineage, consider your family in Germany today as something similar to royalty -, has left the stage director open bar to turn your work around .
Many years have passed since what you consider your romantic period, with works such as Rienzi, Tannhäuser Y Lohengrin. We are in the 21st century, in the vestiges of what they call postmodernism and behind the total theater that you pursued, the cinema, the Internet, tools that at your fingertips would have been the pear. And with that, movies that Krautzer, with a filmmaker and video artist called Manuel Braun, have used to update you.
So they have grabbed all those unreal characters and endowed them with meat: Venus, Tannhäuser, Wolfram von Eschenbach, Elisabeth … They have put them in a complex metateatral and cinematic game full of multiple readings. They started with a road movie In the first act. But the biggest came in the second, with the singing contest. There they shone. While the dramatic action of the opera took place within the scene, with period costumes and the canon that Cosima, the guardian of your essences for almost 50 years after your death, would have liked, framed the stage with a movie that was shooting largely at the time.
A sort of iconoclastic band was heading to Bayreuth by van, as a group of perroflauts. They looked like a transcript of the homeless who were looking for The Wizard of Oz. Without knowing that what they would find there was going to be an outdated mechanism that needs updating. As in the movie: to take you beyond the rainbow … But they also provided the shooting with a point of high comedy, a kind of Lubitsch touch – a German Jew who escaped the Nazi fray – or a tribute to The purple rose of CairoWoody Allen, another Jew, may you know. Very bright too. A guy who has explored eros and tanatos differently from you.
They mounted the marimorena in the second act. That alone was worth everything else. A confusion of terms in which many, like Tannhäuser and Von Eschenbach himself, did not know very well what their place was: whether the illusion of reality of cinema behind the scenes or the fantasy of theater. The same Elisabeth, who sang like nobody Lise Davidsen, a soprano that would have taken you to a dislike of yours with Cosima. Like russian Elena Zhidkova. But it's funny and brazen. All of them, led by the Tannhaüser who embodied the British Stephen Gould, they left in search of the mount of Venus. And there they knew how to preserve the tragedy, among the choir of pilgrims who looked like poor refugees in an apocalyptic world, there was the sacrifice of purity and love. With blood. That so yours and so current.
They were right, dear Richard: in everything. They knew how to dismantle the Wagnerian fiction that was spent in the dramaturgy and preserve the essence of what is still making you great … Music. Gergiev was dedicated to that. Away from his usual role, he managed to direct the pit from humility. He was not on his land. It comes from the Russian Mariinsky and that cost him some boo. Yours, the most fanatical yet, do not forgive him for any past contempt.
Ay: How much damage has been caused in your name! Although neither did you stay manco. Somehow, you provoked it with those anti-Semitic pamphlets and that spare vitola with which you dispatched kings, philosophers or stole the heart of the wives of your patrons. What a gulf. Although to top it off, who came to finish off your less friendly face was your son-in-law's memo. That renegade English … Houston Stewart Chamberlain, which lit the Nazi path of followers to your legacy. He must have hated you because his pathetic hagiographic tone towards you in his book My way to Bayreuth (Forcola) is like a revenge.
The fact is that this macabre joke has cost you – and it costs you – years of distrust in many circles. But visions of your work like this one Tannhäuser, with artists willing to provide you with a good dandruff wash, they are the ones that are going to get, even if it is removing the foundations of your sanctuary, that you are still in force. Fresh and up to date. A hug.
A young Asturian in the Wagnerian court

Until now, Jorge Rodriguez-Norton He has made a discreet career. But as of last Thursday, it will change. The Spaniard from Aviles debuted at Bayreuth playing Heinrich der Schreiber, a secondary role of Tannhäuser Wagnerian, but that has made him enter a list where only three Spaniards are listed at the moment: Victoria de los Ángeles, Plácido Domingo and now he. It was Katherina Wagner, director of the German festival, who wrote to her after hearing him sing Tristan and Isolde in the Liceu (Barcelona). This is how he entered the squad that Valeri Gergiev has directed at this year's inauguration. A program that follows with other planned assemblies: Lohengrin Y Tristan and Isolde, led by the new guardian of essences, Christian Thielemann; The Nuremberg master singers, by Philippe Jordan, and Parsifal, by Semyon Bychkov.
(tagsToTranslate) tannhäuser (t) bayreuth (t) richard (t) laugh (t) german director (t) tobias kratzer (t) convert (t) opera (t) wagner (t) comedy (t) road (t) movie (t) queens (t) musical direction (t) (t) valeri gergiev



Source link