Tamaraceite beat Cádiz B on the horn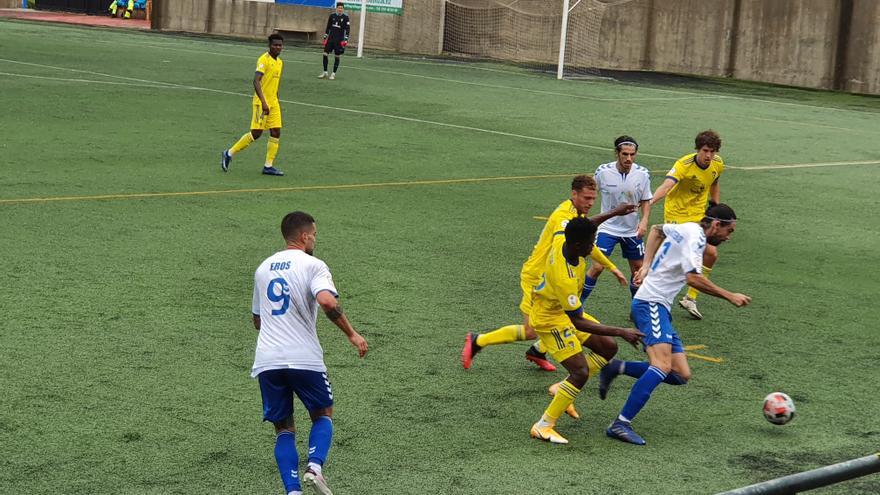 UD Tamaraceite achieved this Sunday a valuable victory against Cádiz B (1-0), thanks to a goal from Jonathan Quintero in added time and when the people of Gran Canaria played with one less footballer after being David González was sent off for a double warning in the 78th minute.
The Cadiz subsidiary, who had only lost one game and as a local, offered a good image in the Municipal Juan Guedes de Tamaraceite, and when the locals suffered the most, in the last play of the match Carlos Cid starred in an individual action, entered the area and attended so that the lanky local forward Quintero sign the local triumph.
The Tenerife goalkeeper Nauzet García was another key piece in the victory of the team trained by Chus Trujillo, with several decisive interventions that kept his team in the game until the end.
The Tamaraceite thus gets its second win of the season -both at home-, reaches the figure of 9 points in this group, and on the next day he will visit Atlético Sanluqueño, second classified with 11 points, which this Sunday beat CD Marino de Los Cristianos (0-1) in Tenerife.
DATA SHEET
UD TAMARACEITE: Nauzet; Aythami (Álex Pérez, 15 '), David García, Alberto, Jordan; Samuel Casais (Carlos Cid, 58 '), Baéz, David González, Alexis Ramos; Eros Delgado (Aníbal, 73 ') and Asdrúbal (Jonathan Quintero, 58').
CADIZ B: Flere; Baró, Satur, Lautaro, Jordi Tur (Cristian, 83 '), Duarte, Javi Pérez, Boselli (Kensly, 75'), Peter (Mamady, 75 '), Javi Martín and Chapela (Vázquez, 83').
REFEREE: Gorka Etayo Herrera (Basque Committee). He admonished Samuel Casais on the part of the locals and Lautaro on the part of the visitors. He sent off local player David González in the 76th minute for a double yellow.
GOALS: 1-0: (93 ') Jonathan Quintero.