Taishet's notebook: "Next Generation", "serious to slight", "disciplinary file"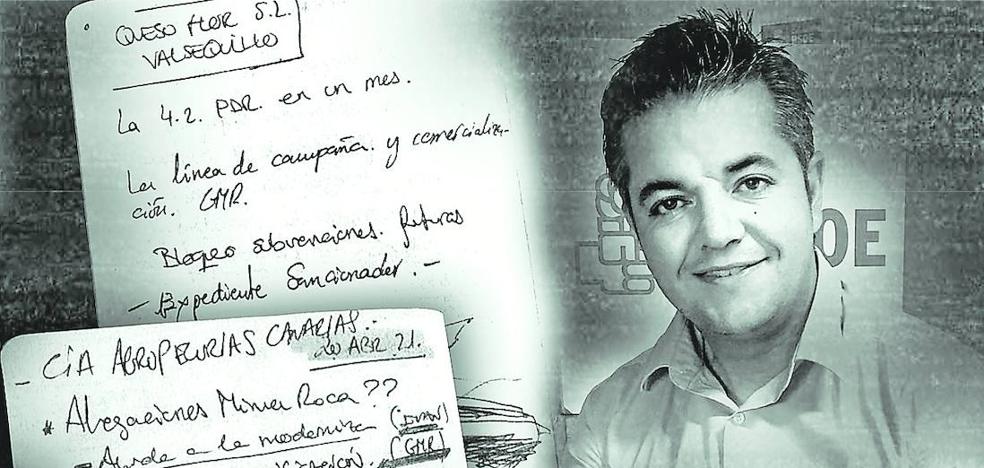 Mediator Case
Courts
Investigators found numerous annotations in Fuentes' belongings related to alleged favorable treatment
Among the numerous personal effects that the agents of the Judicial Police seized from the nephew of former deputy Juan Bernardo Fuentes Curbelo, Taishet Fuentes Gutiérrez -who was general director of Livestock-, they found
a notebook which contained notes such as
«Next Generation», «serious to slight», «disciplinary file» or «Mima Roca allegations???», According to the agents, these are related to the alleged favors to businessmen that he was performing in exchange for money within the framework of the
mediator case.
During the entry and search carried out at the home of the Majorero politician, in Puerto del Rosario, the agents seized this notebook in which, presumably,
Taishet Fuenteshad made notes coincident with the
alleged efforts that he was carrying out together with his uncle
Juan Bernardo Fuentes and the mediator
Marco Antonio Navarro.
In one of them, he alluded to the company «Queso Flor SL Valsequillo», and a text that said
"lock future grants" y
"disciplinary file". It must be remembered that a message dated March 11, 2021 was found on the mediator's mobile, in which
the businesswoman investigated Mima Roca Taishet Fuentes wrote to him in reference to the following: «Is there any news? I wanted to ask Taishet if he can get us help like Valsequillo's [refiriéndose esta empresa] To trow
Sandra UHT milk and that JSP manufactures it for us. We can sell this in hospitals etc."
They also saw a note that spoke of the
helps "Next Generation" European that allegedly managed the investigated businessmen and "serious to mild", along with the name of Santiago Reyes, a cattle businessman and one of the representatives of the sector.
This person was named in the summary by Daniel Ponce, former socialist councilor in Moya,
adviser to the Minister of Agriculture and member of the Executive Committee of the PSOE of Gran Canaria, who in a chat with Taishet Fuentes tells her that he can provide her with contacts in Lanzarote. For this he mentions whom he defines as "my councillor". "Perhaps in Lanzarote my councilor can look for some contact there," says the socialist leader. "The next day we're there, we'll talk about it with him," adds Ponce, "because
Reyes has a lot of contact with the business world there».
It also makes handwritten references to one of the businesswomen investigated:
"Mima Roca allegations", pointing to the owner of the commercial company Leche Sandra; "they don't let us certify"; "the inspectors" and "we must make a reduction, small reduction." Notes that are accompanied by others such as «
Julián Pérez Alonso, from Santa Barba-sanction», highlight the agents who carried out this diligence.
In his statement before the investigating magistrate, Fuentes said that it was "used" by Navarro while distancing himself from the alleged plot:
"I feel, after all (...) that Mr. Navarro has used me".