Sylvain Prudhomme: "Extreme idealism hides a despair" | Babelia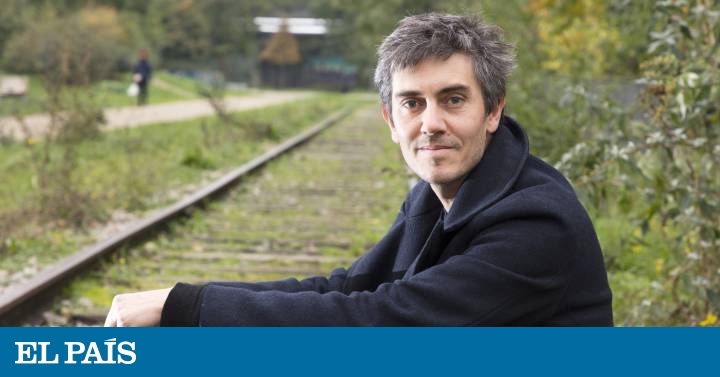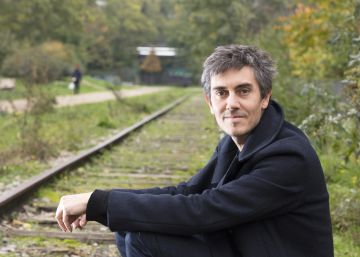 During his youth, Sylvain Prudhomme (La Seyne-sur-Mer, France, 1979) was addicted to hitchhiking. He traveled the European geography getting into the cars of strangers. He liked to travel free of charge, of course, though no more than feeling spikes of adrenaline every time a driver opened the door for him. Along with these individuals of all kinds and conditions, the writer lived moments of genuine intimacy, in which he believed he saw truths about existence emerge. That old hobby, which he interrupted around the age of 25, has inspired Down the roads (DNA), Prudhomme's fifth novel and the first translated into Spanish, propelled by her success in France, where she won the prestigious Femina Prize and became one of last year's literary revelations.
When his entourage learned that Prudhomme was writing a book on hitchhiking, they quickly tried to dissuade him. "They told me that it was old-fashioned and that I would do better to talk about BlaBlaCar", recalls the author on the bustling terrace of a gentrified African neighborhood in Paris, which may remind him of a childhood spent in countries like Cameroon, Niger or Burundi , who were led by the work of a cooperative parent. "For me, it was important to use a practice as old-fashioned as hitchhiking, because it allowed me to introduce topics such as abandonment at random, trust in life or meeting others, contrary to the way we live in the current age ". In reality, BlaBlaCar does not have much to do with hitchhiking, being its mercantile reverse. "No risk is assumed when using this platform: you meet someone at a precise time, you pay for part of the trip, you put a note to the driver and a company responds if any problem arises. It is the reflection of today's society, in which we demand efficiency and guarantees. I wanted to talk about a leap into the void… ", says the author.
His novel stars Sacha, a Parisian writer somewhat disillusioned with life (pleonasm?) Who, after turning 40 without children or ties, decides to move to a small town in the southeast of France. There he is reunited with a close friend from his youth, the Hitchhiker, a nameless character with whom he left for decades after sharing countless road trips and starlit nights.
Time seems to have tempered this man, made him a visibly happy family man. Even so, his desire for adventure has not entirely died out. From time to time, he does not hesitate to leave his partner and his son for a few days to go back to riding in other people's cars, without a specific destination. "It is a matter of necessity. There are those who need to play sports. There are those who drink, party. I need to go. If I stay too long, I suffocate, "Prudhomme makes him say in the book, contrasting his thirst for absolute freedom with Sacha's relative taste for stability and her comfortable routines. Except if, as happens at the end of certain films, the two characters are nothing more than the same unfolded being, two aspects that coexist inside each adult when youth begins to be left behind. "I didn't want to go that far, but I was interested in underlining that duality. In a way, it was as if I split myself into two halves. Each character reflects a posture that exists within me, a conflict between desire and duty in absolute terms ", acknowledges Prudhomme, admitting that it is a dilemma typical of a man of his age – he wrote it while he was dangerously close to 40 -, even though you suspect that conflict will never be fully resolved. There are two interpretations of Famous Blue Raincoat, the famous song by Leonard Cohen. The first defends that he is addressing a friend from his youth. The second swears that he is speaking to himself, to the man who once was. From these pages springs the same ambiguity as in that old tune, which Prudhomme admits was "the womb from which the book arose."
"I did not live the golden age of hitchhiking and I am not interested in idealizing it. Then there were also conservative forces in society"
The third vertex of the triangle is occupied by Marie, that companion whom a prejudiced gaze could label as selfless, a literary translator who seems to accommodate herself in the texts of others just as in the lives of others. Reality is less categorical in a novel that aspires to reflect different ways of understanding and experiencing freedom, without one being more desirable than the other. "It is a question that the book does not settle. I'm not sure the Hitchhiker is the freest character of the three. Deep down, it acts very rigid. For me, freedom also arises from flexibility, from adaptation to life and its movements. In the extreme idealism of those who do not accept reality hides a certain despair ".
Sometimes, Down the roads It seems to hide a criticism of a society regulated down to the last millimeter, which senses a commercial profit in the smallest interaction between humans and is assaulted, for some time now, by a general feeling of mistrust. Writing about hitchhiking, which Prudhomme defines as "the litmus test of hospitality", seems only an excuse to denounce this model. "I wanted an anachronistic character, a bit like Don Quixote, totally out of date with his peers. But, at the same time, capable of reminding them of what we are capable of. I believe that this generosity is still possible. The era of the hardest liberalism, that of 'working more to earn more' that Sarkozy enunciated, it begins to be left behind ", says the writer, who looks with hope at the recent triumph of environmentalists in several large French cities. "However, it is not a book written with nostalgia. I did not live the golden age of hitchhiking and I am not interested in romanticizing it. In the sixties and seventies, there were also conservative forces in society ".
At one point in the book, Prudhomme quotes the famous ellipsis from the last chapter of Sentimental education, by Flaubert: "He traveled. He knew the melancholy of the packet boats, the cold awakening under a tent, the amazement of the landscapes and ruins, the bitterness of the interrupted sympathies. Return". His book is full of those same gaps: it takes place in a city without a name, where an anonymous protagonist disappears without the reader knowing where he is going or what he does, leaving behind characters who learn to live with the residue left by the things that one is silent. "I wrote it that way because it leaves us in a position very close to the one we have in life. We must accept that we will never know everything about the other, not even about ourselves, and fit in that part of enigma and opacity as we can ", says the author. Since he finished the book, he says his writing has changed. Now he is interested in continuing to touch that bone. In recent months, retired in his home, Prudhomme has worked on a book of short stories with a common theme. For lack of a better word, he calls it "the fissure": that brief moment in which everything changes inside an individual, despite the fact that no one around him has noticed.
Down the roads. Sylvain Prudhomme. Translation by M. Dolores Torres. AdN, 2020. 248 pages. 18 euros.