Sydney McLaughlin is already a legend: two world records of 400 hurdles in one month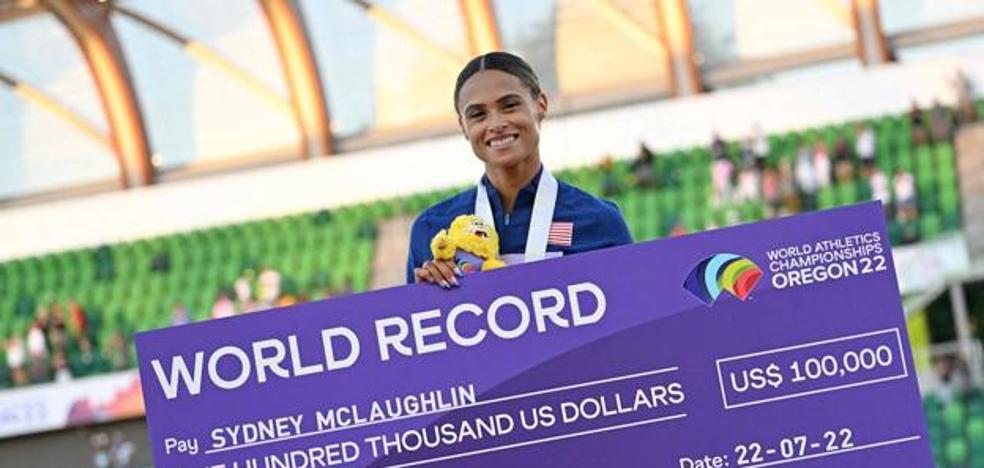 Athletics
The young American is the first woman to go below 51 seconds
He did it again, to achieve what seemed impossible a few months ago. American Sydney McLaughlin broke the 400m hurdles world record again just a month after breaking it on the same stage. A few hours ago she won gold at the Oregon World Championships with a time of 50.68, that is, 73 hundredths more than the record she set a few weeks ago on this Eugene track, where she had also smashed the record in the 2021 Trials. Those 50.68 seconds also mean that she is the first woman to drop below 51 seconds in the specialty. In just over a year, the North American has improved her time by almost a second and a half.
McLaughlin, 22, the daughter of athletes, dominated the race for world number one with absolute authority. She easily beat Femke Bol of the Netherlands (52.27), second, and her compatriot Dalilah Muhammad (53.13), bronze medalist. The champion pressed in the last 100 meters and reached the finish line exhausted. She needed several minutes to recover. Upon learning of her new feat, the empress of the 400 hurdles released an eloquent "it is unreal." The American broke the record a month before traveling to the Tokyo Games and, at the age of 21, she was the first woman to drop below 52 seconds on the obstacle course lap.
Born in 1999 in Dunellen, a town in New Jersey, McLaughlin seemed destined to be an exceptional athlete. Her father, Willie, was a semi-finalist in the 400m at the 1984 Games, while her mother, Mary, was a high school runner specializing in the 400m and 800m. And her older brother, Taylor, won silver in the 400m hurdles at the 2016 U20 World Cup.
"Yes, there is some pressure at the height of the McLaughlin name," Sydney acknowledged in a recent interview about that family saga. "They all played other sports like soccer and basketball," her father explained, "but we knew they would go the way. We introduced them to athletics when they were around 8 years old and so we're not surprised by what Taylor and Sydney have done. They have been prepared for this. We are very proud of them."