Sweden's effectiveness against Greece snatches the lead from Spain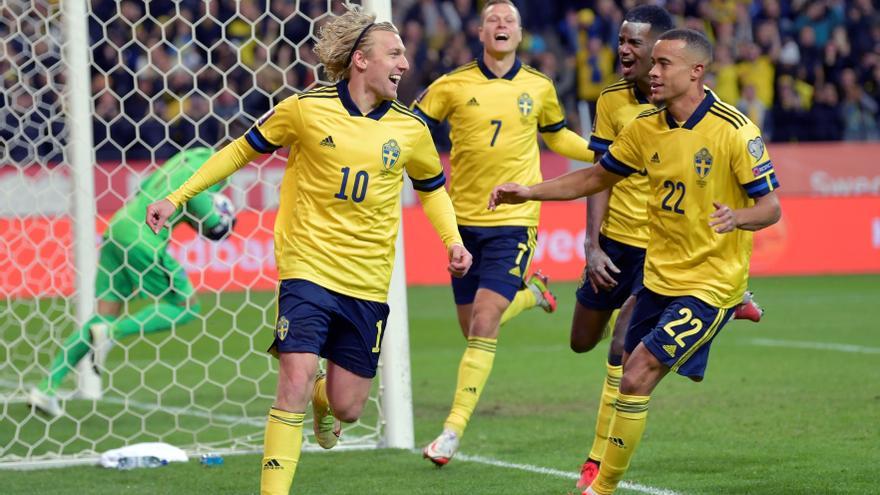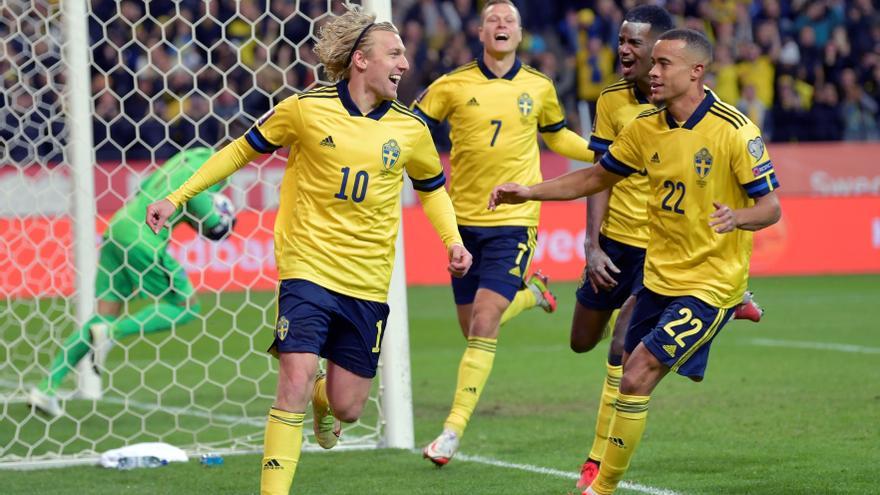 Two sparks hit Sweden the triumph against Greece, much higher in the first half, and the leadership of group B, in which is now two points ahead of Spain in the absence of so many days and visiting La Cartuja.
Sweden, which miraculously held the 0-0 draw before the break, was lethal in the second half, with two goals in ten minutes: a penalty from Forsberg and a great action from Isak. Before, Greece had crashed two balls into the posts, like the Nordics a month ago in Athens, where they fell 2-1.
Eight consecutive home victories in World Cup qualifying matches had been signed by Sweden to date, while Greece had only lost one of the last twelve such away from home.
Despite playing at the Friends Arena, Sweden was choked by Greece from the start: an orderly, brave team, well trained by John Van't Schip, who did not grant a single chance in the first half and had to go to rest ahead on the scoreboard.
The Dutch coach kept the defense of five despite the loss of Tzavellas, placing Tsimikas as third center-back and Giannoulis as the winger. He gave up a priori one of his best weapons in attack and that had created many problems for Sweden in Athens.
But it worked out wonderfully. Through that band came almost all the Greek danger in the first half, with the falls of Masouras, a headache for the Swedish defense, especially for Krafth.
Masouras warned in the second minute, scored offside shortly after and crashed a hand-to-hand against Olsen against the post at 21. Before the break he had time to take another shot and hang a cross that Pavlidis headed off the crossbar.
Greece gave up the ball most of the time, going full blast every time they got it back, but they also knew how to push up at times and exposed Sweden's difficulties to create play when they had no spaces.
Only some detail from Forsberg encouraged the home crowd, worried about the lack of spark from their team, clearly outmatched.
Sweden did not improve much with the break, although at least it cut the waterway of the Greek counterattacks. Quaison, who replaced the suspended Kulusevski, took a whiplash that Vlachodimos cleared. It was the first local occasion, in the 56th minute.
But Mavropanos, impeccable until then, committed a rude penalty, knocking down Isak, who had won the race by chasing a long ball from Lindelöf. Forsberg did not forgive.
Greece continued to attack a Sweden behind, although without danger. And "Janne" Andersson's team scored again in a play that was as simple as it was effective: a long serve by Olsen that ate the Greek defense and in which Isak, who had just scored a goal against Kosovo, stood out again.
The Real Sociedad striker played soft to avoid Vlachodimos and then pulled coldly to wait for Mavropanos to win and finish softly with his left foot.
That's where the game and Greece's options to be first in the group died, a position that everything indicates that Sweden and Spain will be played in a month in Seville.
Data sheet:
2 - Sweden: Olsen; Krafth, Danielsson, Lindelöf, Augustinsson; Claesson (Svanberg, m.81), Olsson, Ekdal (Cajuste, m.81), Forsberg (Olsson, m.87); Quaison (Gyökeres, m.87), Isak.
0 - Greece: Vlachodimos; Androutsos, Hatzidiakos, Mavropanos, Tsimikas, Giannoulis (Limnios, m.84); Siopis (Pelkas, m.71), Bouchalakis, Bakasetas; Masouras (Tzola, m.71), Pavlidis (Douvikas, m.76).
Goals: 1-0, m.59: Forsberg (penalty); 2-0, m.69: Isak.
Referee: Tobias Stieler (Germany). He sent off Greek Hatzidiakos for a double yellow (m.76, 86). He took yellow, for Sweden, to Ekdal (m.61), Svanberg (m.90); for Greece, to Mavropanos (m.58), Bakasetas (m.61).
Incidents: European Group B match for the 2022 World Cup in Qatar, played at the Friends Arena stadium (Solna, Stockholm) before 48,000 spectators.