Sustainable investment, the key piece in the change of the economic model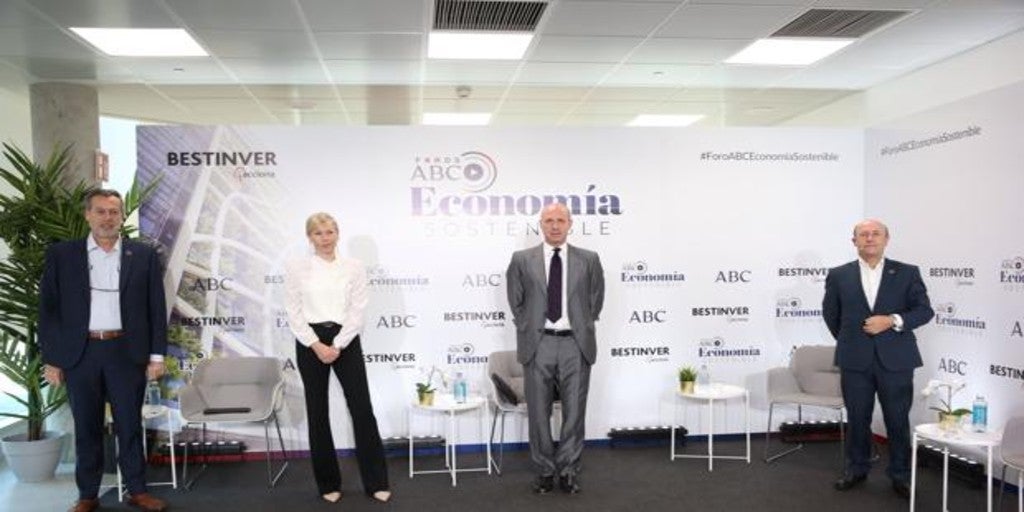 Updated:
Keep

In the process of changing the economic model towards which we are advancing, the sustainable finance they have been acquiring a great protagonism. Social, environmental and good governance (ESG) criteria are present in companies' strategies and their clients also demand that they be increasingly sustainable. The
ABC Sustainable Economy Forum today has brought together market specialists to analyze all the keys to this absolutely established trend among investors. Sponsored by the manager Bestinver (belonging to the Acciona group), the meeting was held under the title 'The importance of investing in a sustainable way.' Moderated by María Jesús Pérez, chief editor of the Economy at ABC, was attended by Francisco Javier Garayoa Arruti, CEO of Spainsif, Marisa Aguilar placeholder image, Managing Director of Allianz Global Investors in Spain and Portugal, Joan Fontrodona, Director of the Department of Business Ethics at IESE and Jorge Fuentes, Manager of International Variable Income of Bestinver.
One of the first questions an investor asks is whether profitability and sustainability are compatible concepts. "We must present the concepts of investment and sustainability without being antagonistic to profitable investment. There should be no sustainable investment if it is not profitable. It is essential that all strategies do so with a premise: generate value for its shareholders. That is the key, "he says. Jorge Fuentes. Marisa Aguilar recalls that there are great sustainable investment options. "We can invest in companies that are changing with good practices or we can invest in products and services aimed at solving problems such as climate change." But, precisely because there are many ways of working with sustainable investment, "the economic, social and environmental balance is very unstable", Joan Frontodona clarifies.
Sustainable investment must be understood within a change in the economic model. "It presents a lot of opportunities for the market. There is no magic, the same market variables continue to exist behind, but now support for exchange rates and profitability converge, "says Francisco Javier Garayoa. The CEO of Allianz Global Investors in Spain and Portugal considers it necessary to understand the role of sustainable investment. «The financial sector is a fundamental actor because it allows channeling private savings towards the achievement of objectives that our authorities are marking us at the international level, "he says. It is not just about transforming the energy sector but also about transforming our energy model, "making it more sustainable." It is important for the investor to see its usefulness, "its role is to provide flows because the existing public money is not enough," adds Aguilar.
Mentality change
The director of the IESE Business Ethics Department, for his part, believes that society is calling for a change in mentality, "to go back to what financial markets were in their origins. We are maintaining the same model as until now but more sophisticated. For me, the question the investor asks himself is how much is he willing to lose to be socially responsible? ». Faced with this question, the CEO of Spainsif is clear that it is important to bear in mind that "if you want to have high profitability for 10-15 years, you have no choice but to invest with environmental, social and governance criteria." For its part, Bestinver's International Equity Manager It also points out the importance of channeling companies that carry out actions to be better. "There are companies that see themselves as winners in this transformation and have normal profitability. Worse, others that are perceived as losers have a wonderful profitability ", he clarifies. And remember that you should not choose between profitability and sustainability, but rather «sustainability is the right way to achieve sustainable profitability». Marisa Aguilar also points out the change in mentality of the new generations, "young people who want to invest how they think", so that financial profitability will not be the only important thing. «It is important that this trend is done with common sense and that it goes to fruition. It must be possible to reconcile the synergies between corporate success and the benefit of civil society ", says Jorge Fuentes. "If we only invest in fashions, without analysis, with factors that are not homogeneous, a bubble can be created or investments may not turn out well in the long term," he adds.
Within sustainable investment, there is a greater predominance of environmental issues. "It is what is most regulated, but you have to think about the social part and good governance", emphasizes Joan Frontrodona. "The environmental part is easier to measure while the social part is more complex and enters the cultural part of many countries," says Francisco Javier Garayoa, while reminding that sustainable finance "should not be mixed with philanthropy , public funds ... they can do a job but they are different things ».