Survives at the age of 17 the tragedy of throwing 16 boatmates into the sea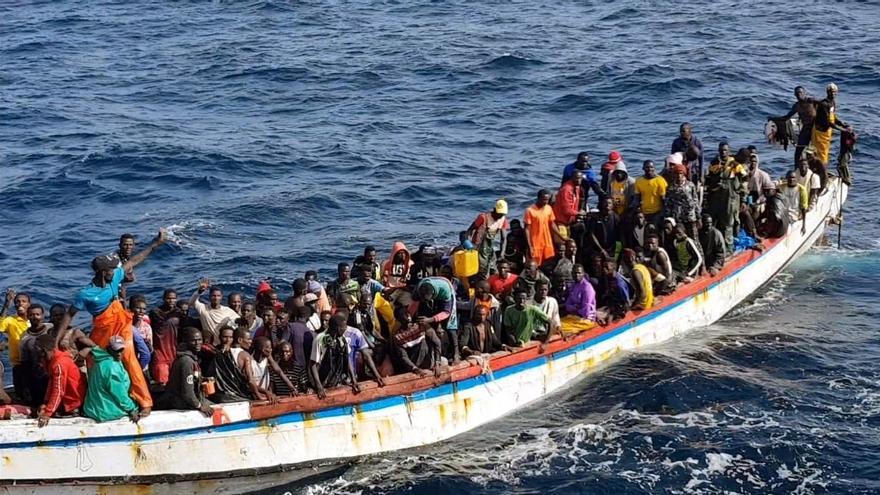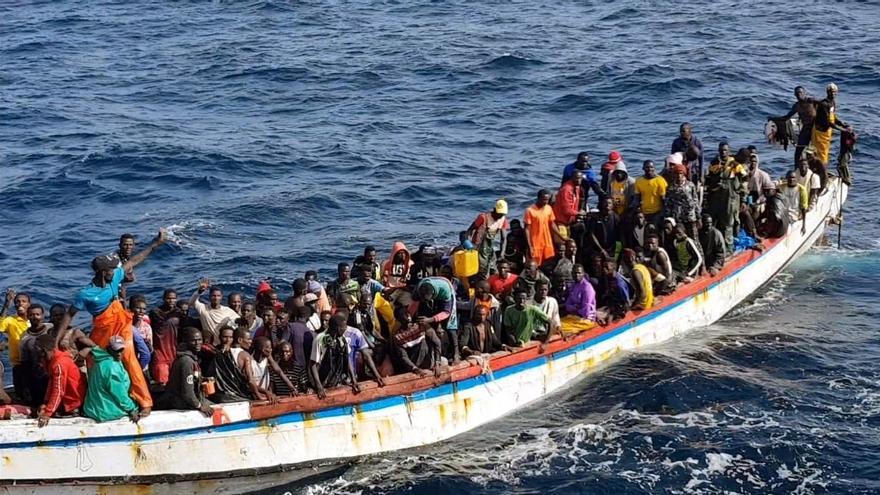 A 17-year-old boy is taken in in a state of "shock" in a center for minors in Gran Canaria after surviving a fifteen-day crossing in the Atlantic, adrift, in which 16 of his 25 patera companions perished one after another from hunger and thirst and were thrown overboard.
It is a type of tragedy that is increasingly frequent on the Ruta Canaria, in which thousands of young Africans risk crossing hundreds of kilometers in the open ocean in flimsy boats, but whose details rarely transcend; only when there are survivors and if they are willing to tell.
The story of this young man has been collected by Abián Montesdeoca, one of the pediatricians assigned by the Canary Islands Health Service (SCS) to the teams that carry out the coronavirus tests those who have just arrived on the islands in patera, in their case, minors.
In this case, it was about carrying out the PCR on the minors who had disembarked at the Arguineguín dock on October 19: a frenzied Monday in which Maritime Salvage transferred 375 people to that port, from 18 different boats and canoes.
"The Police had sent us a letter at the time, with the list of minors who had arrived. They had been recorded as having arrived in Arguineguín and had been referred to a center. But this boy was not. I came to think that maybe he had family networks here and maybe he escaped from the pier, which is difficult, if not impossible, "he tells Efe Montesdeoca.
Nine days later, the pediatricians received the notice that the boy they were looking for had just entered a center for minors in Gran Canaria, so they went to assess him. And the boy told his story, "totally dejected physically and psychologically."
The boy explained to the pediatrician who attended him that he could not read or write, because he went to work at the age of eleven to help his family in a town in Morocco, after his father died. He was the only male in the house and he assumed the obligation to take care of his own.
At the beginning of October, he and six of his cousins ​​decided to look for a decent life in Europe, they organized themselves and managed to get on a boat to the Canary Islands, which set out with 26 occupants from some point on the coast between Cabo Bojador and Dajla.
"Those boats are not for many people, and with a good engine, the journey takes two to three days, but they got lost, their GPS broke and they were left adrift. They were at sea for fifteen days. food, the water ran out ", says Abián Montesdeoca.
Those days, Another young Moroccan who boasts his 24,500 followers on Instagram decided that it might be fun to film a boat trip to the Canary Islands. He got on one, recorded the trip on his mobile and, upon landing on Famara beach, in Lanzarote, uploaded to the social network some funny images of smiling boys in the middle of the sea that received multiple criticisms, because they seemed to take this type of crossing as an adventure between colleagues.
That was on October 9. According to the story that the pediatrician Montesdeoca has collected, by then his patient and his 25 companions on the boat had already been lost for several days and despair was rife on board, because food and water were scarce, if they had not already finished.
Some began to drink sea water, which satiates for a few moments, but accelerates dehydration. They were the first to die. According to this adolescent's account, 16 people perished, one after another, day after day; among them, his six cousins.
"Imagine making the decision to throw the corpses overboard. They run out of food, run out of water … I thought they were going to die, as they were all dying," the pediatrician tells Efe.
The day this boy says he was rescued because they were found at sea, the Guardamar Polimnia rescued a boat with 15 North African men, including a minor.
That could be his, but his story fits more with a rescue the next day that actually began on the 19th, when a freighter, the Wadowice II, found a boat adrift 400 kilometers from the Canary Islands with 10 men on board and a corpse, which he later handed over to Guardamar Talía.
The EFE Agency has tried to confirm if one of those two was the young man's boat, but for the moment without success. The General Directorate of Child Protection of the Government of the Canary Islands has confirmed that the boy is in a center for minors and that he is going to receive psychological assistance, because he is "in shock" after having lived a "terrible" experience.
The story of this boy continues on the Arguineguín dock, in the Red Cross camp where more than 1,000 people spent the night during those days, after frenzied rescue days.
The pediatrician suspects that the chaos that occurred that week due to the continuous succession of rescues contributed to the fact that the arrival of these ten survivors did not attract so much attention, because he believes that they must have arrived crushed, crawling, in a state in which, in other circumstances, they would have been referred to a hospital.
In fact, he emphasizes that when he saw the boy, after nine days, it was difficult for him to stand up.
"Surely he stayed on the dock in the corner of a tent. He would not have died by a miracle. Someone will have fed him, hydrated and cared for him those days, because surely he would be in a terrible situation. There he stuck all that time without anyone else I knew it was, "he adds.