Supply and labor shortages weigh on German industrial production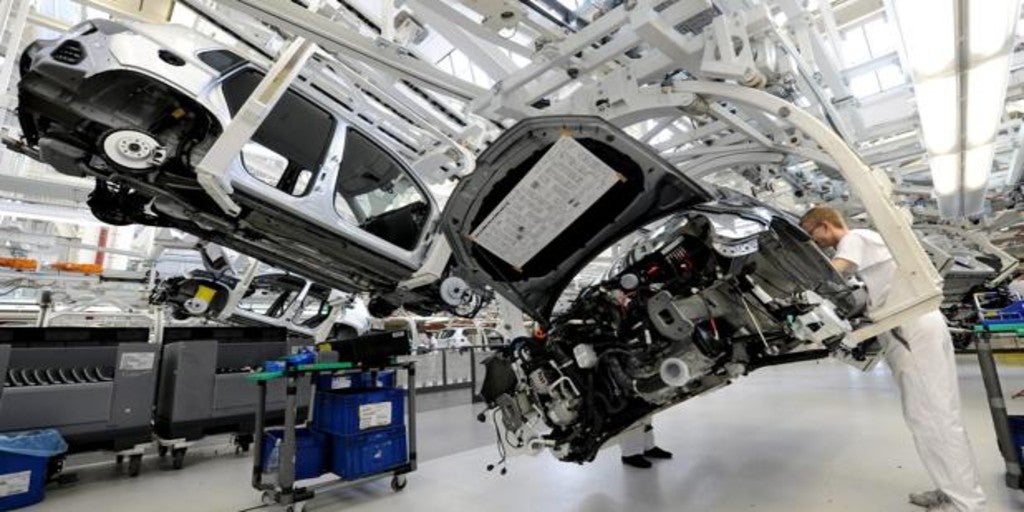 Correspondent in Berlin
Updated:
Keep

The data not only does not rebound, but it continues to fall. German industrial production lost 1.15% in September, which means that in the last year more than one percentage point is left and that it continues 9.5% below the pre-pandemic level. And all analysts agree that the two main reasons are shortages of supplies and a shortage of qualified labor, which leads two out of three companies to declare that they are unable to hire the staff they need. If inflation is added to this, the outlook is quite grim.
"The problem of scarcity is evident," says Elmar Volker, an economist at LBBW, "persistent shocks in supply chains
supply are preventing the European engine from working as it could be doing, once the restrictions are ended. ' German industry is particularly affected by the lack of electronic chips, which is even temporarily closing production chains in the automotive sector, but also due to the lack of raw materials such as wood, plastic or steel. To illustrate the consequences, we can note that 178,683 new vehicles were produced in Germany in October, representing a drop of 34.9%.
The lack of the urea exhaust gas cleaning agent AdBlue in the transport industry is further compounded by the high prices that gas is reaching in recent weeks. Modern trucks and buses, as well as private diesel vehicles, can no longer drive without AdBlue and the Freight Transport Association BGL had already warned of the far-reaching consequences in mid-October. Several AdBlue manufacturers have announced that they will partially or completely reduce production, such as the chemical giant BASF. Around 90% of truck traffic in Germany, which is dependent on AdBlue, has prompted Industry Minister Andreas Scheuer to warn that «We closely monitor the situation and we take logistics managers' warnings very seriously. Keeping our supply chains running must be the top priority. " The BGL association has suggested the formation of a national "AdBlue reserve" to avoid paralysis, as "more and more transport companies report that wholesalers no longer fulfill their delivery orders."
But in addition to supplies, German companies suffer from a serious shortage of skilled labor. According to a survey by the Bertelsmann Foundation, 66% of decision makers, surveyed in companies of different sizes, declare that they are not able to find the workers they need to keep production at expected levels. 29% are not affected at the moment, but fear that the problem will affect them in the medium term. This is the result of a study by Civey, in which it surveyed some 7,500 executives between August and October. Compared to the survey in 2020, in which 55% observed that bottleneck as their first problem, a worsening of the situation can be seen. Employees who have completed their professional training are particularly sought after, which is lacking in 48% of companies, while only 27% of the managers surveyed complained of a lack of personnel with university or academic training. The Health and Care sectors as a whole are particularly affected and the problem affects practically all the Bundelanders, with the exception of Berlin, Bremen and the Saar.
"Most worryingly, there are no signs of a change in trend, as might be expected after the restrictions imposed by the pandemic were lifted: 67% of the decision makers of the companies surveyed assume that they will have even less skilled workers of the necessary ones in the next year, so that an end is not in sight », says Matthias Mayer, expert of the Bertelsmann Foundation,« they are necessary sustainable solutions to face the aging of society and socio-ecological change. In addition to training and higher education, immigration plays an important role ', although companies cite language barriers, difficulty in assessing foreign qualifications and misconceptions by applicants as difficulties in hiring foreign workers .
The fact that production is declining is having inflationary consequences on the German economy. In September increased by 14.2% production costs, an increase never seen since October 1974, and inflation exceeded 4%. The German government has been forced in this context to lower its annual growth forecasts, which remain at 2.6% for 2021, compared to the 3.5% it calculated last spring.