Supermarkets begin to show half-empty shelves for some products such as milk and vegetables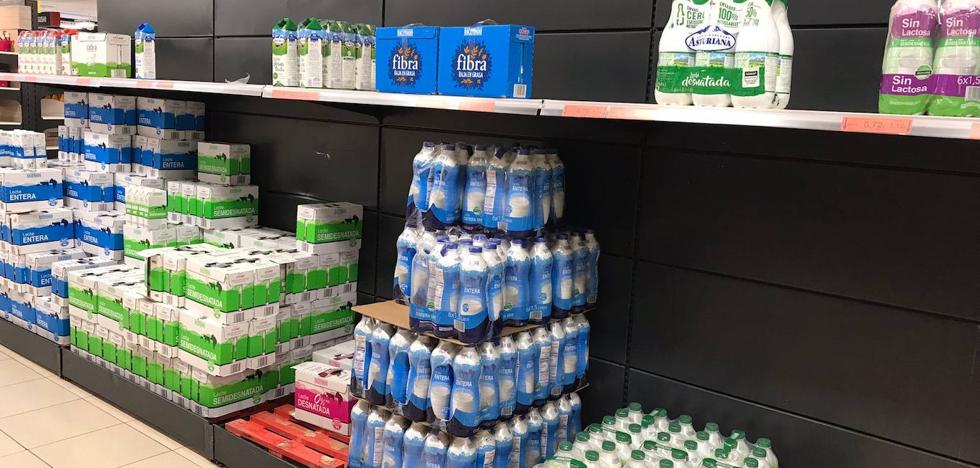 This week barely 15% of the load from the islands' food establishments has arrived due to the transport strike on the peninsula. On Monday the Government meets with the truckers. Confidence in a solution
Supermarkets in the Canary Islands are beginning to feel the effects of the transport strike on the peninsula, which today has reached its sixth day with empty shelves or with little product. During this week, only 15% of the usual cargo has entered the islands because the trucks have not arrived at the ports and the merchandise has not been shipped to the islands, whose consumption depends 80% on what comes from outside.
Perishable products, which require a frequent arrival from the peninsula, are the ones that are most noticing the lack. Fruit, vegetables, milk and yoghurt, among others, are beginning to be scarce, as evidenced in the image taken this Saturday in a supermarket in the capital of Gran Canaria. In other establishments, although there are still no empty shelves, there is less quantity. In many of them, the products are placed in the first row but behind them they are empty or a wide space separates one item from another.
The concern in the distribution sector is of such magnitude that some companies went to the Government of the Canary Islands on Thursday to inform them of the situation and request their mediation before the Ministry of the Interior, in order for the State Security Forces to act to guarantee that the trucks with cargo from the islands arrive at the peninsular ports and embark. "The government has done nothing. He is not aware of the situation and the problem that is brewing. They hide behind the fact that it is a Madrid issue and they believe that since there is no strike here, nothing happens, "say these sources. According to the counselor of the area, Yaiza Castilla, and the Minister of the Treasury, Román Rodríguez, "they have understood the problem." However, their ability to act is limited. "We may find ourselves with a public order problem," they warn.
These sources emphasize that the transport strike on the peninsula is going to cause in the Canary Islands what the covid did not generate. "With the pandemic there was no supply problem. Beyond the toilet paper chapter, nothing was missing because the maritime connections with the Canary Islands were guaranteed. Then the logistics platforms of the banners were overflowing, not now, "they say.
Next Monday there will be a meeting between the Platform for the Defense of the National and International Road Freight Transport Sector, a minority association that groups mostly self-employed carriers or SMEs and the striker, and the Government. The sector trusts that some kind of agreement will be reached to call off a strike that, if it lasts for many days, will cause a serious problem on the islands.